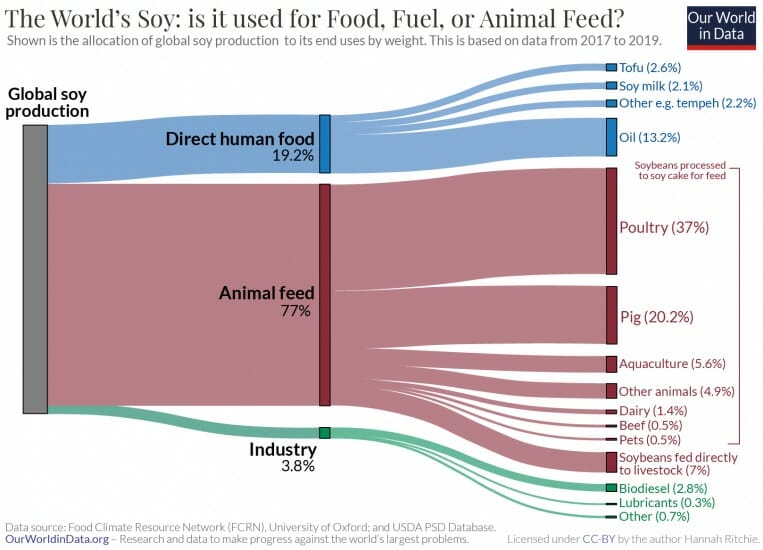 A dubious report from a UK group called the Sustainable Food Trust (SFT) recently spawned a spate of bait-click headlines claiming that grass-fed cow's milk is better for the environment than soy milk. Noting that soy production is a major driver of deforestation in the Amazon rainforest, the report deliberately omits, and worse, exploits consumer ignorance of, the fact that the soy grown in the Amazon is almost exclusively used for livestock feed, and that the soy used in soy milk in the UK (as well as in the U.S. and Europe generally) is overwhelmingly sourced domestically (within the EU) or from the U.S., Canada, or China.
Here are just a few of the misleading headlines their report spurred. Note the caption in the first one claiming huge areas of rainforest are cleared for the soy used in soy milk, a blatant falsehood yet clearly the sort of disinformation the SFT hoped to spread.
A Closer Look at the Claim
The SFT's claim that grass-fed cow's milk is more sustainable than soy milk centers on two patently false premises: that soy milk contributes to rainforest deforestation, and that grass-fed cow's milk is a more efficient user of soy than soy milk itself.
Both of these premises are wholly inaccurate and disingenuous; let's take a look.
The Soy Grown in the Amazon Is Used for Animal Feed
Globally, some 80% or more of all soy grown on earth is fed to farmed animals. In the Amazon rainforest region, more than 96% of the soy grown there is turned into feed for cows, pigs and chickens. Only 6% or less of global soy output is used for foods for human consumption that are produced from whole soybeans (e.g. edamame beans, tofu, soy milk, soy sauce, or tempeh), and soy for those products is overwhelmingly sourced domestically.
In the U.S., for example, nearly all mainstream brands of soy milk including Silk, EdenSoy, WestSoy, VitaSoy, 8th Continent, and Whole Foods 365 brand, openly state that soybeans for their soy milk are sourced domestically from U.S. farms, or in the case of VitaSoy, an Australian brand, from AU farms. Most of these brands additionally state that their soy is organic and non-GMO.
Silk: "uses only whole-harvested, non-GMO soybeans that are grown in the United States."
Eden Soy: "All soybeans, in fact all Eden beans, are organically grown only on USA family farms."
WestSoy: "Our ingredients are all Non-GMO certified and predominantly sourced domestically although product availability or other circumstances may sometimes require us to source globally."
Whole Foods 365: "Our soymilk is made from whole soybeans organically grown right here in the USA and never genetically modified."
8th Continent: "100% US Grown. Our beans are grown right here in the USA, so we know the quality and the source."
VitaSoy: "Vitasoy soy milk is made from whole Australian soybeans. They're grown by a small group of carefully picked farmers on the east coast of Australia."
As for Europe and the UK, the Food Climate Research Network notes: "As almost all South American soy is GM, it is unlikely that in the EU much of this is used for human food. The EU requires that food labels list the use of authorised GM ingredients such as GM soy, the result of which has been that little GM soy is used for food in the EU."
UK charity Viva! additionally surveyed the brands of UK soy milk and found "almost all manufacturers using soya as an ingredient have a strict non-GM soya policy. On the other hand, almost all soya grown and used for animal feed and responsible for deforestation is GM."
Dubious Methodology, Devious Math
The second false premise the SFT uses to prop up their claim that grass-fed milk is more sustainable than soy milk is a shocking display of intellectual dishonesty. The authors claim that grass-fed cow's milk is more efficient than soy milk because it takes less soy to produce a glass of grass-fed cow's milk than it does to produce a glass of soy milk. The report states:
"The authors calculate that about 85 litres of milk is produced in the UK for every kilo of soya bean meal consumed by dairy cows. In contrast, no more than 7.5 litres of soya drink are produced from a kilo of whole soya beans. As a result, drinking milk from cows in the UK uses 11 times less soya than consuming drinks made directly from soya."
Within a sustainability framework, the efficiency of a food is based on how much it uses of resources such as land, water, crops, and fossil fuels. In this case, the authors have bizarrely focused on how much soy is used as their sole efficiency metric, noting that grass-fed cows typically receive a little soymeal (around 1/14th of their total feed intake) as supplemental feed.
From the start, the premise is a shell game: grass-fed cow's milk is being compared to soy milk on the basis of which beverage uses less soy to produce milk, when grass-fed cows by definition eat mostly grass. If you wanted to honestly evaluate how cow's milk compares to soy milk in terms of the efficiency with which each converts soy into milk, you'd need to use soy-fed cows, not grass-fed cows. If we do that, the numbers suddenly tell a much different story, with every 1 kilogram of soy beans fed to cows yielding a mere 1.38 liters of cow's milk, compared to 7.5 liters of soy milk produced per kilogram of whole soy beans. In that case, in an honest comparison, soy milk is nearly 5 and 1/2 times more efficient than cow's milk in the use of soy beans.
For a closer analysis of the math, skip to minute 13 of the video below (from which I took the above figures), where Ed Winters does a terrific job of unpacking the numbers. (The whole video is worth watching if you're interested in a better understanding of just how egregious the SFT's claims and framing really are).
In short, the entire premise for the claim that grass-fed cow's milk is a more efficient user of soy is based on a false comparison.
Consumer Fraud
As a research organization focused on food and sustainability, there is no way the Sustainable Food Trust does not know that the soy used in soy milk isn't grown in rainforests. Yet they deliberately seeded headlines claiming grass-fed cow's milk is more sustainable than soy milk based on a false scenario and comparison. This is nothing less than consumer fraud. In the U.S., companies have had to pay millions of dollars for promoting one product as better than another based on false comparisons, which violates "truth in advertising" laws as enforced by the Federal Trade Commission (FTC). For example:
The fact of the matter is that environmental impact comparisons have to actually include… the environmental impacts of the products they purport to compare. A legitimate comparison of the sustainability of grass-fed cow's milk vs. soy milk would include land use, greenhouse gas emissions, and water use for both. In fact, such an analysis has already been done. In the most large scale and comprehensive study to date of farming's environmental impacts, scientists at the University of Oxford concluded that "even the very lowest impact meat and dairy products still cause much more environmental harm than the least sustainable vegetable and cereal growing."
The study looked at almost 40,000 farms in 119 countries, analyzing 40 food products that represent 90% of all that is eaten. It assessed the full impact of these foods (including different farming and production methods for the same food) from farm to fork, on land use, climate change emissions, freshwater use and water pollution (eutrophication) and air pollution (acidification). For milk, the researchers found that one liter of cow's milk requires more than 22 times more water and roughly 12 times more land, and generates three times more greenhouse gas emissions, than one liter of soy milk.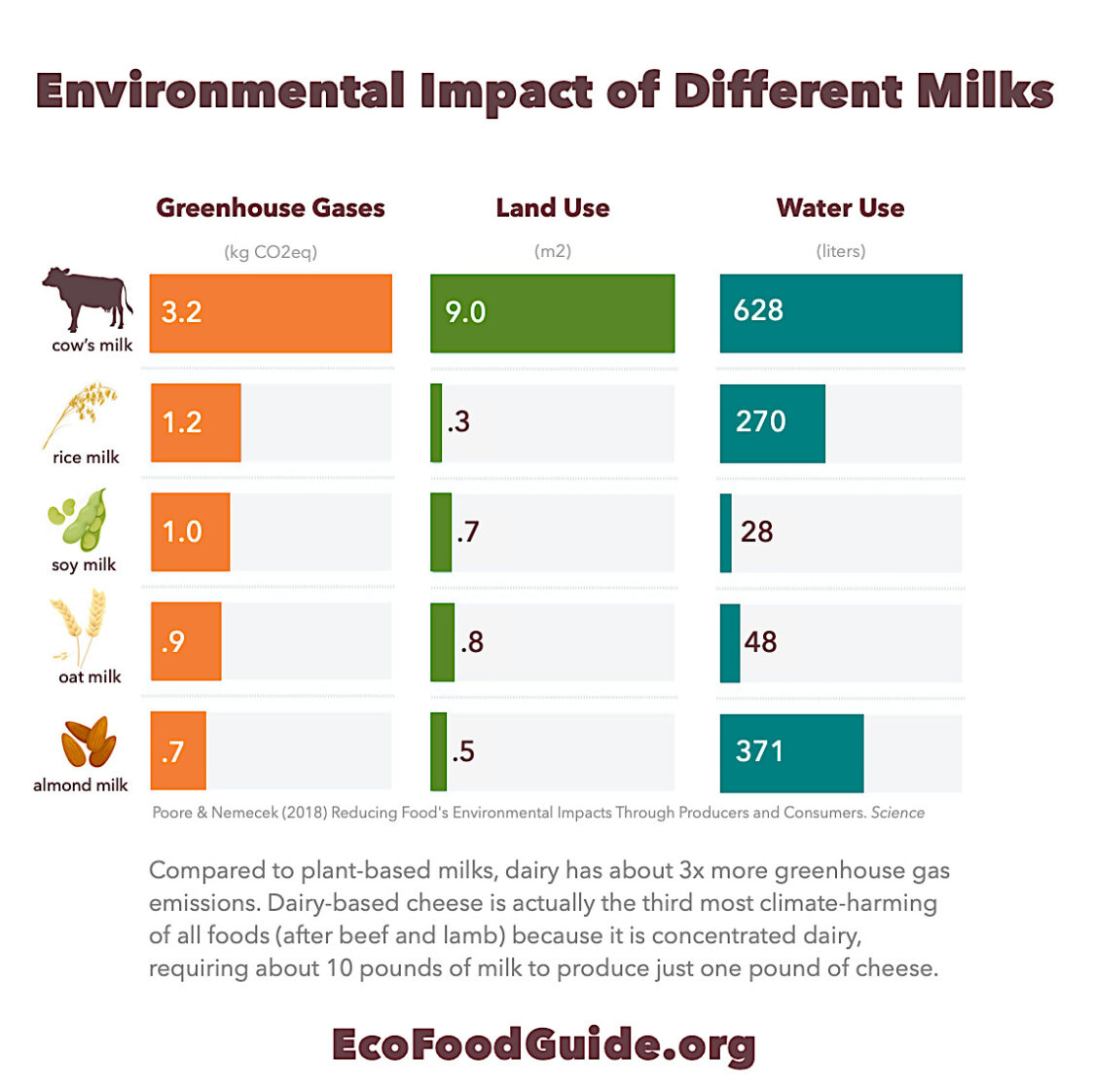 The lead author of the report said he began the study believing certain types of meat and dairy farming could be sustainable. Instead, after spending 4 years on the meta-analysis, Jospeh Poore adopted a plant-based diet.
"The reason I started this project was to understand if there were sustainable animal producers out there. But I have stopped consuming animal products over the last four years of this project." He continued: "A vegan diet is probably the single biggest way to reduce your impact on planet Earth, not just greenhouse gases, but global acidification, eutrophication, land use and water use… Avoiding consumption of animal products delivers far better environmental benefits than trying to purchase sustainable meat and dairy."
Milk From Grass = More Methane Gas
When asked about cattle's contribution of methane, a harmful greenhouse gas that is 84 times more potent than carbon dioxide over a 20-year time frame, Richard Young, the co-author of the misleading study and the policy director for the Sustainable Food Trust, made the following unscientific and unsupported claim:
"Taken together, fossil fuels are not only the biggest source of CO2, they are also the biggest source of methane lost to the atmosphere. Methane is highly potent and levels need to be reduced, but it is short-lived, whereas CO2 is very long-lived and accumulates in the atmosphere. As such, the true impact of methane from cattle is about 80 percent lower than the Intergovernmental Panel on Climate Change's [IPCC] methodology suggests. In addition, while fossil methane eventually leaves additional CO2 in the atmosphere, grazing animals only recycle atmospheric methane via photosynthesis and the plants they eat. The methane does have a warming impact but if cattle numbers are stable it doesn't actually add to it."
There is no credible science in support of Young's assertion that methane from cattle doesn't matter. In addition to the findings of the Intergovernmental Panel on Climate Change (a panel of climate scientists established by the United Nations and the World Meteorological Organization) that Young dismisses, a group of Oxford University scientists and researchers in 2017 prepared a meta-analysis of ruminant grazing systems— that is, different forms of grass-fed farming— for the Food Climate Research Network. Their report, Grazed and Confused, "aims to dissect claims made by different stakeholders in the debate on grazing systems and their greenhouse gas emissions and evaluate them against the best available science, providing an authoritative and unbiased answer to the question: Is grass-fed beef good or bad for the climate?"
In an article summarizing their findings, titled Why Eating Grass-Fed Beef Isn't Going to Help Fight Climate Change, the lead author of the report, Tara Garnett, wrote:
"[G]razing livestock — even in a best-case scenario — are net contributors to the climate problem, as are all livestock. Good grazing management cannot offset its own emissions, let alone those arising from other systems of animal production.
What's more, soils being farmed using a new system of management, such as grazing, reach carbon equilibrium, where the carbon that flows into soils equal carbon flows out, within a few decades. This means that any benefits from grass-fed cows are time-limited, while the problems of methane and other gases continue for as long as the livestock remain on the land. Plus, a change in management or climate — or even a drought — can overturn any gains.
As for methane, the argument that its impact is temporary and so not important is flawed. While the warming effect of any given pulse of methane is temporary, the total warming impacts will continue for as long as the source of methane continues. Methane will be emitted and continue to warm the planet as long as cattle are still reared. The problem only disappears if ruminant production is abandoned."
Notably, grass-fed cattle produce three times more methane than feedlot cattle fed corn and grains (the traditional diet on intensive industrial or "factory" farms.) In fact, a Harvard study from 2018 found that shifting U.S. beef production to exclusively grass-fed, pastured systems would increase the methane footprint of beef by 43% due to the slower growth rates and higher methane conversion rates of grass-fed cattle. Such an increase would unavoidably hold true for grass-fed dairy cattle as well.
Meanwhile, a study released last month found that methane emissions have reached a record high, with about two-thirds of the increase in human-caused methane emissions coming from agriculture— "particularly meat and dairy production." The study authors warn that without immediate and major methane reductions, the world is on a trajectory to meet the worst predicted impacts for global warming over the next century.
Sustainable Food… Distrust?
 The level of willful distortion of truth and deception of consumers displayed by the Sustainable Food Trust (founded and run by grass-fed meat and dairy farmers, it's worth noting) reveals a disturbing lack of credibility and integrity. Please help us combat their disinformation by sharing this post, and feel free to email them at [email protected] or comment on their facebook page letting them know what you think of their bad faith behavior.