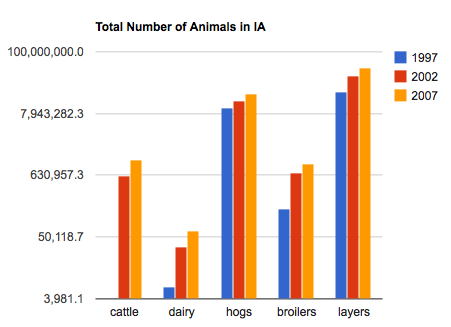 Our friends at Food and Water Watch have unveiled a new interactive web-based map tool of factory farms across America, and FFW representatives are touring the country to promote it. We caught their  presentation earlier this week in Chicago. Based on data provided by the USDA, the mapping tool displays factory farm stats by state and by county, showing the level of concentration and location of all known factory farms by livestock type, including cattle, dairy, hogs, broilers and layers.
Clicking on specific regions of the map provides you with regional stats on factory farms. For example, Iowa, being by far one of the most densely-concentrated centers of factory farming in the country, had over 54 million egg-laying hens in 2007 up from 19 million in 1997. Ironically, Iowa imports almost all of its food from outside of the state. And there are 6 times as many hogs as people in Iowa. Pictured to the left is an example of the many charts available for each of the 50 states.
In Illinois, there are virtually little or no factory farms in the collar counties around the city of Chicago and yet when one factors in Illinois' total factory farm operations, the results are staggering: The 3.9 million hogs, nearly 150,000 beef cattle, 12,000 dairy cows, and 4.9 million egg-laying hens produce as much untreated manure as 89 million people — nearly 7 times the Illinois population.
While Wisconsin has built their brand around the notion of being the dairy state, in fact, California far exceeds any state in dairy cows and production. Nationwide, the number of U.S. cows on factory-farm dairies nearly doubled to 4.9 million between 1997 and 2007. Meanwhile the unassuming North Carolina county of Duplin raises 2.2 million hogs on factory farms. North Carolina produce twice as much untreated manure as the sewage from the New York City metro area and has nine more chickens than people.
Not surprisingly, some of the most environmentally-degraded land and water ways also happen to be concentrations of factory farm operations or CAFOs (Concentrated Animal Feeding Operations) to use the industry terminology. Under the Obama Administration, the EPA has begun to exercise some modest authority over the largely uncharted territory of factory farm regulation, citing violations of the Clean Air and Water Acts.
As FWW indicates, a growing number of legal actions are forcing these farms to pay not only for environmental cleanup but also for harm to communities, workers, for animals welfare violations and for outbreaks of food borne illness. Connected to the mapping tool are multiple ways to get involved and make your voice heard by legislators.