It's the height of irony that one of the most common justifications for eating animals that vegans encounter is, "If we didn't eat them, the world would be overrun with farmed animals!" *
News flash: the world is already overrun with farmed animals — through no fault of their own and to the detriment of tens of millions of wildlife animals brutally slaughtered every year to protect the profits of animal farmers, plus the many millions more wildlife being displaced at unprecedented rates to make room for farmed animals and the crops grown to feed them.
The graph above is from the book Harvesting the Biosphere: What We Have Taken from Nature, by Vaclav Smil, which looks at both the historical and current impacts of human consumption activities on the plants, animals, and other life forms that compose the Earth's biosphere.
Among the most pressing of these is the impact to wildlife ecosystems that results from the disproportionate use of natural resources required to produce animal-based foods: it takes far more land, water, and energy to raise and slaughter some 70 billion land animals annually (and to grow the crops to feed them) than it would take to grow crops to feed 7 billion humans directly.
A result of clearing all this land for cattle, sheep, and other farmed animals is that 'livestock' production is now the single greatest driver of habitat loss and destruction globally (Science of the Total Environment, 2015). It is also the leading cause of species extinction, ocean dead zones, and water pollution. Indeed, scientists now agree that a mass extinction of species is rapidly underway; they are calling it the Sixth Great Mass Extinction of Species on Earth, with up to 200 species going extinct every day. And it's being caused by us.
Unlike mass extinction events of the past, which have taken tens of thousands to millions of years, this mass extinction is happening in just decades, and its primary drivers are global deforestation, rainforest depletion, and climate change. And the #1 cause of global deforestation and rainforest depletion, and a leading cause of climate change, is global animal agriculture. And the sole basis for animal agriculture is meat and dairy consumers.
Government's Secret War on Wildlife to Protect Meat & Dairy
Compounding animal agriculture's global annihilation of wildlife species are the secretive government programs specifically in place to "manage" and slaughter free-living animals on behalf of the meat, dairy and egg industries.
While many are aware that more than 10 billion land animals are killed for food every year in the U.S., far fewer know that in the last decade alone, more than 36 million wildlife animals — many endangered — have been brutally killed by a secretive branch of the USDA that is primarily employed to destroy wildlife deemed a threat to animal agriculture.
The USDA's Animal Damage Control (ADC) program was established in 1931 to police and destroy wildlife animals considered to be detrimental to the western 'livestock' industry. The government later changed the program's name to "Wildlife Services" on the advice of public relations strategists, and changed their motto to the misleading and benign sounding, "Living with Wildlife."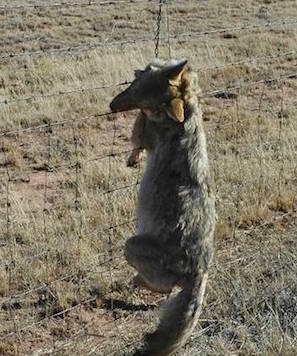 In reality, Wildlife Services spends millions of tax-payer dollars each year to kill native carnivores and predators — coyotes, wolves, bears, mountain lions, and many others — on behalf of the 'livestock' industry. These animals are destroyed by the most violent and gruesome methods imaginable: gunned down from helicopters; poisoned; gassed; torn apart by trained dogs; strangled to death in neck snares; and caught in torturous leg-hold traps in which they languish and slowly die.
Of the millions of animals destroyed by Wildlife Services each year, coyotes are perhaps the most viciously targeted. Every year, tens of thousands of coyotes die slow, agonizing deaths in traps simply because Wildlife Services is not required to check their traps, and personnel commonly do not return to traps for weeks.
Workers also "unintentionally" kill tens of thousands of "non-target" animals each year via indiscriminate and excessive trapping and poisoning. Collateral victims include federally protected golden and bald eagles (who frequently die in leg and neck snares), beavers, armadillos, badgers, great-horned owls, hog-nosed skunks, javelina, pronghorn antelope, porcupines, great blue herons, ruddy ducks, snapping turtles, turkey vultures, long-tailed weasels, marmots, mourning doves, red-tailed hawks, black bears, sandhill cranes and ringtails; as well as swift foxes, kit foxes and river otters, all the focus of conservation and restoration efforts. Thousands of domestic dogs and cats are also killed each year when they stumble upon traps or poisoned baits.
The millions of predator carnivores being targeted and destroyed by Wildlife Services eat other animals to survive. Humans have no biological need to consume animal products and many of us have ample access to plant-based foods. Killing animals for food when we have plentiful alternatives, and killing innocent wild animals who have no other options, are equally reprehensible.
It should be noted that a shift away from factory farming to more so-called humane, pasture-based farming would only increase the targeting and destruction of wild animals. As John Robbins has noted, "The price that western lands and wildlife are paying for grazing cattle is hard to exaggerate… widespread production of grass-fed beef [and other animal products] would only multiply this already devastating toll."
Wild Horses Couldn't Drag Me Away… From Cheeseburgers?
As if one government enemy weren't enough, another devastating war on wildlife is being waged by the U.S. Department of the Interior's Bureau of Land Management— also on behalf of the U.S. meat industry, but this time involving the mass incarceration and slaughter of wild horses.
While wild horses in the U.S. are ostensibly federally protected from being hunted, trapped, killed or harassed, the U.S. government regularly chases down and removes thousands of wild horses from their congressionally designated habitat to make room for cattle at the behest of ranchers and beef producers. There are now more wild horses and burros in government holding facilities than are left living free on Western range.
More recently, the Bureau of Land Management (BLM)'s National Wild Horse and Burro Advisory Board (ironically charged with the protection of wild horses) recommended that 45,000 wild horses and burros be "euthanized" to make room for beef mega farms. The proposal has been hotly contended since its inception in 2016, but its proponents stand to fare better under the Trump regime, with a new 2018 budget proposal that seeks to allow wild horses to be sold internationally for slaughter.
"Ranchers are permitted to graze cattle in areas of our public land that is also designated wild horse habitat. The cattle compete for already scarce resources with horses and lead to soil erosion, desertification and water pollution. The Bureau of Land Management (BLM), the agency charged with managing our public lands, systematically removes wild horses and burros to further make room for more commercial cattle and sheep.
Round-up contractors use low-flying helicopters to herd, chase and terrorize wild mustangs for up to 10 miles into fenced traps. Once corralled, the families of wild horses are broken apart. Mares are separated from their offspring, stallions are separated from their mares and the entire family structure is shattered.
The BLM makes "liberal" use of its euthanasia policy as horses with physical defects such as club-feet or blindness are euthanized — including adults that had managed to thrive for years in the wild. In addition, horses trying desperately to reunite with their families have died from broken necks on fences in their attempts to be together. In the roundup that ended in Oregon on November 23rd, 16 horses died, many suffering broken legs and ribs.
Ranching cattle and sheep on public lands destroys these families and takes away their freedom. They are shipped to federal holding facilities which act as prisons for wild horses, whose only crime was to live in a country that values commercial livestock interests more than wildlife." (source)
Kangaroos Put a Global Face on the Bloody Cost of Meat & Dairy
Unfortunately, animal agriculture's war on wildlife isn't just limited to the U.S. A new documentary out of Australia, Kangaroo: A Love-Hate Story, chronicles the merciless mass terrorizing and slaughter of millions of kangaroos each year. As spokespersons say in the trailer below: "Our sheep and cattle are competing directly with kangaroos for their pasture." "Kangaroos… are a pest that should be eliminated wholesale."
Meanwhile in the U.K., badgers continue to be hunted and brutally slaughtered at the behest of the dairy industry. According to advocacy group Viva UK, "Bovine TB (bTB) is an infectious and contagious disease of cattle caused by the bacterium Mycobacterium bovis. Although the main reservoir and natural host of M. bovis is cattle, humans and a wide range of mammals, including badgers and deer, are susceptible to the bacterium.
Although bTB is rarely fatal in cattle, with signs of infection usually only appearing in advanced cases, it does lead to reduced milk yields, making it a particular concern for dairy farmers looking to maximise their profits. Badgers are often blamed for spreading the disease."
As a result, the UK government has condemned tens of thousands of badgers to death each year "by shooting them whilst trapped in a cage, or by 'controlled' (i.e. 'free') shooting of free-ranging badgers in the field.
Adding insult to injury, it is not policy to test the badgers killed for the disease and the vast majority are likely to be healthy TB-free animals."
A World of Wounds
Award-winning environmental journalist (and, more recently, vegan) George Monbiot has written: "To be aware of the wonder and enchantment of the world, its astonishing creatures and complex interactions, and to be aware simultaneously of the remarkably rapid destruction of almost every living system, is to take on a burden of grief that is almost unbearable. This is what the great conservationist Aldo Leopold meant when he wrote: "One of the penalties of an ecological education is that one lives alone in a world of wounds." "
"One lives alone in a world of wounds."
If only we could expand that sentiment to replace "ecological education" with something like Albert Schweitzer's ethics of reverence for life— a perspective that equally acknowledges the disgrace of the slaughterhouse alongside the disgrace of "mass species extinction"; the value of sentient individuals as opposed to "populations"; and the poverty of a humanity without the ability— or willingness — to make these connections.
---
To learn more about the ways your diet directly helps or harms animals, see our Why Vegan? page; check out The Center for Biological Diversity's Take Extinction Off Your Plate campaign; and take two seconds to sign this important petition from Save the Animals, Save the Earth.
* Globally, the animals farmed by humans are bred into existence. If we stop eating them? We stop breeding them. The most likely scenario for a vegan world is not one in which everyone stops eating animals overnight, but one in which demand for animal products gradually continues to decline, and fewer and fewer animals are bred as a result.
At some point along the way, as more people become persuaded of the immorality of exploiting animals, we will hope to see the needless killing of animals for food recognized not only as a moral wrong, but as a legal wrong as well. Indeed, the abolition of animal exploitation, and of the property status of animals, is what most vegans are working for.
However, legislation to this end would most likely happen in phases, beginning with a ban on the breeding of farmed animals. If a ban on breeding farmed animals were enacted, those animals already on farms would still legally be considered the property of their owners, and would likely still be slaughtered. While regrettable and wrong, this outcome is no different from the animals' original fate.
As for bizarre cries from meat-eaters of "You'd have them go extinct!?"– those species of farmed animals that we have selectively bred for exploitation descended from wild counterparts who still exist in nature (there are wild pigs, wild chickens (Jungle Fowl), wild goats, and, while the aurochs are extinct, the wild cousins of domestic cattle include wild bison, water buffalo, African buffalo, and more).
Ceasing to breed domesticated farmed animals would not negatively impact the species of wild animals from whom the animals we violently exploit once descended. In fact, the benefit to wildlife would be enormous. As environmental journalist George Monbiot writes in his recent piece for The Guardian, "Goodbye—and Good Riddance— to Livestock Farming"—
"That vast expanse of pastureland, from which we obtain so little at such great environmental cost, would be better used for rewilding: the mass restoration of nature. Not only would this help to reverse the catastrophic decline in habitats and the diversity and abundance of wildlife, but the returning forests, wetlands and savannahs are likely to absorb far more carbon than even the most sophisticated forms of grazing.
The end of animal farming might be hard to swallow. But we are a resilient and adaptable species. We have undergone a series of astonishing changes: the adoption of sedentarism, of agriculture, of cities, of industry.
Now it is time for a new revolution, almost as profound as those other great shifts: the switch to a plant-based diet… It's time to abandon the excuses, the fake facts and false comforts. It is time to see our moral choices as our descendants will."