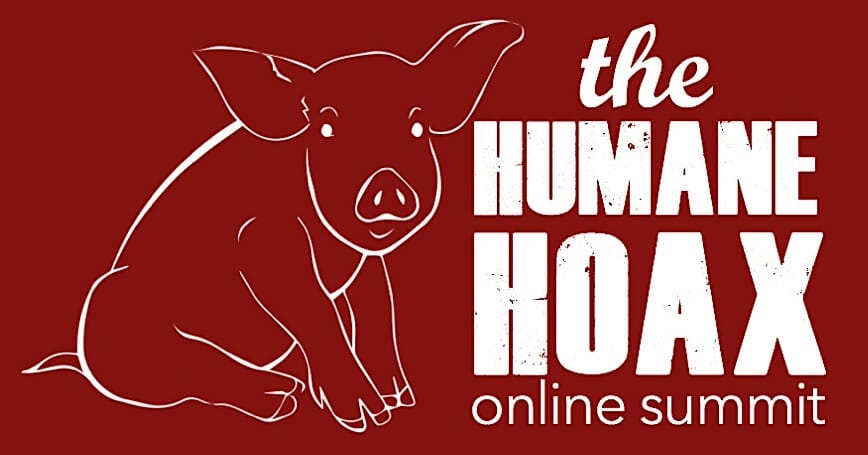 In January, Free from Harm was proud to be a sponsor of the first ever Humane Hoax Online Summit, a free, 2 day virtual conference which brought together 8 experts discussing various aspects of the humane animal farming myth. Topics covered included the claim that "Some people just need meat or animal protein to be healthy," the "regenerative grazing" movement's false portrayal of cattle farming as necessary to ecosystem health and beneficial to the climate; and the idea that women embracing animal farming and butchering somehow represents a step forward for feminism and equality.

Speakers included Free from Harm's founder and director Robert Grillo, as well as our writer and editor, Ashley Capps.

False Distinctions: "Humane" Farming & "Factory" Farming
Ashley's talk explored the ways humane meat, dairy, and egg labels mislead consumers, with a special focus on the claim that "humane" animal farming is meaningfully different from, and represents an ethical alternative and resistance to, "factory farming." She discusses the ways that producing and consuming so-called "ethical" animal products actually supports and entrenches factory farming, noting:

"The main reason that abuse and torture of animals happens on commercial farms is not because factory farming is corrupt (which it is). It is not because Big Ag execs are greedy (which they are), or because factory farm workers are often desensitized (they necessarily are), though all of these are factors. But the most important reason that abuse and torture of farmed animals happens is that consumers, including "humane meat" customers, are sending the message that it is morally acceptable to exploit and kill animals for profit and palate pleasure. (The human species has no biological requirement for animal products.)
You cannot inflict, or pay people to inflict, unnecessary violence on animals, and then make the case that those animals should not experience unnecessary suffering. It is a morally inconsistent, and therefore ignorable, position, one that is easy for producers and most consumers to dismiss. Because if animals' lives don't even matter enough for us to spare them when we have access to plentiful food alternatives, then on what grounds could their suffering possibly be said to matter?
As long as we're willing to treat sentient individuals as units of production, and numb ourselves to the fact that we are inflicting gratuitous violence and death, then we're doing nothing more than reifying the basic precepts of factory farming: that animals' lives have no intrinsic worth, and that it is okay to exploit and kill them even when doing so is completely unnecessary to our survival."
Ashley has written about the false distinctions between so-called "humane" and "factory" farming in more detail here and here.

Taking Action Against the Humane Hoax
Free from Harm's founder and director, Robert Grillo, closed the conference with a talk devoted to looking at activist strategies that can be successfully used to counter insidious humane myth messaging. Drawing from his book, Farm to Fable: The Fictions of Our Animal Consuming Culture, as well as analysis of other anti-oppression movements, Robert notes:

"The "humane" animal farming hoax is part of a larger set of fictions that the meat, dairy and egg industries use as propaganda. We can fight it through a variety of tactics that other social justice movements have effectively used to dismantle misinformation campaigns."

You can view all 8 of the speaker videos in full at The Humane Hoax website. And follow The Humane Hoax on facebook for updates on future events!