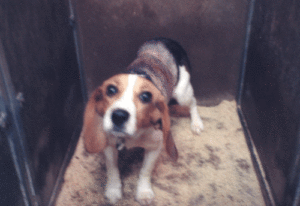 According to sources at SHAC (Stop Huntington Animal Cruelty), A British animal testing laboratory is at the center of controversy after it was revealed that dogs, rabbits and rats were killed to test sweetener which is essentially already on the market. UK-based Huntingdon Life Sciences (HLS), Europe's most exposed animal testing laboratory [1] carried out the tests which resulted in the suffering and deaths of over 480 animals.
In a series of shocking experiments which came to light in late 2011, a sweetener known as Advantame was force fed to over 44 dogs, nearly 100 rabbits and 360 rats, ultimately resulting in all being killed after months or years. In an additionally cruel twist, the sweetener tested was not even a 'new' product – having been derived directly from aspartame – another sweetener which has been tested extensively and is already widely consumed by the public [2]. Experiments were funded and carried out by the Japanese company, Ajinomoto Co.
A total of three experiments were carried out on dogs at HLS in Suffolk, the third being the high dosage experimental procedure. A total of 44 puppies (aged between 22 – 26 weeks) were packed into crates and shipped into HLS from a beagle breeder in the USA. Upon arrival, they were divided up and kept inside metal cages while being force fed varying dosages of Advantame sweetener. The dogs remained in such conditions for a full year. Each dog, no matter what health condition, was then killed following the experiment at just over 13 months of age [3].
Additionally, a group of 96 rabbits from Highgate Farm, Lincolnshire were kept in solitary confinement inside plastic cages and impregnated on arrival at HLS, Suffolk. After one week, the administration of Advantame began using a procedure known as 'oral gavage' – forcing a tube down the rabbits' throats in order to pour concentrations of the substance straight to the stomach. Naturally, this method of administering substances is extremely traumatic for animals who are shy and gentle by nature. One rabbit died of this procedure alone – she was "killed after showing convulsion-like signs, vocalization, and respiratory distress shortly after dosing … This death was considered to arise from difficulties during the gavage dosing". Later during the experiment, a further five rabbits were killed due to adverse health problems and several rabbits aborted their unborn litters. The shocking document goes on to reveal that approximately 20% of the pregnant female rabbits receiving the highest dose of Advantame became so ill that they had to be killed before the scheduled date. At the end of the designated experiment, all survivors and their unborn babies were killed [4].
Several separate experiments were carried out on rats for Advantame. One particular experiment involved forcibly impregnating young female rats and killing their babies after a short exposure to the sweetener. Experiments began when the rats were only 6 weeks old. The female rats were impregnated and their babies then added to the experiment once born. Those females that did not mate with a male by day 25 were killed, and those that did not give birth after another 25 days were also killed. In addition, mothers who lost their litters before day 21 of lactation were killed. All mothers were eventually killed during the study, and the babies killed at 14 days old by being gassed to death. During the time they were allowed to live, the rats and their young were fed varying concentrations of Advantame [5].
Says Debbie Vincent of Stop Huntingdon Animal Cruelty, "it is quite unthinkable that in 2012, companies such as HLS deem it acceptable to use and kill animals for the sake of testing something as senseless as another sweetener, which is already consumed by the public. Each of these experiments details immense suffering and loss of life. The general public have had enough of these ruthless, outdated and cruel experiments and are rightfully outraged at the prospect of such a pointless product being the cause of so many individuals to be killed. These experiments are unacceptable, unethical and unscientific – and need to end – now."
For more details, go directly to the SHAC source.
[1] HLS Exposed: http://www.shac.net/HLS/exposed.html [2] Evaluation of the teratogenic potential of N-[N-[3-(3-hydroxy-4-methoxyphenyl) propyl]-a-aspartyl]-L-phenylalanine 1-methyl ester, monohydrate (advantame) in the rat and rabbit, Food and Chemical Toxicology 49 (2011), page S60 [3] Chronic oral toxicity of N-[N-[3-(3-hydroxy-4-methoxyphenyl) propyl]-a-aspartyl]-L-phenylalanine 1-methyl ester, monohydrate (advantame) in the dog, Food and Chemical Toxicology 49 (2011) S49–S59 [4] Evaluation of the teratogenic potential of N-[N-[3-(3-hydroxy-4-methoxyphenyl) propyl]-a-aspartyl]-L-phenylalanine 1-methyl ester, monohydrate (advantame) in the rat and rabbit, Food and Chemical Toxicology 49 (2011), pages S60–S69 [5] A two-generation reproductive toxicity study of the high-intensity sweetener advantame in CD rats, Food and Chemical Toxicology 49 (2011), pages S70–S76