The first 1:46 shows the process of CO2 stunning.
CO2 stunning of pigs, also referred to as Controlled Atmosphere Stunning, is often touted as the most humane method of rendering pigs unconscious before slitting their throats at the slaughterhouse. CO2 stunning is also believed to produce superior meat, and is the most common method of stunning pigs in many European countries. It is also used in some U.S. slaughterhouses, with humane farming advocates urging more producers to adopt the procedure based on claims that it causes less stress and suffering to animals than other methods of stunning. Animal Welfare Approved and Certified Humane, third party auditors with the most rigorous humane certification standards in the country, both endorse CO2 stunning of pigs.
Yet despite widespread support for CO2 stunning from leading humane slaughter proponents, there is also vocal opposition to the practice on the grounds that pigs display signs of distress and great suffering during this process. Very little footage of the practice has been made available to the public, but in February of 2014, animal rights group Aussie Farms obtained extensive video of multiple instances of CO2 stunning in the largest pig slaughterhouse in Australia. Consistently, pigs respond to the gas with panic, thrashing and violently jumping in an attempt to escape before collapsing in convulsions.
In CO2 stunning, pigs are herded into a steel cage called a gondola, which is then lowered into a gas chamber. The pigs are typically frightened and reluctant to enter the gondola, so electric prods are often used to shock the pigs. Impatient workers frequently abuse resistant animals by burning them in the face or beating them with the prods. In this video, a frustrated worker repeatedly jabs one pig in the face and then inserts the burning prod into the pig's ear, holding it there for 12 seconds as the pig screams.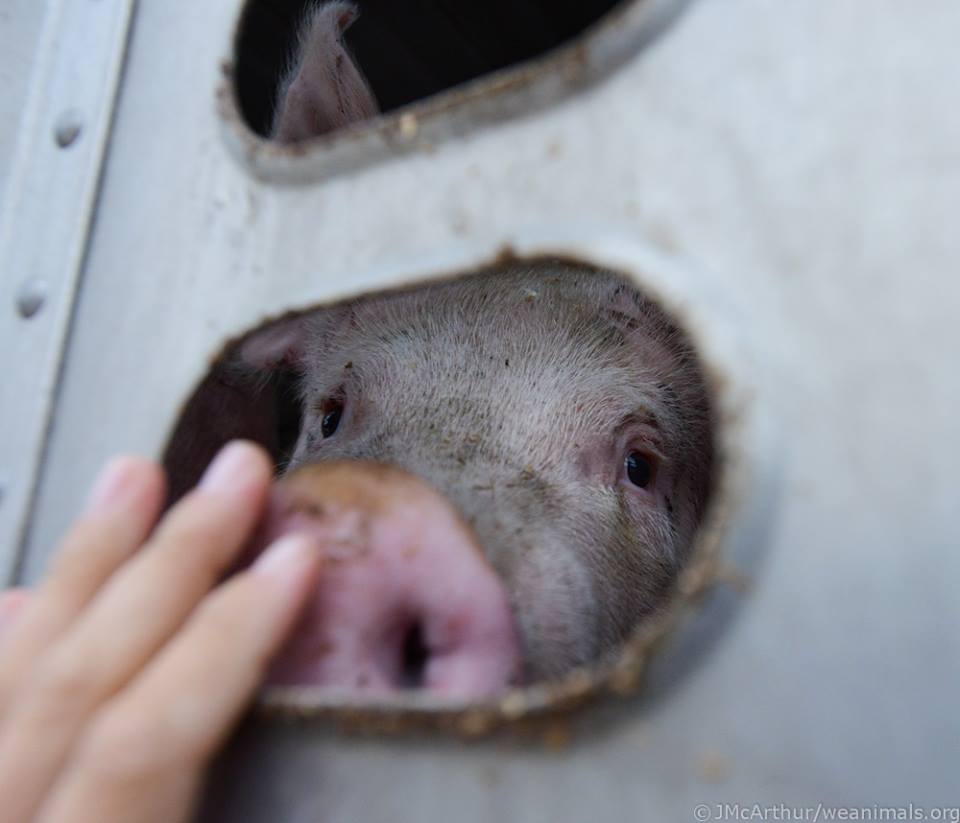 In an interview with The Daily Telegraph, Aussie Farms operations director Chris Delforce says, "Carbon dioxide gassing has been touted as the most humane method of slaughtering pigs. After seeing this footage I think it's fair to say that there is no humane method of slaughtering pigs." Others, like the American Meat Institute's Temple Grandin, would disagree, citing this footage as an example of a humane practice being poorly executed.
But what is humane about killing animals we have no need to harm at all? It is demoralizing in this day and age to see words like compassionate and humane bandied about in the service of gratuitous violence; in the advancement of gas chambers and other technologies of mass extermination built on the unexamined belief that it is morally acceptable to harm and kill animals for pleasure — merely because we like the taste.
Killing animals for food when we have no biological need to consume their flesh, and despite an abundance of nutritious plant-based alternatives, sends one message: that the animals' lives don't matter. That even though we can easily thrive on plant sources of protein and other nutrients, animal lives simply don't matter enough to spare them even in the face of plentiful alternatives. And if their lives don't matter, then on what grounds can their suffering possibly be said to matter? This is the fundamental paradox faced by so-called humane farming advocates. To endorse the needless killing of animals for food is to endorse every unspeakable abuse rained down upon them.
Learn more about the treatment of pigs raised for food on factory farms and small farms alike, at our feature, Bacon: A Day in the Life. To learn more about the effects of CO2 stunning on pigs, see this footage in which researchers note that pigs would rather go 72 hours without anything to drink than to enter the CO2 chamber again.