The town of Asheville, North Carolina has been called the "Progressive Mecca of the South." And while it is home to lots of liberal-minded people and activists, there's one form of oppression that many of the most left-leaning advocates still happily support and celebrate, and that is animal exploitation and slaughter.
Sure, Asheville has a large vegan community and lots of vegan-friendly restaurants, but, as Free from Harm has previously written, it is also a hotbed for the humane animal farming myth. The town's cafés, restaurants and farmer's markets regularly boast of their "ethical meat" and milk and cheese from "happy cows" on "family farms."
I recently had occasion to visit one such celebrated "family dairy farm," Maple View Farm, just outside of Chapel Hill, NC. Maple View supplies many local businesses in the Triangle area, and it also supplies the Asheville milk delivery company, Farm to Home. The Farm to Home "milk man" describes his job of delivering this milk as doing something "ethically" and with "integrity."
They are then confined in individual "calf hutches," plastic dog-house-like structures where they are often tied up— on this farm they were chained— leaving them with little space, and no room to run, explore, or play. They will spend their first 2 to 3 months of life in these lonely, isolated igloos.
On this specific farm, the calves couldn't even reach each other, and looked depressed, bored, and like they were longing for interaction and affection. When I reached out my hand to one calf who kept trying to walk further than their chain allowed, they immediately stuck out their tongue and started to suckle my hand, as they would their mother's udder. It was clear that they still deeply craved the maternal contact and comfort they are denied.
The female calves on this farm will eventually become part of the "milking" herd. The farmer told me that the males would be sent to slaughter as they have no use for them. I then realized that the dairy industry IS a slaughter industry, just like the meat industry.
After seeing all of the confined calves and mothers, I thanked the farmer and got into my car. Images of those lonely babies, forlornly chained to their hutches, have haunted me ever since. "A family dairy farm…" Dairy farmers love to use the word "family" to describe their business, yet their business is based on tearing families apart: forcing female animals to become mothers, then stealing their babies from them so they can steal and sell their breast milk. The hypocrisy is stunning.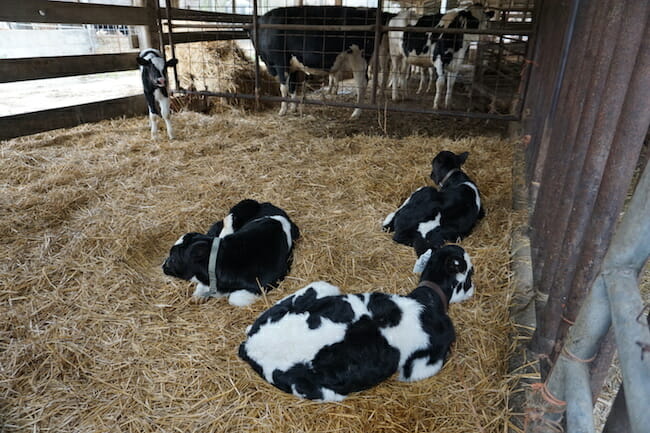 When I see a carton of milk, I no longer call to mind the image that's been drilled into our heads of "happy cows" on crisp green pastures. I can no longer see impregnating female cows and stealing (and immediately or eventually killing) their babies as moral or necessary. Milk is, after all, baby food for baby animals, and cow's milk is made for calves. Not for us.
Please remember this: even dairy farms that are labeled "local" "family" and "humane" are based on the same cruel and exploitative practices. Even if you are able to find the rare dairy that lets calves stay with their mothers for longer, this is still exploitation of mothers and invasion of their mothering relationships, in order to steal milk made for their babies. We have no need for it, and there are abundant plant-based alternatives.
My hearts hurts for the forgotten, abandoned, and lonely animals that I witnessed on the farm, whose suffering is pushed out of sight, hidden behind the complacent shrug of "oh, it's OK, they're meant for food." No. They are meant to be with their mothers. And their milk is meant for them.
Thankfully, many dairy farmers are going vegan and making the switch to growing plants instead. Some are even making plant-based milks and cheeses, which are not only kinder to the animals, but to the planet as well.
Help prevent this suffering and learn more about the dairy industry at our Dairy Facts page.