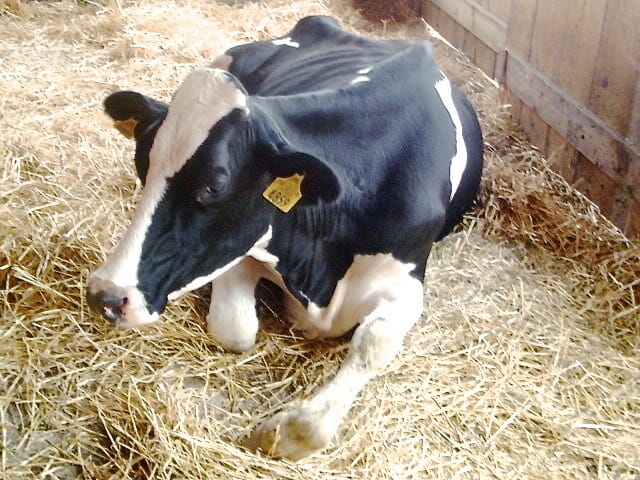 This piece is part of a series on Wagner Farm, a real working farm outside of Chicago that is part of the Glenview Park District's taxpayer funded property.
On the surface, everything looks "normal." The beautiful red barn, the soft rolling pasture dotted with cows grazing and reclining in the grass and kids brushing a cow in the stall. It's the warm and fuzzy image we have of the bucolic family farm where farmers take pride in their hard work and animal husbandry. Beyond the surface, however, is a far more sinister reality that has long been ignored and denied.
Beyond the surface lies the animal's experience. If they could talk, these dairy cows would tell a tale of physical and psychological suffering they have endured from today's standard dairy farming practices: artificial impregnation and manipulation of their reproductive systems, destruction of their family and social units, six-month isolation of newborn calves, painful bouts of mastitis due to overmilking and, ultimately, the undignified and unforgiving end at the slaughterhouse at just a fraction of their natural lifespan.
Debby Rubenstein, director of Wagner Farm Rescue Fund, is determined to tell the animals' side of the story, interpreting their experience through close observation of their complex behavior and social interaction. Rubenstein has developed an intimate understanding of their individual personalities — their desires, interests, emotions, likes and dislikes — that most of us would never see.
At Wagner Farm Rubenstein has seen calves separated from their mothers at birth and isolated from all other cows for approximately their first six months of life. Staff claims that separation and isolation of calves from their mothers is justifiable for health and safety reasons, though it is quite clear that their intention is to use their mothers' milk for the milking program.
A case in point is the calf named Isabella, born in August, 2011. Isabella and other calves like her are kept in the "basement" stall in the northeast corner of the barn. There is an access ramp to a small, outdoor area where the calves can eventually wander outside when steady enough to move about.
Rubenstein recalls a lonely Isabella standing forlornly by herself outside and looking out over the other cows in the distant pasture, yearning and yet unable to join them. During the colder months, few people visited the farm, so Rubenstein was often Isabella's only companion. Her mother, a cow named Madison, was sent away to the associate farm after Isabella's birth where most of the "prize" cows are kept.
Isabella's great-grandmother, Reta, who was a pedigreed Holstein (with whom Rubenstein had also developed a close relationship), was the Wagner Farm milking cow in 2008 when she died in May that same year from a mastitis infection at only three years of age. In Reta's three short years of life, she already had given birth to two calves, Boo and Luna. With the exception of a few months, Reta was kept pregnant almost constantly from the time she had reached breeding age (about age 1.5 years) to the time she died.
Mastitis is one of the top causes of dairy cow mortality, often attributed to overmilking and/or contaminated milking equipment. 4H children have been known (and seen) to be in contact with the Wagner Farm milking equipment, either milking cows and/or cleaning equipment.
Another case in point is the story of Lilly and her daughter Daisy. "I've seen a dramatic character change in Lilly over the past two years. By August of 2011, the spark had gone out of her eyes and behavior. You could see from her expressive face and body language that her spirit has been broken," says Rubenstein.
"I attribute her despair to all of the milking." Many times Rubenstein witnessed both staff and 4H kids having to literally pull Lilly out of the barn by the rope halter they'd put on her head. Then she'd stop outside the barn and refuse to walk, especially when she saw her.
"Lilly knew she was headed to the milking machine and clearly resisted. She was pulled until she gave in and started walking. It pained me deeply that I was unable to help her (as she had expected I would). All I could do is be a witness for her," says Rubenstein. In the end, Lilly was over-milked and, as a result, became unable to produce any more milk for some time.
The other day, Rubenstein overheard a conversation between a staff member at Wagner Farm and a visitor. The staff member explained to the visitor how Lilly had been artificially impregnated once again. So the whole cycle of losing her baby and being separated from him or her will begin again.
In August 2011, Daisy, Lilly's daughter, was allowed out of isolation and into the main pasture. However, her mom Lilly was kept separated from Daisy to prevent her from nursing from her mother. Lilly was confined to a side stall area behind the barn.
Rubenstein describes one day arriving at WF and greeted with the frightful bellowing sounds coming from behind the barn. She rushed over to find Lilly running back and forth in distress. Then she saw Daisy standing at the pasture fence, mooing in response (even though she could not see Lilly). This was perhaps the first time since Daisy's birth that Lilly realized that her daughter had not been taken away and was still in the barn area. It was clear to Rubenstein that Lilly recognized her daughter's vocalizations.
Lilly tried nudging Rubenstein and coaxing her into the stall area, knowing she was someone who would help her. "When she realized that I was unable to enter the stall area, she started banging her head and body against the wall, trying to break through to get to the main cow pasture area where Daisy was confined. All the while she was making these frightful gutteral sounds of distress. I was really afraid she could injure herself. Eventually I was able to calm Lilly down by getting Daisy's scent on me and letting her sniff my sleeve," explains Rubenstein.
In the end, the bottom line for Wagner Farm is keeping the cows pregnant and lactating when it is convenient for their milking program. Many of the calves born to these dairy cows as a result of artificial impregnation are simply "incidental." The staff member mentioned earlier confirms this. " Again Rubenstein overheard him explain how one of his cows wasn't conceiving so they impregnated her with the sperm of a beef bull (instead of a dairy bull) in the hopes that cross-breeding would help her get pregnant. He said it worked, and though the calf will be worthless because it's a cross-breed, the intent was to get the mother pregnant and milking.