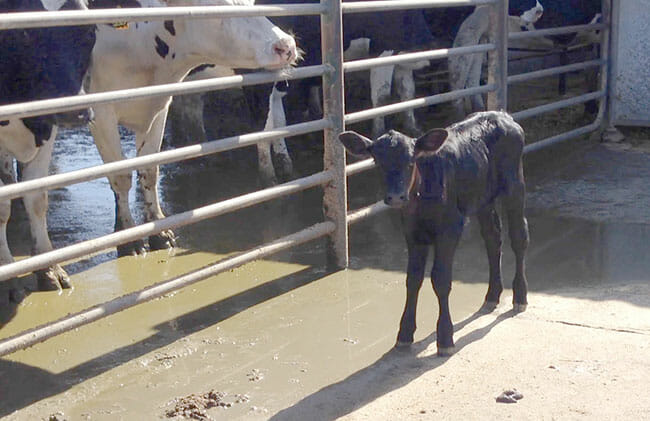 While passing a small dairy farm on Sir Francis Drake Boulevard in the Point Reyes National Seashore in early October, I decided to pull over and have a closer look. I saw about 60 "heifers" in one large muddy, gated enclosure, up to their ankles in mud and manure. There was a lone calf, probably a male just born to one of the heifers, placed in a holding area where some of the cows were doting over him on the other side of the steel bars of a gate. To the right of them was a "milking parlor," consisting of an old shed where two men were bringing cows in and out to be milked and hooking up their udders to milking machines. The cows perked up as I approached the fencing and stared meekly up into my eyes. And to the right of this was a section consisting of rows of small white plastic hutches, each with a single calf inside. When I pulled up, I saw a gruff yet handsome young man walking toward his tractor. I approached him to ask if I could have a look around the dairy farm. He asked me to wait a minute as he opened the valve to let the oil drain from his tractor. "You're giving it an oil change," I said. "Yes," he said, "I'll give that a chance to drain out while I show you around."
His name was Ernest. I learned that he was the son of a family who owned this 200-head dairy farm for many generations, producing all pasture-based, grass-fed, organic milk. Ernest lives in the modest old frame house right across the road from this dairy operation, the same one many generations of his family lived in. To my surprise, he seemed very receptive to having an impromptu visitor, as he scraped away the manure to create a clear path on the ground for me to walk on leading to the calf crates. He started telling me about the calves before I even had a chance to ask, confirming that the plastic hutches were housing all newborn female calves. "The males are out of here right away," Ernest explained. "We have someone who comes and picks them up. I have no idea where they go." They must be sold for veal or other kinds of meat, I said. And he nodded in agreement. "The females here are all separated in their own hutch, so if one gets sick, she doesn't get all the others sick too."
I walked up to the first calf in a hutch and she approached me immediately, licking my hand cautiously through the fence and wanting to suckle. Others just cowered back into their plastic hutches, an expression of hopelessness and loneliness on their little faces. They were all just days or weeks old, in many ways like large puppies, only instead of bouncing around and wanting to play, their spirits were already broken. You could see it in their eyes. Their mothers were only forty or fifty feet away, yet separated by the large milking parlor shed which blocked them from viewing one another. "Is there anything else you want to know about?," Ernest asked. And so I asked him about artificial insemination. He seemed proud to tell me that he now does AI and breeds the cows himself. AI is farmer talk for forcing one arm all the way up the cow's rectum and shooting a semen gun into her vagina with another. This humiliating violation of her body is performed repeatedly, until it is certain she is impregnated. "Come on, let me show you something," he said, as he escorted me back to the mini feed lot where the heifers were standing in the mud. He pointed to one of the heifers in heat, which, he said, was indicated by the other female cows trying to mount her. He explained that he could buy the bull semen that guaranteed only females would be born, but that it's too costly to use here.
I asked him how many cycles of pregnancy they would go through until they were considered "spent." He explained that they keep the cows only as long as they're producing more value in milk than the cost of feeding them. He recalls his grandfather telling him that the younger heifers produce better milk, so the younger, the better. "It's a really tough business," Ernest confessed. Lots of problems with the cows. Some can't get pregnant; others have complications with pregnancies, like stillborns, or they develop diseases like mastitis, lameness, tumors, bovine leukemia and distended udders that look like they are carrying milk but are just full of fat cells. And as they sag, their teats get dirty and this affects the milk. None of these cows are economically viable, so they too, in their frail state, are picked up by the man he hires to take them where he never has been, where they are turned into hamburger.
All the while Ernest's matter-of-fact, business-like demeanor showed no signs of acknowledging the emotional or physical suffering of the animals in his care. Having grown up in a family of dairy farmers for several generations, it was simply business as usual. As long as customers like Trader Joe's continue to buy his organic, pasture-raised, grass fed milk, he'd remain in business, but it was clear that he was just getting by, perhaps one of the few independent dairy farms left in the region, in the country. Dairy farming is all he knows, but if he has sons and daughters, they will most likely find other professions. As I drove off and looked back in the distance at the farm, it seemed to exist as if a mirage in the midst of a vast desert, a kind of surreal gathering of invasive species in a vast and otherwise pristine coastal wilderness, one of the most diverse and cherished in the world.