UPDATE: In September of 2016, Fair Oaks Farms "Pig Adventure" sow breeding operation was awarded third-party humane certification by the American Humane Association "for meeting its rigorous farm animal welfare standards for the daily operations on the farm." Humane certification food labels allow producers to charge more for meat, dairy and eggs produced on their farms, and lead consumers to believe that the animals enjoy a happy life in a natural environment. My photos from a visit to Fair Oaks tell a very different story.
---
On August 5, 2013, Fair Oaks Farms celebrated the Grand Opening of "Pig Adventure," a breeding facility where approximately 2,700 sows are confined and artificially inseminated to produce nearly 80,000 pigs for slaughter each year. Pig Adventure joins the Fair Oaks Dairy Adventure, a 36,000 dairy cow operation that has, since 2004, doubled as an "Agricultural Disney." Among the dairy-themed spectacles that comprise the daily tour, visitors can watch calves being born on a theater stage as their mothers heave beneath a giant traffic light cartoonishly signaling the stages of labor; mother cows about to give birth are literally forced onto a trailer, hauled to the "birthing barn," and prodded onto a stage where rows of spectators can gape as they push their 9-months-carried newborns into the world— only to have them stolen away minutes later, forever.
And now, with the help of major agribusiness backers (including the National Pork Board and Indiana Pork), visitors can also oooh and ahh at the more than 200 piglets born each day at Fair Oaks Farms, then head over to the farm's full restaurant for a Bacon and Swiss Grilled Cheese.
As I've written elsewhere, you could almost be fooled into thinking that Fair Oaks is some kind of Pig Appreciation and Protection Society: from the tour buses plastered with images of smiling, adorable pink piglets, to the exuberant animated pig who narrates Pig Adventure's website, to the reverential description of Pig Adventure's breeding and confinement operation as "The Miracle of Life Project." The founders of this facility say it's designed "to highlight the treatment and well being of pigs" and to demonstrate that "pork production is morally right, a noble profession and a service to humanity." I decided to visit and see for myself. (Please note: as far as we know, Fair Oaks Farms has no ties with Disneyland or Disney corporation.)
Visitors to Pig Adventure first pass through the pig "education center" (above). It's a multimedia learning facility full of interactive exhibits that present the history and future of pig farming, as well as lots of "fun facts" about pigs.
"Good for the pigs"—this was a message that was constantly repeated during my day at Pig Adventure: from the Grand Opening speeches in which the owners discussed their profound "love and respect" for the animals at Fair Oaks, to signs like this one insisting that all the needs and preferences of EVERY pig at Fair Oaks are met. Those words, "all the creature comforts," played through my head again and again as I went on to observe the pigs.
There are several recurring buzzwords in the Pig Adventure discourse designed to appeal to feel good American values; "family" is inescapably one of them. But make no mistake: Fair Oaks Farms is a massive factory farm and intensive confinement operation capitalizing on a misplaced nostalgia for the small "family farm" animal exploitation of the good old days.
"A pig is as intelligent as an average three year-old child." It's true, of course. But I was shocked, based on what we were about to witness, to see these signs educating visitors about the intelligence of pigs, and especially surprised to see the comparison to three year-old children. As we moved from room to room observing the miserable confinement and barren environment of these pigs, all I could think was, would anyone here do this to a three year-old child? If not, then how on earth is this acceptable? Why is everyone smiling and having such a good time?
Again, the unintended irony at Pig Adventure is stunning. At this point in the tour, we've just learned how intelligent pigs are, and here we're being schooled on the incredible refinement of their physical senses. The cognitive abilities of pigs, combined with their acute sensory perception, means that pigs are extremely curious individuals who love to explore their environment. Yet Fair Oaks pigs spend their entire lives completely deprived of intellectual or physical stimuli, never touching a blade of grass, never hearing birds, wind, or crickets, never rooting through earth, never experiencing a moment of sunlight. Do visitors remember this information about pigs' intelligence and "super senses" as they observe the artificial lighting, the hard bare floors, the immobilized sows and the piles of confined piglets with nothing to do or explore?
After finishing up in the Education Center, visitors may enter Pig Adventure's "Gestation & Breeding" wing.
From skybox-like observation stations, visitors look down on various stages of early "pork production." From windows like these, visitors can see female pigs being restrained and artificially inseminated, pigs lying around pregnant in barren stalls, pigs abjectly confined in farrowing crates with their newborn litters, and, finally, in the "Growing" wing, piles of piglets who have been taken from their mothers and who are being weaned in preparation for sale to "finishing farms."
Some readers may remember the boar on the leash from Pig Adventure's disturbing promotional video. This unfortunate creature spends his days chained to a robot or leashed to a worker (above), led through avenues of female pigs who are being prepared for artificial insemination. According to The Pig Site, the presence of a boar is essential during artificial insemination, or A.l. The purpose is two-fold: the boar helps the workers detect which sows are in heat, or "estrus," and close contact with the boar also causes a facilitative arousal reaction in sows who are in estrus. "The pheromones produced in the boar's saliva induce the intense receptive period of oestrus, where oxytocin release in the sow causes strong standing response and regular wave-like contractions of the uterus. It is these essential contractions that draw the semen… [in] through the uterus and up to the site of fertilisation."
Semen reception is also facilitated by workers sexually fondling the sows. Workers should "mimic some of the stimulation normally provided by the boar, i.e. back pressure, flank/udder rubbing."
The boar is led back and forth through rows of caged sows as well as through small groups of standing sows, helping workers detect which sows are in heat, or "estrus." Sows are checked for estrus once or twice daily. The pigs in crates have already been artificially inseminated once; sows may be inseminated up to three times while in estrus.
"Pigs are one of the most intelligent animals, outranked only by chimps, elephants, and dolphins…A pig is as intelligent as an average three year-old child." – from the educational signage at the beginning of the Pig Adventure tour.
Once pregnant, Pig Adventure's sows spend nearly 4 months in these barren stalls, day after day and night after night, with no stimulation or environmental enrichment. It's impossible to miss the utter dejection and hopelessness of these intelligent animals. Remember those signs about how smart pigs are, and how "all the creature comforts of EVERY pig" are attended to at Fair Oaks? Pigs possess active, inquisitive minds, and crave a natural environment that lets them fulfill their instinctive drive to seek and explore. Pigs love to sunbathe, and perhaps most of all they love grass and straw. These sows get nothing but the maddening monotony of confinement and environmental deprivation, conditions which are proven to create profound emotional and mental disturbance in pigs.
These rows of seemingly endless cubicles are called "open stalls" by Fair Oaks Farms, implying that the pigs are free to roam and fulfill all their natural instincts. "All pigs are given a safe and temperature controlled environment with no exposure to harsh outdoor elements or predators." Descriptions of Pig Adventure are always worded to make it seem as if confinement and environmental deprivation are all in the interest of the animals' comfort and well being.
Pig Adventure's breeding facility is huge, like a mega-church or an airport with different terminals connected via long, carpeted corridors whose walls are (creepily) covered with loving images of piglets.
There are three observation wings for viewing some of the early stages of "pork" production.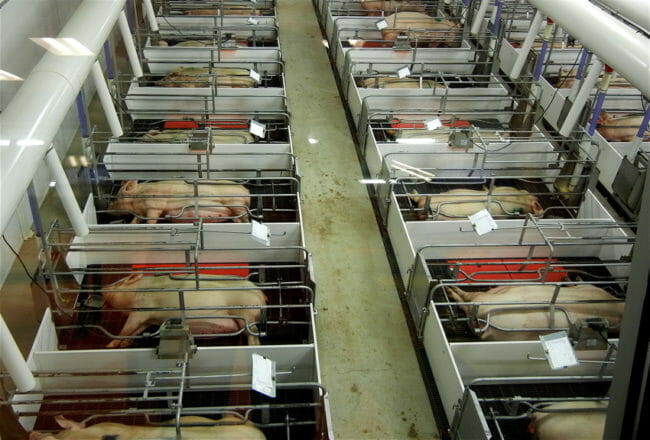 Around 114 days of gestation, pregnant sows are moved to farrowing crates to give birth, where they will spend roughly three weeks with their newborn babies, at which point the piglets are taken away to be sold to "finishing farms."
"All the creature comforts of EVERY pig…" Imagine, if you can, spending 3 weeks of your life like this, 24 hours a day. Imagine a three year-old child spending 3 weeks like this. Consider that in a natural setting, pregnant sows leave their social group a few days before birth and begin to search for a safe, secluded site where they can build a nest. Sows are very particular about the nest site and, if left to their own devices, may travel for miles before finding a spot that feels sufficiently private and protected. Once the space has been chosen, the sow constructs a soft, comfortable nest by digging a hollow in the earth, filling it with grass, leaves and twigs, and lining it with branches.
In "farrowing crates," newborn piglets can reach their mothers to nurse, but sows are prevented from even turning around, and must lie or stand on slatted metal flooring through which their urine and excrement drop. Inevitably these floors, on which sows nurse, sleep and stand, are covered in layers of waste, which is demoralizing for these fastidious animals who, when permitted, always establish separate toilet areas far from their nests. Slatted flooring also causes severe leg problems for sows and piglets.

My video footage of Fair Oaks' farrowing crates.
The deeply rooted drive in sows to express natural nesting and mothering behaviors is completely thwarted in the cruel confines of a farrowing crate. Though sows in nature spend hours lining their secluded nests with soft materials, in farrowing crates they receive no bedding whatsoever. According to a Humane Society report, 'Sows in intensive confinement operations attempt to perform nesting behavior—pawing the floor and nosing the bars of the crate—even in the absence of a suitable site and without nest building materials. Sows may even wear down their front hooves and suffer from abrasions on their snouts from performing this behavior in contact with the concrete floor.'
At one station of Pig Adventure's birthing wing, children taking the tour are encouraged to name a newborn piglet. I watched as kids who were perfect strangers flocked to the window and bowed their heads together, cradling complimentary plush piglets and consulting in breathless tones. Since the piglet was a she, they decided on Charlotte, after the spider in Charlotte's Web, the beloved children's book in which a pig is saved from slaughter. Interestingly, just a few days before, I'd seen a letter from E.B. White responding to a request from his publisher that he explain his reasons for writing Charlotte's Web. He replied:
"A farm is a peculiar problem for a man who likes animals, because the fate of most livestock is that they are murdered by their benefactors. The creatures may live serenely but they end violently, and the odor of doom hangs about them always. I have kept several pigs, starting them in spring as weanlings and carrying trays to them all through summer and fall. The relationship bothered me. Day by day I became better acquainted with my pig, and he with me, and the fact that the whole adventure pointed toward an eventual piece of double-dealing on my part lent an eerie quality to the thing. I do not like to betray a person or a creature, and I tend to agree with Mr. E.M. Forster that in these times the duty of a man, above all else, is to be reliable. It used to be clear to me, slopping a pig, that as far as the pig was concerned I could not be counted on, and this, as I say, troubled me. Anyway, the theme of "Charlotte's Web" is that a pig shall be saved, and I have an idea that somewhere deep inside me there was a wish to that effect."
A child then asked our guide if all of the piglets were given names. Approximately 250 piglets are born at Pig Adventure every single day. The tour guide gently laughed. "No, not all," he said.
What the Pig Adventure tour doesn't show, of course, is that these piglets have had their tails cut off, their incisor teeth broken off with pliers or clippers, and, if they are male, their testicles ripped out through brutal scalpel incisions; all without anesthesia or any prior painkiller. (See Fair Oaks Farms: Selling Sexual Violation as the Miracle of Life.)
In the "nursery" were huddled piles of piglets who had been taken from their mothers to be weaned in preparation for sale to "finishing farms"—more indoor confinement operations where these intelligent animals lie around for months with nothing to do but eat or sleep. Some of the largest commercial finishing operations house more than 5,000 young pigs. Pigs raised in these systems are unable to engage in any important natural behaviors, including rooting, wallowing, exploring, nest-building, and foraging, and are unable to form natural familial or social groups. Like their confined mothers, young pigs exhibit dejection, learned hopelessness, and neurotic coping behaviors indicative of mental disturbance. They are slaughtered at six months of age.
Loving photos with a maternal emphasis are blown up to near-pathological proportions and line the corridors in a sweetly menacing "Angels of Death" fashion all along the Fair Oaks Farms Pig Adventure.
After the tour, as we waited for our bus, we watched a video that plays on a constant loop, in which some of Pig Adventure's head honchos discuss what an "amazing animal" the pig truly is. I was originally skeptical of Fair Oaks's decision to peddle factory farming cruelty by embedding it in the glaring non sequitur of Disney theme park fanfare; I couldn't believe that anyone could actually see what we were seeing and ever again feel okay about eating bacon or cheese. But as we got off the bus, one smiling family after another headed over to the farm's BBQ, their pig balloons bobbing amiably behind them. So I guess the masterminds were right: a spoonful of Disney really does help the misery go down.
---
Learn more about humane meat, dairy and egg labels at HumaneFacts.org.