Each day that I wake up with the thought of bearing witness in mind, I feel that same knot in my chest anticipating how much suffering I will see during my visit to the slaughterhouse.
But still I go. I go because to at least be present at the scene of another's pain and suffering, even when I cannot stop it, feels important; to be there sending empathy and compassion to as many individuals as I can connect with while the death trucks idle at a stoplight, or stall outside the slaughterhouse—this is worthwhile. I am there in recognition of their value and their wish to live and to be free.
I also go to document injustice. I go because I want the world to see what I see when I look inside the trucks, or rather to see who I see: the individual cows, pigs, chickens and other animals lingering in confusion and terror. For many of them, the sunlight that spills through the ventilation holes is the only sunlight they will ever see.
Animals are transported to slaughter in all conditions, all temperature extremes. They are packed in to stand in their own filth, their own urine and excrement, for hours at a time, without food and water, slipping and sliding terrified on their own waste with no idea what is happening to them. Some of them come from factory farms. Others are trucked from so-called "humane," pastured farms, organic farms. It matters little; their end is the same.
On this day, it was 33 degrees (91 degrees Fahrenheit). We headed to Fearman's Pork, Inc.— the largest 'pig processing' plant in Ontario, taking the lives of 10,000 pigs a day. As I approached the first idling transport truck, I saw how many pigs were gasping with their mouths open. Overcrowded, stressed and foaming at the mouth…
Suffering desperately for water…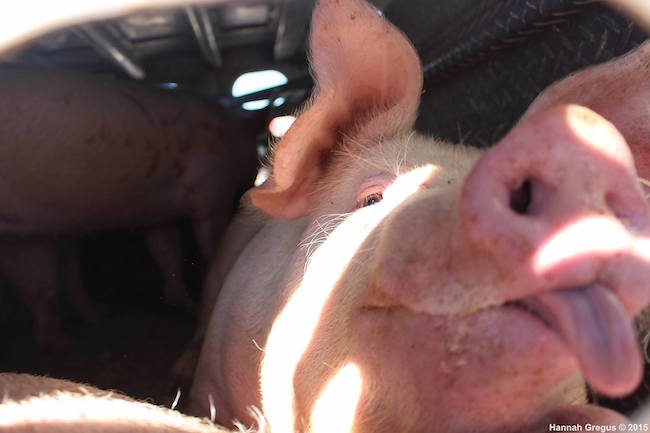 Pigs exhausted from their torturous journey were resting on one another in the corner of one of the trucks.
Once they noticed me, many pigs rearranged themselves so that they could face me.
The same look of hopelessness and horror always haunting their eyes.

They will often poke their snouts through the grate window, sniff your fingers and sometimes even put them into their mouths. Always so gentle and careful to avoid their teeth.
When you take a closer look inside, you see suffering you could never have imagined. Pigs huddled together, seas of fearful eyes, and their backs garishly spray painted to designate their doom. Some pigs actually have product numbers stamped as wounds into their skin.
On this trip I saw one of the most abused animals I have ever witnessed. This pig was covered in deep scratches either incurred from being beaten with an electric prod (common for pigs who resist being loaded or unloaded), or from being accidentally scratched by frantic pigs piled on top of each other in the crowded truck.

When I look inside these trucks, I see some of the most sad and mistreated animals I have ever seen. I also see some of the sweetest.

And most innocent.
Please make kinder choices. Humans have no need to eat other animals; we can thrive on a plant-based diet. And there are delicious vegan versions of every animal-based food; this vegan bacon even gets rave reviews from meat lovers. The choice to eat animal products affects so much more than just ourselves; and it hurts not only billions of farmed animals, but also contributes to environmental devastation, world hunger, the brutal killing of millions of wildlife animals, and a host of diet-related diseases that destroy human health. Learn more here.