Starting on Monday, April 12th and ending 13th, 2020, a widespread tornado outbreak affected the Southeastern part of the United States. A tornado demolished several factory chicken farms in Murray County, GA, including farms operated by Pilgrim's Pride Corporation and Koch Foods, two of the five largest chicken companies in the US.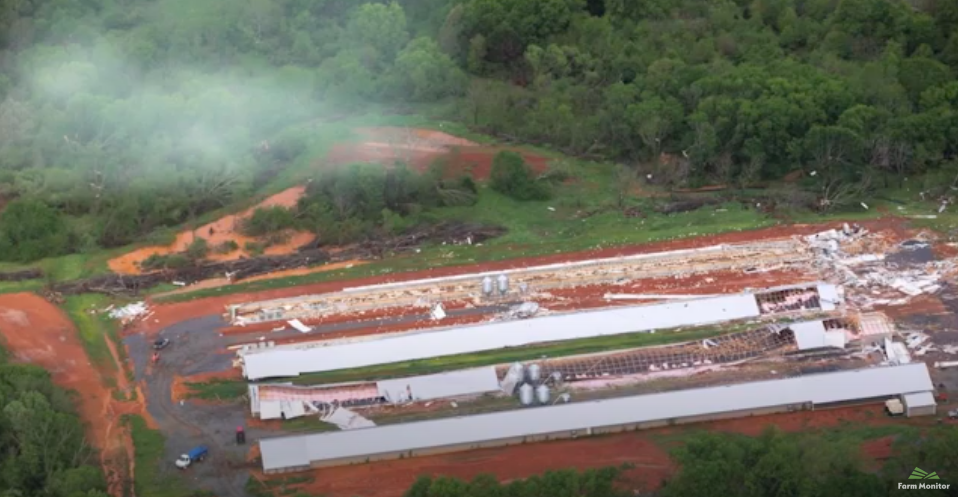 Thousands of chickens survived the destruction and animal rescuers arrived at the scene, offering to bring these birds to veterinarians for emergency care. Pilgrim's Pride informed rescuers that they had already buried 10,000 chickens alive as part of their cleanup efforts; when a rescuer returned the next day, the full property had been bulldozed, including the remaining thousands of live birds. The resultant smell reached the road. When rescuers approached the Koch Foods farm to ask for permission to search for survivors, the farm immediately called the police and had rescuers charged with alleged trespassing, despite never asking them to leave or engaging in conversation.
As of April 27th, a full two weeks after the tornado, hundreds of surviving chickens remain alive in the rubble at the Koch property. Advocates documented surviving chickens without access to food or potable water, severe injuries, and an extreme maggot infestation slowly eating birds alive (see photos below). A farmer at Koch Foods acknowledged there were still birds alive on April 26th.
Rescuers found birds trapped under the foundation of fallen structures, many of them with no way to escape and standing in dirty water for almost 2 weeks. Many birds had already been crushed to death by the fallen structures while some were still trapped alive, unable to even move inches.
In addition to spotting over 400 live birds still left on the farm, piles of dead birds were scattered all over with a mix of live birds "barely clinging onto life" trapped under the piles of dead bodies.
Take Action!
In total, six rescuers were charged while leaving with no birds. Separately, other locals were able to rescue hundreds of surviving birds. Please call Sherrif Gary Langford at the Murray County Sheriff's Department at 706-695-4592 to investigate the horrific deaths of these chickens and assist rescuers to save any surviving chickens. Let's also ask the County Sheriff to drop any charges against rescuers charged with trespassing.
If possible, please donate to the care of the hundreds of rescued birds who made it or share their fundraiser. They survived months in some of the biggest factory farms in the world, made it through a series of tornadoes, emerged from the rubble, then spent a full week living among the dead, drinking rainwater, doing whatever they could to survive. And now they need your help to make a full recovery and reach their sanctuary homes!