Artificial insemination (A.I.) is the most common method of breeding dairy cows in the United States, accounting for nearly 80% of all dairy cow pregnancies. (1) Like all mammals, cows must give birth in order to produce milk. Around 10 months after calving, the quantity of milk that dairy cows produce decreases substantially. (2) In order to achieve profitable milk yields, dairy producers re-impregnate cows once a year after a short period of "drying off." (Cows, like humans, carry their babies for nine months.) According to the USDA, "Reproduction practices on dairy operations are crucial to maintaining consistent milk production and creating replacement heifers…[C]ows should produce a healthy calf every 12 to 13 months (referred to as calving interval)…Decreasing the calving interval will result in more calves and greater milk production over a cow's lifetime." (3)
This constant cycle of impregnation creates a huge surplus of calves. Most female calves are used to replace the millions of still-young dairy cows slaughtered each year when their total milk yields decline, but male calves cannot produce milk and are sold to be slaughtered for veal or beef. In order for humans to take the milk that dairy cows produce for their babies, calves are stolen from their mothers and raised in isolation; 97% of dairy calves in the U.S. are permanently removed from their mothers within the first 24 hours of birth, and this is common practice worldwide. (4)
The typical dairy cow endures this cycle of sexual violation and traumatic separation from her baby at least 3, and up to 7, times in her short life as a milk producer. The following excerpt from an article entitled "How to Artificially Inseminate Cows and Heifers" explains the invasive procedure by which dairy cows are forcibly impregnated year after year. (5)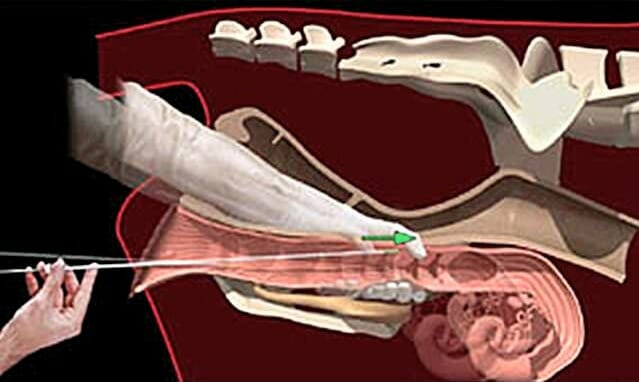 Inseminating the Female Bovine
Move the tail so it's on top of your left forearm or tie it up so it will not interfere with the AI process. Raise the tail with one hand (preferably the right) and with the other (which should be gloved and lubricated), gently reach inside the cow to clean out any feces that may interfere with the process of feeling for and inserting the AI gun into the cow's vagina.
Clean the vulva with a clean paper towel or rag to remove excess manure and debris.
Take the gun out of your jacket or overalls, unwrap it, then insert it at a 30 degree angle into the cow's vulva. This is so that you avoid going into the urethral opening into the bladder.
With your left hand in the rectum of the cow (which should have been there to begin with), feel with your finger tips through the wall of the rectum and vagina the location of the end of the AI gun until you reach the cervix.
Grasp the cervix with the hand in the rectum of the cow (like you would hold a bar that is below your hand) and hold it steady while you thread the rod into and through the cow's cervix.
When the rod is all the way through the cervix, check the location with your index finger. The rod should be only 1/2 to 1/4 of an inch into the uterus.
Slowly depress the plunger at the end where your right hand is so that 1/2 is deposited.
Recheck the location of the semen to make sure you are in the cow's uterus and not in any of her "blind spots" (see tips below), and deposit the other half of the straw's contents.
Slowly remove the AI gun, your hand and arm from inside the cow. Check for any blood, infection or semen "feedback" from inside the sheath.
Recheck the straw to see if you used the right bull semen for the cow.
Dispose the straw, glove, and towels in the proper place.
Clean the AI gun if necessary.
Record breeding information on any record keeping system you have on hand.
Release the cow (if necessary, depending on the breeding set-up you have) and restrain the next one to be inseminated.
__________________________
Citations:
(1) Progressive Dairyman, A.I. Cover Sheaths Improved Fertility in Lactating Dairy Cows, October 2011
(2) Midwest Dairy, Dairy Facts: Dairy Cows
(3) USDA, Reproduction Practices on U.S. Dairy Operations, 2007; Feb. 2009.
(4) USDA, Colostrum Feeding and Management on U.S. Dairy Operations, 1991-2007; Feb. 2009
(5) excerpted from How To Artificially Inseminate Cows and Heifers, http://www.wikihow.com/Artificially-Inseminate-Cows-and-Heifers