With more and more consumers ditching dairy after learning about the many cruel practices involved— including the slaughter of male calves as well as the killing of young mother cows once their milk production declines— a segment of the niche "humane" dairy sector is working to popularize the notion of "slaughter-free dairy."
Perhaps the most well known "slaughter-free dairy" label currently operating is the UK-based Ahimsa Dairy, a Hare Krishna initiative in which male calves are not killed but are used for forced labor once they are old enough, and female cows are "retired" to pasture after years of being milked. Ahimsa Dairy has offered slaughter-free milk and cheese to customers in London since 2011, and the movement is slowly spreading in the US. The offshoot Gita Nagari Creamery, in Pennsylvania sells its slaughter-free milk for $10 a gallon, which includes a $2.50 cow "retirement fee" and $1.50 for "boy calf care."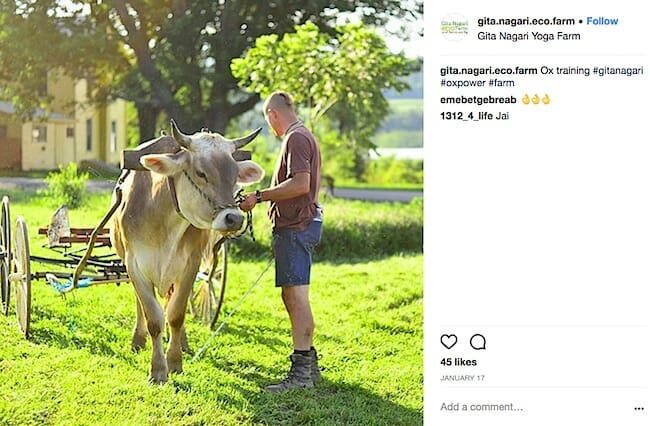 In addition to still being inherently exploitative, this and other models of slaughter-free dairy pose significant and unavoidable environmental, animal welfare, and scalability problems, which we've explored in depth previously here. Below, please find a first person perspective from former slaughter-free dairy farmer and cheesemaker turned vegan, Andrea Davis.
Andrea had a change of heart after recognizing that her work, like all dairy farming, depended on bringing more and more babies into the world, and breaking up families with lifelong bonds, all to satisfy a taste for mother's milk stolen from other animals. She went vegan and in 2017, transitioned her farm into an animal sanctuary and vegan education center. (Read the full story of her change of heart, here.) Andrea writes:
"We still get asked, often, why we decided to ditch dairy when no one was being killed in order for us to produce it. Here is one of several reasons this was a choice I had to make.
As a mother myself, I could not overlook parallels I could clearly see between myself and animal parents. Because running a dairy meant needing animals to become mothers year after year, there was always a sad, painful separation of families at some point. Although mother goats on our farm raised their own newborn babies, we had to separate them after weaning and rehome the kids in order to ensure we weren't eventually overrun with goats.
I often see dairy farmers defend the practice of removing babies from mothers.
They cite health and injury risks to the babies. They say the maternal instinct has been 'bred out' of modern-day dairy animals. It is claimed that this is the best thing for the mother, so she can focus on her own recovery from labor and the farmer's ability to more closely monitor the well-being of the babies.
These are either delusions or bald-faced lies.
I watched at one dairy as a young doe was 'culled' (sold) from the herd because of her post-partum escapes. For weeks she managed to breach every fence of every pen where she was placed, in search of the kids who had been taken from her. The loss was unbearable to her, and it was unbearable to watch.
The bonds my own goats made with their babies were life-long. As you watch my adult herd at rest, you will generally see pairs or three-somes of goats together, resting heads on one another and being affectionately close. These are almost always mothers and their adult children, or siblings and a parent.
I was unable to go on denying this bond and closeness in exchange for more milk money, never able to release myself to profitable delusions or public lies of explanation.
Anyone can see what love is, it takes neither being an animal behaviorist nor an activist to admit this truth.
Herd animal mothers are among the most protective, doting and self-sacrificing in the world. Just a day of listening to mothers' cries for their lost kids and calves can be traumatic for most people. It was for me.
I could not continue to make my life's work something that caused damage and trauma to even one animal. And so we set ourselves to figure out how to stop. We went vegan, stopped selling goats, stopped breeding goats intentionally. We continued producing milk and cheese to pay the substantial animal care bills until the existing milkers went dry, and prepared for the necessary fundraising to build the infrastructure to close the dairy and become a full-time vegan sanctuary and learning center.
Between our ex-dairy residents and the many rescues we have taken in, Broken Shovels Farm Sanctuary now has more than 250 animals in our care, and we are contacted about dozens more in need every week. Please learn more about our transition from slaughter-free dairy to sanctuary, and consider donating to support our work. There is nothing we want more than to continue helping as many animals as possible, and to be a powerful voice in the fight to debunk the myth of 'humane' dairy."