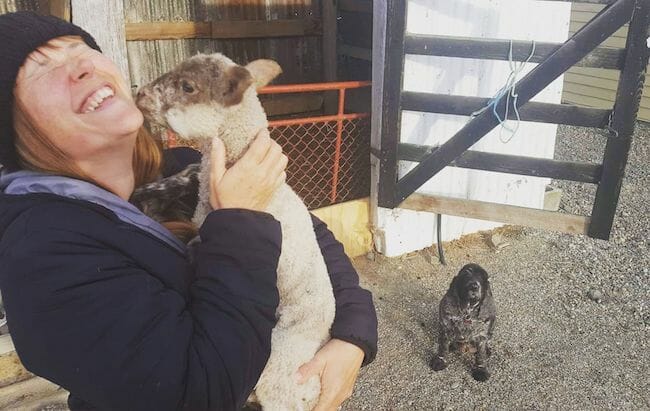 When I was a little girl growing up in England, our house was surrounded by lush, green fields, where an elderly farmer grazed his cows. They always looked so content and peaceful as I watched them from a distance. Like many people, I thought that was what farming was. At 19 however, I emigrated to New Zealand and learned more about the dairy industry.
My partner had grown up on his parents' dairy farm, and milking cows was pretty much all he knew. I was thrilled to become part of this "clean," "green" lifestyle. My confidence grew in learning to milk these gentle giants, talking and singing to them as I went. Farming felt like the most natural, wholesome thing in the world. In the years that followed, I would milk thousands of cows, rear thousands of calves, graze hundreds of "beef" animals, and show my children how to care for their beloved calves and lambs for the annual pet days.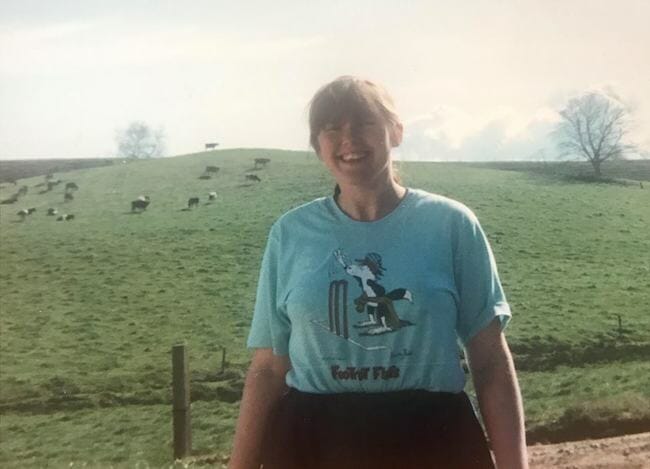 I never realized until many years later that no matter how kind I felt I was to them, no matter how well I thought I cared for them, every single one of these animals was ultimately destined to meet the same fate. Sooner or later they would all end up on someone's plate.
The first inkling I ever had that something was very wrong with dairy farming was early on, one afternoon when I went to visit my partner at the end of milking. It was calving season and I arrived at the cowshed to find a tiny Jersey calf, sitting alone and shivering on the concrete. "Ohhh, can I feed her?" I asked the owner of the farm.
"Nah, it's not worth anything, I'll hit it on the head after milking," he said dismissively. I was horrified! How could anyone bludgeon this beautiful, perfectly healthy creature to death for no good reason?
I persuaded him to let me buy her for $30 and took her home with me. The farmer thought it was hilarious, but was forced to eat his words when he saw her in my garden eight weeks later. Shiny, strong and beautiful, he couldn't believe it was the same animal and wanted to buy her back from me. I wasn't having that for a moment, and as soon as she was weaned, I took her to my in-law's farm where she lived until she was 10 years old and died of natural causes.
My healthy, beloved wee girl was a "bobby": a calf who has no monetary value to the dairy industry due to being the wrong sex, the wrong breed, or simply surplus to the needed numbers of animals. These innocent babies, who don't ask to be born, are picked up by a truck at four days old and taken to their deaths. Bobby calves are animals who are quite literally born to die. The babies aren't "needed," but their mothers are required to give birth to them so that they will produce milk for the farmer. Their babies are then killed at the earliest convenience.
Twice a week throughout calving season, I would cry floods of tears every time those darling, frightened creatures were loaded into the truck and taken to the slaughterhouse. In almost 18 years of farming, I could never get my head around that. The average person thinks calves get to stay with their mothers, out in the paddock until they're grown, or at least weaned. I used to think that too, but they don't. Soon after birth, the farmer comes along, picks up the freshly-washed and loved newborn calf and heaves it into a trailer before driving off.
The mother cow, naturally horrified and distressed out of her mind, chases alongside the trailer, bellowing and calling to her baby, while the confused and terrified calf cries back to the mother. Upon reaching the cowshed, the cow is directed into a paddock with other grieving mothers, while the calf is hidden away in a barn. If they are a heifer and get to live, with a bit of luck they will see each other again in a couple of years when that calf is fully grown. If they are a bobby or beef animal, they will never get to see each other again. And so the endless cycle goes on and on.
It's true what people say about cows bellowing and crying for days. They're searching for their lost babies. I never thought it was okay to take newborn calves away from their mothers. It seemed crazy to me. What was the point of us humans feeding the calves with a rubber teat feeder? Why didn't we just leave them with their mothers? Wasn't that what nature intended?
Indeed, but if we did that, the calves would drink all the milk and then there wouldn't be enough for us humans. Taking the calves away from their mothers meant we could control how much the calves drank and maximized the amount of milk the farmer got from the cow. Maybe if farmers all had babies themselves and had them taken away, they would understand the irreparable heartache every dairy cow suffers, year after year. In my case, I had been farming for two years when I lost a baby of my own who was born prematurely. He was taken from me forever at less than two days old. That puts things into perspective, to be sure.
But time after time I dutifully drove the motorbike with its trailer full of calves, tears rolling down my face as I played my part in taking them away from their mothers. It's been 25 years since I lost my own baby and I must confess: you never get over it. A cow who carries her baby for 9 months as well is no different. Going through it once was bad enough. I knew cows who had gone through it 16 times.
I believe most farmers aren't "bad people." Most were like me and truly cared for their animals. They genuinely believed they were kind people and that these practices were just "necessary evils." They had been taught that this was just how farming had to be done, and learned not to question it.
The worst farming practice I ever witnessed is called "inducing." Thankfully, it is all but banned now. Inducing was done when a cow was due to give birth too late in the season, resulting in less money for the farmer. To bring her up to speed with the rest of the herd, she would be medically induced so she would give birth prematurely, and the farmer could have her milk sooner. The results were horrific; I have nightmares about it to this day.
If the induced cow was only recently pregnant, she would simply miscarry and the calf would be born dead. They were the lucky ones. Many calves were not born dead, however. The memory of distressed and confused mother cows, desperately doing everything they could to get their half-formed babies to stand, with their weak, undeveloped lungs and scant coverings of fur, will always haunt me. Often inductions were carried out in "bulk." My worst memory of all was watching my ex-partner standing in the middle of a paddock surrounded by 22 hopelessly premature calves, all clinging to life. It was his job to put an end to their suffering by order of the farm owner, and that was the closest I ever came to seeing him broken. He just stood in the middle of that field sobbing, saying, "They won't die, they won't die." All for the sake of a dollar.
I thought going vegetarian was the right thing. I didn't realize that dairy was just as harmful, if not more. Ironically, I had never drank milk in my life as I was lactose intolerant. When my children were born, they too were both intolerant and were raised on soymilk. Enmeshed as I was in the dairy industry, it never occurred to me that perhaps humans simply weren't meant to consume milk created for the babies of another species.
Becoming vegan opened me up to a whole new joy of food and cooking. Over the past two years I have used my joy and creativity to inspire thousands of people all over the world with my vegan recipes. I can't change my past, and I can't bring any of those animals back. But the future of animal agriculture is changing, and I'm proud to be playing my part in helping forge that change.
My husband and I have a Facebook page, Camper Van Kitchen, that showcases how we create amazing vegan food in our tiny camper van.  Our motto is "If we can do it, anyone can." Last year we created a free 80 page vegan cookbook which we gave away on our Facebook page and it resulted in almost 40,000 downloads!  We are publishing a new cookbook which will be on the shelves in NZ, Australia and the UK either at the end of this year or the beginning of 2020. We also have another book in the works, based on the true story of an orphan lamb we rescued, which will be a children's book for young vegans and their families.