73 Cows from Alex Lockwood on Vimeo.
Jay Wilde is a former UK beef and dairy farmer whose recent decision to retire his herd to sanctuary and take up growing vegetables instead is the subject of the powerful short film, 73 Cows.
Jay was born into dairy farming and grew up learning the trade from his father, but felt a deep kinship and sympathy for the animals from an early age. He became vegetarian more than 26 years ago, even as he was still being groomed to take over his father's dairy farm. He thought at the time that he could find a way to do both.
But when Jay's father died in 2011, and Jay took on full responsibility for the dairy, he found he could not bear stealing the calves away from their mothers, which is routine practice on dairy farms. "We stopped producing dairy because it was so arduous. To take the cow's milk, you have to separate her from her baby. This is really difficult… the cows get very upset when they are separated. It takes them a long time to get over."

Jay resolved to get out of dairy farming for good, but his father's legacy hung heavy over his head, so he decided to try "beef" farming instead, where cows are generally permitted to keep their babies for the first six months at least, in some cases more, and to form and nurture instinctive family bonds.
(Not that this makes their later separation any less cruel, of course. Indeed, the "spiked nose ring" of which I have written here previously was first invented by "beef" farmers, for whom separating older calves from their mothers proved the most notoriously difficult and financially damaging practice in their industry, with mothers routinely breaking through fencing to get to their babies, starving themselves from grief, and calves dying from illness and malnourishment incurred as a result of the stress and sorrow of separation from their mothers.)
But sending animals to slaughter, no matter how "good" their lives arguably were, was no solution to the unavoidable conflict Jay felt as a vegetarian, and as someone who saw these animals as much more than commodities.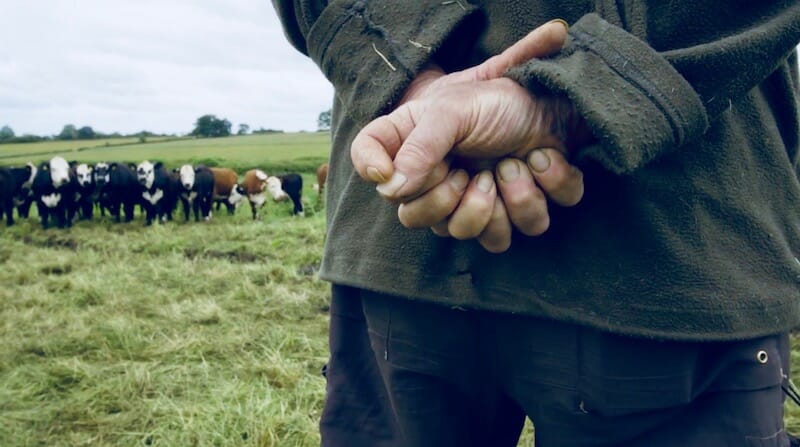 "You knew that you were taking them to what must be a terrifying experience. It was soul destroying, that's how it felt. It was very difficult to do. But wanting to keep the farm working as a farm… I just needed to keep doing it until I could find what else to do."
His way out came through a chance encounter with someone from The Vegan Society, whose Grow Green campaign is geared toward providing resources and feasible transition scenarios to animal farmers who want to switch to growing plant foods instead.
Jay notes in an interview: "We discussed… the possibility of producing food without having to exploit animals…. They suggested a further meeting with Iain Tolhurst, the originator of stockfree growing, and David Graham who started and runs the Vegan Organic Network. After some discussion and walking around the farm taking soil samples, these two experts and The Vegan Society suggested that this might be a way forward.
Then came the question of what would happen to the cattle living on the farm. They asked if we would sell them for slaughter or to other farmers. But I said that wouldn't be a good start to animal-free agriculture and the response was 'We were hoping you would say that, we would like to find spaces for the animals in sanctuaries around the country.' The Vegan Society offered to tackle this job. Everybody expected this process to take six months to a year but just a few weeks later, Hillside Animal Sanctuary in Frettenham offered to take the entire herd." And so they did.
Jay and his wife, Katja (also featured in the film), have both since gone vegan and are in the process of establishing their veganic vegetable farm. Of the film, and their decision to make this transition, Jay says, "I hope it will inform people about a more humane and efficient way of feeding the world, and also that it will encourage other people to do what they feel and know to be right instead of following tradition and convention, and continuing with ways of living that they instinctively know are bad for themselves and the world."
For more profiles of animal farmers turned vegan, visit our NewFarming.org campaign.