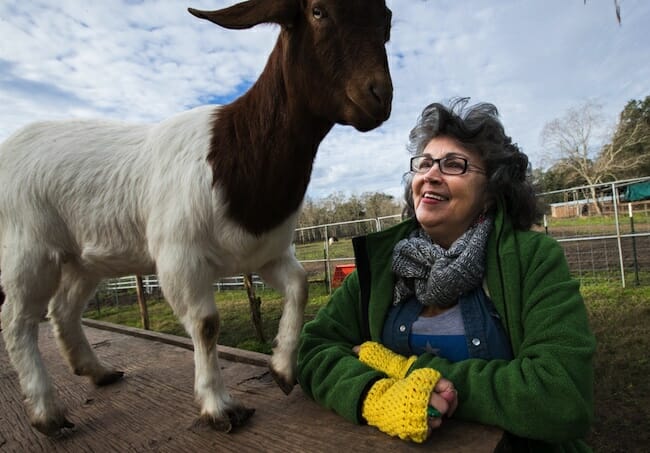 Renée King-Sonnen fell in love with, and married, a fourth generation cattle rancher in 2010. She moved from suburbia to 96 acres of Texas pasture where she soon discovered she had fallen in love with the herd of cattle who lived there, too. Fascinated by the animals, Renée began spending a lot of time on the range with them, getting to know their individual personalities, and observing deep bonds between the cows and their calves, as well as the friendships and affection displayed between herd mates. Her heart broke every time the calves were loaded up for auction and their imminent slaughter.
"The experience of watching them leave, the mamas wailing for a week, and the absence of their souls in the pasture haunted me. I've cried so many times over this that he has tried to hide the fact he is doing it but I always knew because of the wailing that the momma cows do when they lose their babies and can't find them."
Renée bought the cow she calls Rowdy Girl as a calf for $300 from another rancher that her husband told her about. She bottle-fed her and gave her all the love, nurturing and protection she wished she could give to all of the calves born on the ranch. A few years later, Rowdy Girl gave birth to her own calf, Houdini, so named for her early ability to escape from the property and go wandering. In fact, she escaped so many times that Renee's husband told her they would have to sell Houdini. Renée refused. She had already gone vegan by that time, and she thought about finding a new home for Rowdy and Houdini at a farm sanctuary. But her heart kept telling her that what she really wanted was to convert the ranch into her own farm sanctuary, and save all of the cattle in her husband's herd, as well as pigs, chickens and other farmed animals in need. Thus was born Rowdy Girl Sanctuary. You can follow them on facebook, and also get updates at the Rowdy Girl Sanctuary Instagram page.
Aside from establishing Rowdy Girl Sanctuary to love and care for farmed animals, Renee has kept ranchers in her heart as well. One day, while being interviewed, Renee exclaimed, "I'm not only an animal activist, I'm also a rancher advocate." With that simple statement, the idea of the Rancher Advocacy Program was born and officially launched in July, 2018. Renee and Tommy's story of how they transitioned from ranch to sanctuary went viral and communications began coming in from ranchers' wives, daughters, next door neighbors, and even ranchers themselves. Their story finally gave people the permission to speak out about concerns considered taboo by the ranching community.
Today, the Rancher Advocacy Program offers innovative solutions to help farmers and ranchers opt out of animal farming and into veganic farming, solar farming, or wind farming. RAP is pioneering these methodologies and providing extensive assessments and services to qualified farmers. RAP is quickly evolving into a coalition of businesses, organizations, and individuals that are passionate about healing our planet and helping our farmers with viable solutions and strategic partnerships.