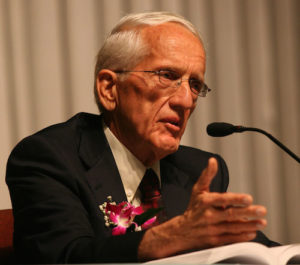 Dr. T. Colin Campbell is an American biochemist whose research focuses on the effects of human nutrition on long-term health. Because his emphasis is nutrition science, he does not use the term vegan but rather advocates for a 100% plant-based diet, stressing the empirical basis for his position. However, his books, articles and lectures have been hugely influential in leading thousands of people down the vegan path, and in solidifying the case that humans can easily thrive without consuming any animal products.
With his son, Dr. Campbell co-authored the international bestseller The China Study, based on his findings from a 20 year research project conducted under the auspices of Cornell University, Oxford University and the Chinese Academy of Preventive Medicine, and described by The New York Times as "the Grand Prix of epidemiology." The China Study examines the relationship between animal product (meat, egg and dairy) consumption and chronic illnesses including heart disease, diabetes, breast cancer, prostate cancer, and colon cancer. Based on a meta-analysis of diet and disease rates in thousands of people in rural populations of Taiwan and China, Dr. Campbell concludes that people who eat a whole foods, plant-based diet—excluding all animal products—can avoid, reduce, and in many cases reverse the development of numerous illnesses, including most of the leading fatal Western diseases.
Perhaps the most surprising thing about this study and his subsequent life's work is that Dr. Campbell spent his entire childhood, into adulthood, living and working on his family's dairy farm, and undertook the China Study with the belief that animal protein was an essential part of a healthy diet. He now teaches that casein, the main protein in milk and dairy products, is the most significant carcinogen we consume. Here is an excerpt from a position paper he presented to the Physicians Committee for Responsible Medicine:
"I was raised on a dairy farm milking cows until my graduate student days in nutrition at Cornell University. For my doctoral research I investigated, in effect, how to make the production of milk, meat and especially animal protein more efficient. Later, it was on to Virginia Tech's Department of Biochemistry and Nutrition and my coordination of a State Department funded project designed to organize a nationwide program of improving the health of malnourished children in the Philippines, especially to insure a good source of protein, preferably 'high quality' animal based protein.
But I was greeted with a surprise. The few people who were consuming protein-rich diets were more susceptible to primary liver cancer… My associates and I then embarked on a basic research program to investigate this surprising effect of protein feeding on cancer development. Supported entirely by public money – mostly from NIH – we explored in depth over the next 27 years various characteristics of this association. We needed to confirm this observation, then determine how it worked. We did both. The results were profoundly convincing and, along the way, they illustrated several fundamental nutrition and cancer principles.
Tumor growth could be alternately turned on and off by feeding diets containing higher and lower levels of dietary protein, respectively.
Dietary protein promoted tumor growth but only at dietary levels above that needed for good health (ca. 10% of total energy).
Although dietary protein did not initiate cancer, it enhanced initiation and, more importantly, promoted tumor growth.
The protein effect could be explained by multiple biochemical mechanisms, appearing to act in synergy.
The dietary protein having this tumor promoting effect was casein, the principle protein of cow's milk. Two plant-based proteins, soy and wheat, did not promote tumor growth–even at the higher level.
The casein effect on tumor growth very likely extends to other animal proteins as well.
Based on the criteria used by the government's program for determining whether chemicals are carcinogenic, casein is very likely the most relevant chemical carcinogen we consume.
However, I question studies that are focused on single agents and single events because they are usually missing the larger context. Thus, we sought that larger context within which casein, perhaps animal protein in general, relates to human health. An opportunity arose for us to conduct such a study among human subjects in rural China where various cancers were geographically localized and where diets contained relatively small but varied amounts of animal based foods. In seeking this larger context in this nationwide study, we learned – from multiple perspectives – that relatively small amounts of animal based foods (and/or the lack of whole plant based foods) nutritionally conspire to cause degenerative diseases like cancer, cardiovascular and other diseases commonly found in the United States and other highly industrialized countries.
These experiences eventually led me to a view about diet and nutrition that is substantially different from that with which I began my research career, especially in respect to my personal and professional love affair with cow's milk and its products."
To learn more, check out the book, The China Study, or visit thechinastudy.com. You can also stream the groundbreaking health documentary Forks Over Knives, inspired by the work of Dr. Campbell.