When we who have access to plant-based foods and the land to grow them persist in farming living beings and consuming their corpses and reproductive secretions; when we forcibly breed billions of sentient individuals into existence for the sole purpose of sending them, in their infancy or youth, to a slaughterhouse, a.k.a abattoir, from the french abattre: to put an end to, to beat down…
When there exists such a thing as a house for putting an end to, a house for beating down; and when we have erected sufficient of these to effect the extinguishment of tens of billions of vulnerable beings annually, so to squeeze their dismembered parts into shining packets of cellophane where the blood of the beaten animals still pools in the plastic—
And all this carnage, not because we must, but simply because we can—because we like it—
when a slaughterhouse exists, not because it must, but simply because it can—because we like it—
then we are literally saying that the lives of these animals are nothing more than existential garbage.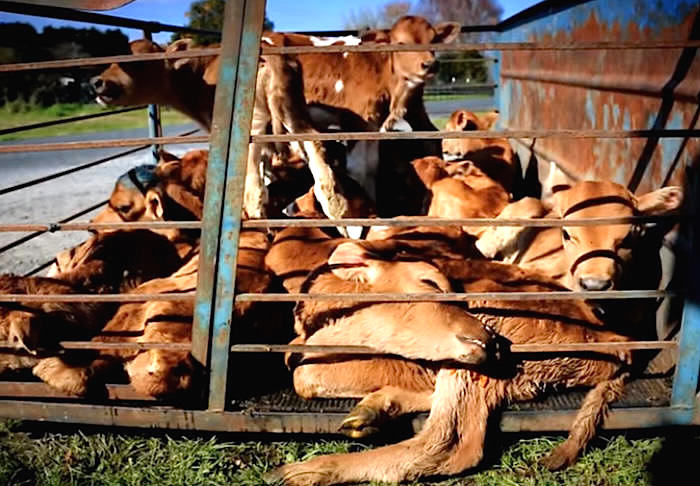 Because the truth is, no matter how "small, family farm," "organic, local & pasture raised," "certified humane" or "welfare approved," animal agriculture— literally the farming of sentient beings— is at its core based on the grossest devaluing of life. When you maintain that an animal's dearest wish for continued existence, and its entire potential lifetime of meaningful experiences, are worth less than the non-essential taste of bacon, hamburger, or cheese; that animals should actually be killed for these fleeting and replaceable pleasures, despite an abundance of plant-based alternatives; then you are saying in effect that these animals are trash.
And so it was that on October 5, 2016, when a truck hauling pigs to Fearman's Pork slaughterhouse in Ontario overturned outside the slaughterhouse, instantly killing dozens of pigs and seriously wounding several others, and representatives for a local farmed animal sanctuary offered medical care and permanent refuge to the injured pigs, they were roundly ignored. And when representatives of the sanctuary literally begged for the animals' lives, they were turned away and dismissed, even as the bodies of the still living animals were condemned as no longer viable for sale or consumption.
Steve Jenkins, one of the proprietors of the sanctuary, wrote:
"This morning I witnessed something that I cannot remain silent about… After attending the horrific scene of an accident involving a tractor trailer full of pigs a few minutes from our home, I found out that there were a few injured animals no longer "viable for processing." They were lying on the ground a few hundred feet from the overturned truck, very much alive but unable to walk. They were hidden behind tarps and sheets of cardboard, where they remained for hours while we begged for their freedom. At this time, it was obvious they could not be processed due to their injuries, so requesting they be released to a sanctuary seemed like a completely fair and reasonable request. Unfortunately, our requests went completely ignored. The injured animals were shot with a bolt gun in plain sight, before being lifted by the bucket of a forklift to be disposed of."
While Steve and other activists pleaded in vain for the release of the condemned animals, one woman quietly captured a sequence of photos showing two of the doomed pigs in a moment of empathy that has since appeared in articles and social media postings around the world. The following images were taken by Andrea White, who also works at the sanctuary which sought to rescue and rehabilitate the wounded pigs.
In this sequence, one of the injured pigs approaches and then attempts to comfort, gently and repeatedly, another who cannot walk and whose bleeding body is being concealed from the public by a piece of cardboard.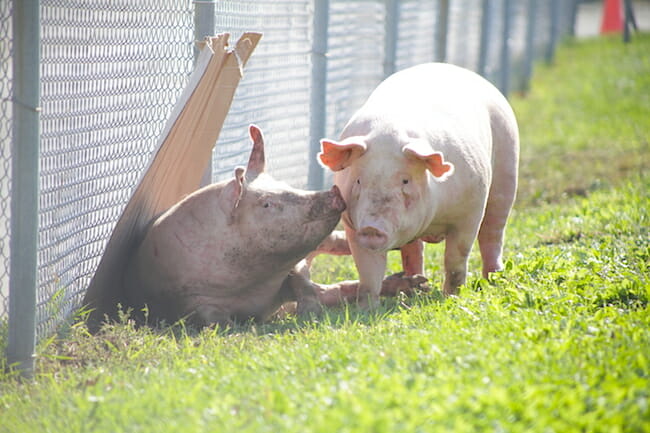 About her experience witnessing these moments, Andrea writes:
"In between a tragic accident and their last breaths, against a background of terror and pain, these pigs were able to find a brief moment of compassion. They could recognize suffering in each other, and offered comfort. In this moment they felt the warm sun on their broken bodies, ate grass for the first times in their lives, and felt, perhaps, free.
In this moment we see their suffering. And can recognize that they are capable of feeling emotion, and caring for each other. Much like our beloved companion animals.
After this moment, they met the fate that was decided for them the second that they were born. Despite efforts to send them to sanctuary, they were both killed. The pig on the right was walked to the slaughterhouse. The pig on the left, as she was unable to stand at this point due to injury and exhaustion, was shot with a bolt gun. Her body was taken away in a forklift and disposed of, like trash."
Shortly before she was killed, the pig beneath the cardboard was caught on camera rooting in the grass for probably the first time in her life:
Tayler SZ, a Toronto activist, writes: "This beautiful girl had never before experienced the outdoors, the smell of fresh earth, the taste of fresh grass. She had never been able to root or roll, something she so naturally wanted to do. So despite all her injuries, her pain and suffering, her fear and confusion in the chaos of this day, she did it. Covered in her own blood and the blood of others, downed and unable to get up, she still did it. She used everything she had left to smell the earth, root in the dirt, eat some grass, and even do a little roll. She was, literally, "dying to do it." Her innocence was palpable. You could see the joy in her eyes. Her snout wiggled rapidly as she attempted to take in all the new and amazing smells around her. For just under a minute, she finally experienced something good. Moments later she was shot in the head."
While much has been made of Fearman's callous decision to dispose of the injured animals rather than relinquish them to sanctuary, it's important to note that the literal trashing of these creatures followed quite naturally and inevitably from their having been bred for needless slaughter. Any time we choose for animals to be exploited and killed unnecessarily, for our enjoyment, we conceptually trash them. And it is a very short distance from there to the literal dumpsters full of dairy calves, the industrial egg farm drains clogged with macerated chicks, and the shooting of a bolt into the brain of a gentle animal who wanted to live, who could have been saved.
---
Please live vegan. Learn more at our Why Vegan? page.