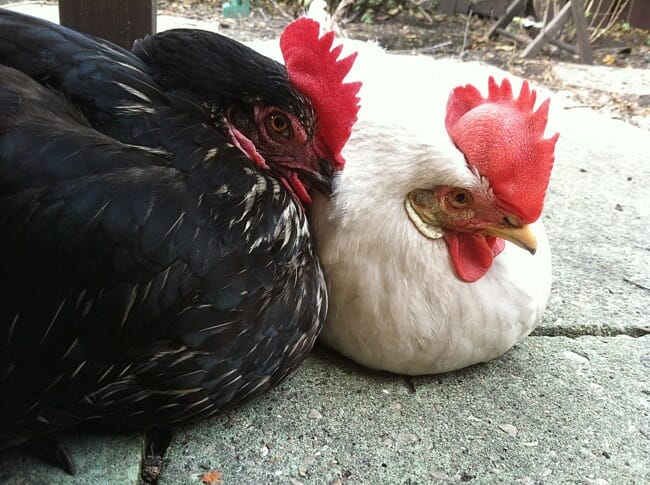 As someone who rescues, raises and advocates on behalf of chickens, one of the biggest challenges I face is getting people to see the chicken BEFORE the egg. Even people who are fond of chickens and keep them in their backyards, see them first as egg-laying machines, as if to ovulate on a daily basis were their primary purpose for existence. Our perceptions are heavily distorted by egg-industry marketing that has relentlessly "dumbed-down" the chicken's identity since the 50s. The truth is that laying eggs is actually a very small part of the rich and complex lives of undomesticated chickens who live in their native tropical forest habitats and who lay eggs only for purposes of reproduction (just like all wild birds).
In stark contrast, consider how vastly we've impacted and transformed chickens to their detriment, in the process of domesticating them (all the while using language that suggests chickens willingly give us their eggs and flesh as "gifts," like fruit falls from a tree). "It is no coincidence that the first creature to have a full genome map was the chicken: Gallus is the most studied species in the world. Every biological feature was experimented on with the aim of rendering chickens more serviceable to humans." — Anne Potts, from her book, Chicken (p. 143) Chickens were domesticated some 7,000 years ago, yet lived free of human interference for millions of years before this, their ancestral lineage dating back to the Jurassic period.
If we can let go of our fixation with eggs, we'll finally allow ourselves to discover some absolutely remarkable birds. It's clear to me that chickens, if given a choice, would not be going through the painful struggles and straining of infertile egg laying that our genetic manipulation has subjected their bodies to. Instead they would be engaging in rich sensory experiences with other flockmates and even other species, like us. Researchers have discovered that chickens, even chicks, demonstrate cognitive abilities far beyond those of dogs and cats, on par with primates and humans. In fact, a recent study proved how day-old chicks possess certain cognitive skills that only appear after many months in human babies.
But we can learn quite a bit on our own through simple observation. We will quickly discover that each bird has an individual personality with specific likes and dislikes, desires and quirks. The best way to learn about chickens is to visit them on a sanctuary. Since most people will never see a live chicken in their lifetime, let alone visit a sanctuary, I'm building a "virtual" sanctuary for people to visit anytime. It's the next best thing to being there. Check out my collection of video clips depicting a variety of fascinating chicken behavior from some of the individuals with whom I share my life.