"Don't send kids to prison" is one slogan used by the Canadian advocacy group Evolve Our Prison Farms, which has launched an international petition to stop the Correctional Service of Canada (CSC) getting into the goat dairy business this year.
According to CSC, its multi-million-dollar investment in an industrial goat farm pilot project is for the benefit of prisoners who will "acquire new skills." The real reason: money. Canada's prison farms will be exploiting prisoners in the exploitation of animals for institutional and corporate profit.
"The prisoners will get to play with baby goats," said one CSC representative.
"The prisoners will learn empathy working with animals," said another.
"It's important that it be dairy," said another, "because the animals are all mothers. Many inmates haven't known a mother's love, and the animals are like mothers to them."
Lawyer Anna Pippus, director of the Plant-Based Policy Centre, offers a simple rebuttal: "Animals are not surrogate mothers for prisoners."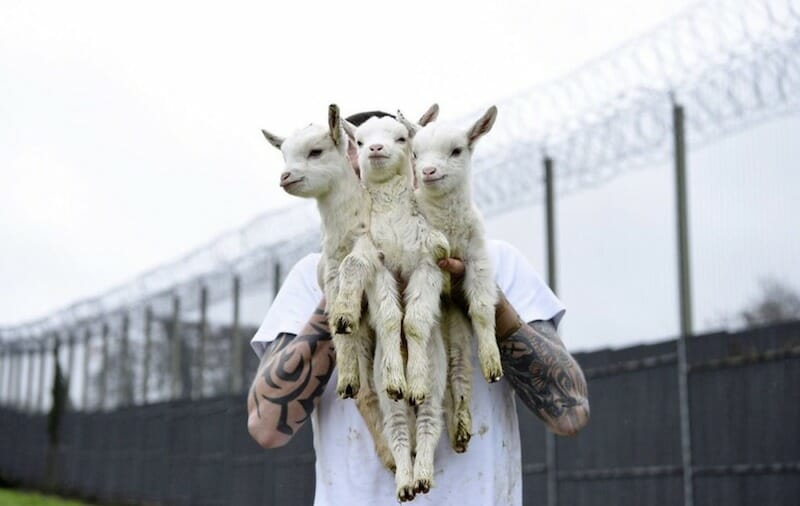 As for the so-called benefits of learning empathy, Camille Labchuck of the Animal Justice law firm demolishes this claim: "Industrial-scale animal farming creates brutal conditions for animals and workers alike. There's no rehabilitative aspect to a factory goat farm. All it teaches incarcerated persons is that animals should be exploited and commodified. This is hardly consistent with inspiring more care and compassion for others."
To sum up CSC's goat farm as "playing with baby goats" is misleading to the point of obscenity. Baby goats there will be, hundreds of them. CSC plans on acquiring the first 800 female kids in 2021, to begin building the herd to at least 2200, and potentially as many as 3000 or more. An industrial dairy facility (and accompanying manure lagoon) will be built on prison grounds to produce 9000 litres of goat milk per day. The expected buyer is a transnational Chinese infant formula company that has built a massive processing facility in proximity to the prison farms in Kingston, Ontario.
This will be the largest known goat farm in Canada. The goats will not be pastured but will be kept in conditions described by CSC as "Confinement." They will be mechanically milked by a captive workforce paid less than $1 per hour to produce milk for a powerful corporation. Prisoners are not classified as employees, they have no standard worker rights or protections, and they will be exposed to the documented risks of respiratory illnesses (from bacteria, bioaerosols and dust), viral illnesses like COVID-19, and workplace injury. This "therapeutic" interaction with animals will conclude with the surplus male kids and their "spent" mothers being slaughtered by prisoners in a commercial prison abattoir.
All of this, if CSC is to be believed, is for the benefit of the prison population.
Prisoners disagree, they have told us so in droves. Academics disagree, for the reasons outlined in a new report. If you disagree also, please sign the petition to stop the prison industrial goat farm.
UPDATE: On March 5, 2021, in response to the report, petition, and media exposure, the Correctional Service of Canada announced that the prison industrial goat farm is being "temporarily paused" but "will resume" at a later date. Evolve Our Prison Farms takes this as a call to increase the pressure and demand the outright cancellation of the goat project and the immediate transition to a plant-based model rather than investing in the expansion of their cow dairy.