We betray the kindness of children every time we give them dairy products. We betray their huge, gentle hearts, and their love and compassion for animals. If children had any idea what goes into that milk, cheese, ice cream, or yogurt, they would be devastated. If children knew that baby cows are forcibly taken from their mothers; if they ever saw a mother cow calling frantically for her baby; if they ever saw a calf crying in a veal crate, or curling into a lonely ball to warm himself; they would never choose to cause such harm to animals.
"The very saddest sound in all my memory was burned into my awareness at age five on my uncle's dairy farm in Wisconsin. A cow had given birth to a beautiful male calf… On the second day after birth, my uncle took the calf from the mother and placed him in the veal pen in the barn—only ten yards away, in plain view of his mother. The mother cow could see her infant, smell him, hear him, but could not touch him, comfort him, or nurse him. The heartrending bellows that she poured forth—minute after minute, hour after hour, for five long days—were excruciating to listen to. They are the most poignant and painful auditory memories I carry in my brain." Michael Klaper, M.D.
Perhaps you didn't know that profitable dairy production depends upon forcing cows to become pregnant, then taking away the babies for whom the milk is intended. Or that millions of young dairy cows are slaughtered every year and turned into ground beef when their milk production declines; or that veal is a byproduct of the dairy industry. And maybe you didn't know that it is unnatural and unnecessary to drink the breast milk of another species, because you were taught otherwise. All dairy production depends upon exploiting the reproductive processes and mothering of other animals.
The answer is not: "I know this small farm where they let the calf stay with its mother." On the rare occasion that mothers and calves are permitted to stay together a bit longer, those calves, if they are male, still become veal in a few days or weeks, or beef in a few months. They are still slaughtered. Their young mothers are slaughtered in a few more years, at a fraction of their natural lifespan, as are their sisters when their milk output slows.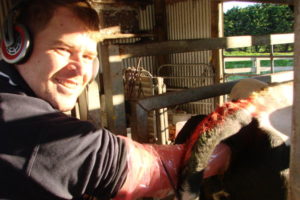 Dairy cows are sexually violated, and their reproductive systems constantly exploited and manipulated, in order for humans to take their milk. Would it be acceptable to restrain and forcibly inseminate women year after year, and hook their breasts up to machines to steal their milk, as long as we let them keep their babies for a few weeks? We have no biological or nutritional need for meat or dairy products. We exploit these animals for profit and pleasure. And it is wrong to harm or kill animals for pleasure.
Please don't make choices for your children that betray their compassion, and the lives of animals we have no need to harm.
Please learn more:
Uncover the many myths about milk and human health, and so-called "happy cows"
A Small Dairy Farmer Addresses Separating Calves From Their Mothers
Why Humane Animal Farming Is a Myth
There are tons of delicious dairy-free alternatives for every dairy product. A favorite milk among the newly dairy-free is Almond Breeze almond-coconut blend, but you can get calcium rich milks made from soy, coconut, oats, rice, hemp, almonds. Check out these wonderful guides to plant-based milks and cheeses:
http://gentleworld.org/5-vegan-alternatives-to-milk/
http://www.onegreenplanet.org/foodandhealth/the-ultimate-guide-to-plant-based-milks/