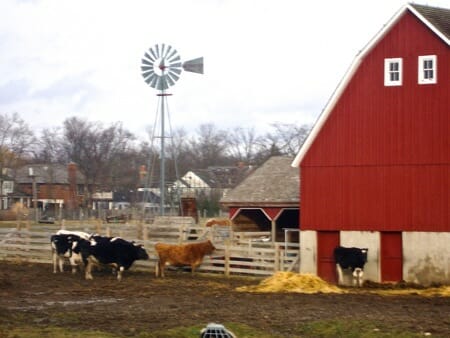 A Model for Locavorism?
We recently interviewed Debby Rubenstein about her 11-year commitment to helping animals at Wagner Farm in Glenview, Illinois, an affluent north side suburb of Chicago. Wagner Farm is part working "historic" farm and part educational center managed by the Glenview Park District and funded largely with taxpayer dollars.
Many of the animals now come to Wagner Farm from the local 4H Club, The Glenview Clovers, who boast of being the largest 4H Club in Illinois, with about 50% of the animal exhibits at the Lake County Fair. Rubenstein tells us that management explained to her that their 4H animals are intentionally removed from Wagner Farm at the end of the 4H project season each summer and sent to auction at the Lake County Fair, where they will be sold to the highest bidder for slaughter. They explained that this is part of the "educational program" that the children and parents of the 4H Club fully understand and are just fine with.
The Sanctuary Alternative to Unnecessary Slaughter
Rubenstein founded the non-profit Wagner Farm Rescue Fund (WFRF) in 2002 to address animal welfare issues and offer permanent sanctuary for the farmed animals of Wagner Farm as a humane alternative to slaughter. In the last 10 years, Rubenstein has managed to arrange the rescue of 82 animals from Wagner Farm, even in the face of growing resistance from Wagner Farm management who seem determined to circumvent rescue in many cases and instead condemn the animals to the slaughterhouse. In just the past three years alone, an estimated six dozen lambs and pigs have been sent to slaughter by the Glenview Clovers 4H Club.
Rubenstein says there are ongoing policies and practices at Wagner Farm that contradict the spirit of Wagner Farm originally established between the park district and local citizens who assisted the park district in the purchase of Wagner Farm through a taxpayer-supported referendum in 1998.
Despite 82 successful rescues by WFRF, communication with Wagner Farm began to deteriorate after an August, 2012 meeting with Rubenstein, Anne Hoffman (WFRF board member), Glenview Park District Superintendent of Leisure Services Robert Quill, Wagner Farm Director Todd Price and Wagner Farm Manager Jeff Wienski. Quill essentially told Rubenstein that they no longer wanted to negotiate rescues or discuss animal welfare measures with WFRF, and should she persist in her efforts, he threatened to instruct his staff to ignore her.
Privately-Owned Animals in a Public Facility?
Rubenstein continues to visit the farm every day. She finds some animals that she has gotten to know suddenly disappear while new animals appear as "replacements."
An example is the Glenview Clovers 4H project pigs. Each year, within a few weeks of the pigs being sent to slaughter, two new and privately owned pigs arrive at Wagner Farm as display animals for the Fall and Winter seasons. These pigs are then slated for removal from Wagner Farm before the new 4H pigs arrive each Spring for a new project season.
Wagner Farm staff allegedly told Rubenstein that they have developed "relationships" with certain people in regard to the purchase of the project lambs and pigs. The program results in the animals transported to Lake County Fairgrounds for display and prize judging. Wagner Farm Director Todd Price revealed his own connection to LCF as chairman of the fundraising committee of the Lake County Extension Council, the division that oversees 4H clubs. In his blog post Price writes, "support is seen in the level of donorship the county office receives. As the chairman … it falls to my group to try to make a difference in the bottom line."
Rubenstein describes what she sees at the farm as essentially a "playground for the 4H Club kids who treat it like their own private property." Yet even Wagner Farm's own volunteer web page states that "volunteers who work around livestock or at the Glenview Farmers Market must be at least 18 years of age." (1)
The Myth of Humane Farming
While Wagner Farm claims to be preserving life on the average 1920s-era farm, staff on this multi-million-dollar facility enjoy all of the modern amenities, including central heat and air conditioning, while some of the animals' basic needs are neglected.
Wagner Farm has done a great job of selling the image of Old McDonald's Farm while concealing the ugly reality of the modern auctions and slaughterhouses where many of these animals end up at a fraction of their natural lifespan. As a humane solution, WFRF has offered to pay the highest price (or higher) Wagner Farm could get at auction for certain animals. WFRF has also offered to provide transport and permanent sanctuary for these animals. Wagner Farm has often refused WFRF's offers. Empathy for the animals is just not part of Wagner Farm's "educational program."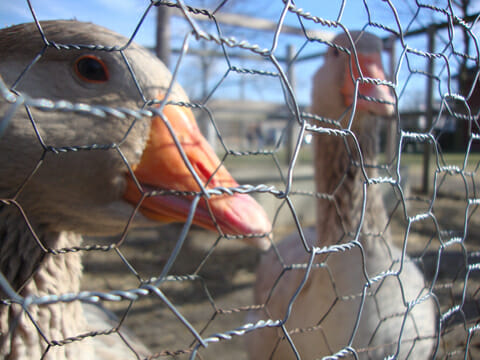 And yet WF seems wise enough to at least project the perception of respect for animals. One Wagner Farm blog post tells of how the animals are blessed by the priest in a ceremony known as the Blessing of the Animals at Saints Peter and Paul Church across the street from Wagner Farm. One of the young girls walking her project lamb at Wagner Farm once approached Rubenstein and stated that these animals were created to be eaten, and that God would be mad at us if we didn't use them for food. Clearly, the indoctrination runs deep here and is reinforced by the 4H Club, the church, the Glenview Park District and the community. And in the process, Rubenstein and the rescue efforts of WFRF have been marginalized and even ignored to protect "tradition."
(1) Glenview Clovers 4H club members, who are minors, have been seen on numerous occasions in animal housing areas without any adult supervision, says Rubenstein. When asked about this, management claims that these animals are privately owned by the children and their families, and yet Wagner Farm is a public facility.
For more details on WFRF, please visit their Facebook page.