I had been vegan for many years before the birth of my exuberant little girl, Melody. Having been an advocate for animals and vegan living for a meaningful portion of my life, and having thrived on a whole foods plant-based diet, it was clear to me that I was never going to need an animal product while journeying through pregnancy and into motherhood. (Indeed, even the Academy of Nutrition & Dietetics, our government's official advisory panel on diet and nutrition, has stated that a well-balanced vegan diet is appropriate for people at all stages of life, including pregnancy and birth).
The healthful nine months that led up to the delivery of my sweet, perfect baby were some of my most empowering and transformative times. I was proof that mother and child can flourish beautifully through the beginning stages of life, without ever having to partake in the exploitation of animals.
On the day of my daughter's birth, I marveled at the billions and billions of living souls before me whose bodies had heaved and rolled through labor. On hands and knees, my body pulsed and contracted on my bedroom floor, and I pushed my daughter out into the hands of my midwife's assistant. I felt connected to all of the other animals in this world — human or otherwise — who had ever endured this grueling, bewildering, humbling process. With that strange experience came a reverence for motherhood and the mysterious ways in which a mother's body and a baby's body have worked together countless times to foster each other and life itself.
After day one, I waited impatiently for my milk to "come in." For those less familiar with the intricacies of the first days of life (and until I become a mom, I certainly was), a new mammalian mama's body will immediately produce vital colostrum for her baby, and usually start to produce milk for her young in the two or three days following birth. For me, those days were a difficult practice in self trust; I didn't fully believe my body's capabilities. But then, like the billions of mothers before me, I started to make milk to feed my newborn.
Even though this was the most likely outcome, the process amazed me. I was astonished to feel my breasts burn and drip as they filled with milk every time my newborn gave me visual or auditory cues that she was hungry. Almost every single time that I perceived her as being hungry, my body physically reacted, and my breasts would swell with food for her. This was a physical expression of love for another being like I had never experienced before, and was a testament to how much our bodies were synced and how essential we were to one another at that fragile time.
It was during these early days of nurturing Melody's life that I was hit with an acute sense of grief for dairy cows. Just like human mothers, cows carry their babies for nine months, at the end of which they endure a long and painful labor. But unlike human mothers, dairy cows are forcibly artificially impregnated in an invasive procedure that involves farmers inserting one arm deep inside the cow's rectum (to grasp and position her cervix through the rectal wall), while using the other hand to insert a long "A.I. gun" full of semen into her vagina. Semen is collected from bulls in a number of ways, all of which decidedly violate the dairy bull.
Once calves are delivered, they are stolen from their mothers within hours of birth in order for humans to take the milk intended for them (see non-graphic video of separation of mother and calf on a small, humane label dairy farm). Instead of feeling the tingle of their mammary glands producing milk at the sight, sound, and touch of their tiny nurslings, for mother cows, that sensation is prompted by the sights and sounds of the unfeeling machines that crassly violate them once their children have been ripped away (and, if they are male, killed for veal. The veal industry is the dairy industry).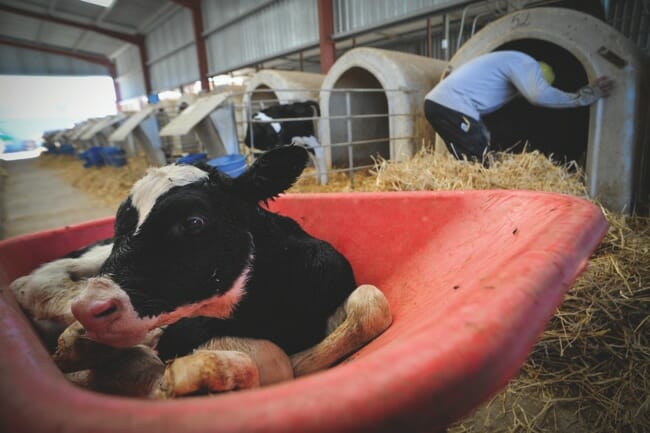 I had visions of being forcibly separated from Melody and routinely strapped to a breast pump. I couldn't imagine the sorrow of those hidden mothers, who are assaulted and robbed of their babies and bodily fluids so that we can use their milk as a non-essential ingredient in bars of chocolate and bowls of cereal. That depravity juxtaposed with the reality of my own healthy, thriving dairy-free existence left me distressed. We don't need to do this to mother and baby cows, or goats, or any animals. Humans have absolutely no need for the maternal lactations of other species of animals; this is a basic fact of biology. We don't need to violate the bodily autonomy of others, to forcibly create and dispose of life, and cause endless suffering and trauma to other mothers and their babies.
How can anyone who has felt the sore and painful love of birthing a helpless, trusting newborn wish this on another mother? Being a nursing mom, and especially having gone through the powerful hormonal and physical transformations of motherhood in the very early postpartum days, I'm devastated for the mothers and babies of this heartless industry. The dairy industry is at its core an abject betrayal of motherhood and the female body. Thankfully, it's incredibly easy and healthful to make more ethical choices. For the love of mothers and babies everywhere, please let's all start now.