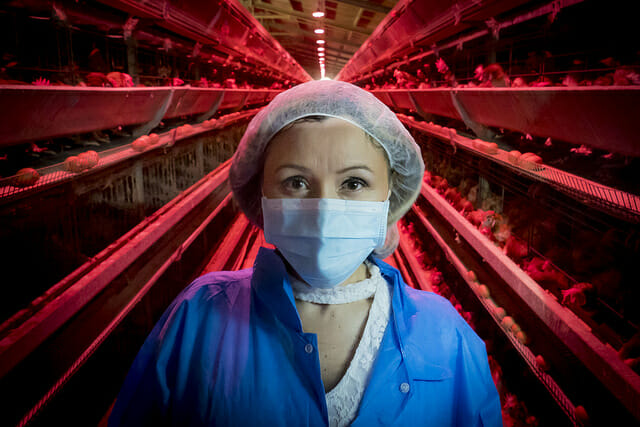 Humankind's practice of using other animals as vessels through which we are healed in some way is at least as old, if not older, than civilization itself. In the Orthodox Jewish Kaporos ritual, still practiced by certain orthodox Jews today, weeks-old birds are held by their underdeveloped, fragile wings as rabbis recite words of atonement while swinging the screaming birds over the worshiper's head. The chickens are then brutally killed while fully conscious. The ritual slaughter of animals is commonly depicted in the art of ancient Egypt and other early civilizations as offerings to the dead, to be buried along with the deceased.
Today, scientific researchers are heralded in our culture as the saviors of humankind, reinforcing this ancient myth in which the "lesser animals" are elevated as martyrs for their "sacrifice" in serving a greater human purpose. Such a scientific worldview operates in an ethical vacuum in which its victims are made invisible. If and when they are even mentioned, they are falsely and conveniently portrayed as willing participants in whatever we want to do with them. Under this thick layer of anthropomorphism lies a false dilemma, they assure us that no alternatives exist to exploiting non human animals to benefit humanity. Imagine that. In an age when science has shown us how we can grow crops in greenhouses in Antarctica and meat cells in labs, we somehow can't figure out how to use our superior big brains to deliver drugs to patients without making others suffer and die for it?
In the BBC's recent article, The GM chickens that lay eggs with anti-cancer drugs, researcher Lissa Herron tells the BBC, "The chickens [used in her experiments] do not suffer and are pampered compared to farm animals." But then, later in the article, BBC Science correspondent Pallab Ghosh reveals how the real-world application of Herron's experiment would rely on the industrialized egg industry: "Three eggs are enough to produce a dose of the drug, and chickens can lay up to 300 eggs per year. With enough chickens, the researchers believe they can produce drugs in commercial quantities."
In this myopic view, both Herron or Ghosh choose to ignore all of the needless devastation caused by modern egg farming, from the suffering and diseases that result from hens engineered to lay their entire body weight in eggs every 24-30 days, to the vast populations of wildlife who are displaced and/or brutally killed to maintain these farms, to the enormous environmental and climate costs of raising animals for food as compared to nutrient-rich crops, to the adverse health effects of the animal-centered Western diet, to the food security problems exacerbated by egg farming (and animal agriculture overall) which devour limited sources of water, land and grains that could otherwise serve needy human populations. Among the many organizations sounding the alarm, the United Nations has called for a global shift to a plant-based diet wherever possible as the most effective way to combat climate change, world hunger, and ecological devastation.
The narrative advanced by Herron and Ghosh exists in an ethical vacuum because it assumes that pumping out egg after endless egg is just what chickens are meant to do — naturally, of course — rather than acknowledge the fact that it took centuries of selective breeding and violence to force chickens to lay such an obscenely unnatural volume of eggs. Chickens bred for egg laying and meat are two of the most intensively bred species on earth, resulting in high rates of disease and premature death. If they really are concerned about what's natural, they might consider the fact that wild chickens have been known to live 30 years or more, laying a few clutches of eggs per year and only for purposes of reproduction, like all wild birds.
And while scientists like Herron go about innovating ways that make us more reliant on a ruthlessly cruel industry that regards birds as egg machines, another branch of science illuminates a completely different way forward in our appreciation and understanding of them. What we've learned about the chicken mind and behavior in just the last fifteen years contradicts hundreds of years of misconceptions. Much of what was previously thought to be the exclusive domain of human/primate communication, brain and cognitive function, and social behavior is now being discovered in chickens and other birds.
The flawed premise of Herron's work is that someone must lose for us to win, all the while ignoring the ethical paradoxes and the negative consequences embodied in her solutions, all the while insisting that no alternatives to animal use for such things as drug delivery can possibly exist, all the while blinded by the dystopian world we are imposing on other species, on ourselves and on our ailing planet. A future generation will look back on our age with disgust that such scientific ambitions were lauded rather than critically examined and rejected.
TAKE ACTION
Share your thoughts by emailing Lissa Herron at [email protected] and BBC News.