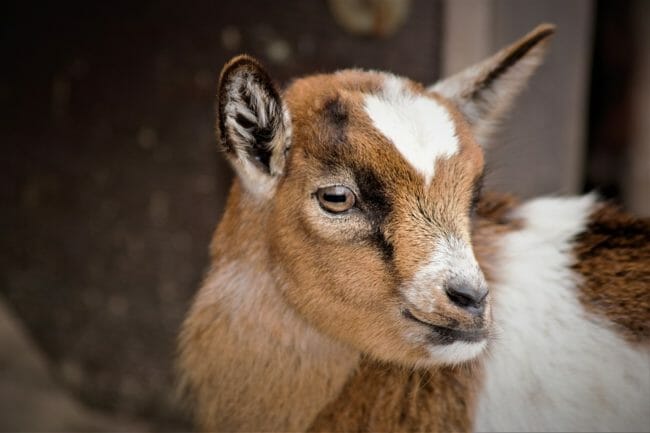 When we see that a product is "ethically made," it makes us feel good about where we are choosing to spend our dollars. But in some cases, it helps us forget that the "ethically made" "product" that we are consuming is actually a sentient being, and not a product at all.
But what does "ethical" actually mean? We most often see this definition: "morally good or correct."
With that understanding in mind, I am often shocked to see the oxymoron "ethical meat" even exists, as there is nothing morally good about killing a sentient being only for the pure (and completely unnecessary) pleasure of eating their body. A recent article by The Sun shares that goat meat is set to become the "ethical meat" food trend of 2019. As the article explains, "… around 100,000 young male goats [born to female dairy goats] are killed each year. This is because they cannot be used to produce dairy products, which are already popular, and farmers say there is not enough demand for their meat." This promotion of "ethical" products derived from animals that would otherwise be trashed is a common tactic of animal agriculture and is purely self-serving. (1)
Does the killing of goats that were artificially bred from an already exploitative industry really make this trend more ethical, just because their bodies will be eaten instead of being disposed of like trash? At its core, if stealing milk from goats for human consumption is unethical (check out all these former dairy farmers who say it is), then by that logic, eating goats that are "byproducts" of the dairy industry is unethical as well.
We can rule out two deadly choices here: meat and dairy products. If we weren't demanding to take baby food from another species (goats, in this case), then there wouldn't be 100,000 male goats to kill each year in the first place. Changing the motives for their death sentence doesn't make the choice any less depraved.
As author Hope Bohanec says, "Life is an animal's most cherished possession and animals, like humans, will fight to survive. It is absurd to speak of humane treatment of animals when it comes to their handling, management, food, and shelter if you deny them the most basic right—to live out their lives—and condone or are complicit in their slaughter. Clearly, the killing of the animal is the most severe transgression, greater than any mistreatment that allows the victim to live." (2)
As most humans claim to be the species of higher intelligence, do we really want to pat ourselves on the back for killing off our fellow earthlings? We must challenge the "humane myth" in our activism for animals and urge people to leave animals and their secretions off of their plates.
What can you do? Let the BBC Good Food Magazine know your thoughts on their choice of promoting the flesh of unwanted baby male goats as a major 2019 food trend by emailing them at [email protected].
You can also share our Dairy Facts resource, as well as our in-depth article that explores the problems with, and practices permitted under, "humane" dairy labels, including "grass-fed" and "slaughter-free." Finally, share our Guide to Going Dairy Free to help make folks aware of all the delicious plant-based milks, cheeses, and more!
(1) https://www.thesun.co.uk/news/8204257/goat-meat-food-trend-2019/
(2) https://freefromharm.org/animal-products-and-ethics/the-ultimate-betrayal-is-there-happy-meat-an-excerpt-from-the-book/