A growing number of consumers are ditching dairy products after learning that dairy is a slaughter industry— with male calves born on dairy farms killed at a few days to a few months old for veal, and around one year of age for beef; and female cows typically slaughtered at 3 to 6 years of age, when their milk production declines. (A cow's natural lifespan is 20 years or more). In the U.S. alone, some 3 million young mother cows are killed by the dairy industry every year. And globally, more than 21 million calves are slaughtered for veal or cheap beef.
In response, a segment of the niche "humane" dairy sector is working to popularize the notion of "slaughter-free dairy" — with perhaps the most well known model being Ahimsa Dairy, a Hare Krishna initiative in which male calves are not killed but are used for labor once they are old enough, and female cows are "retired" to pasture after years of being milked. The UK-based Ahimsa Dairy has offered slaughter free-milk and cheese to customers in London since 2011. The movement is slowly spreading in the US. Gita Nagari Creamery in Pennsylvania sells its slaughter-free milk for $10 a gallon, which includes a $2.50 cow "retirement fee" and $1.50 for "boy calf care." Bulls at Gita Nagari are used for forced labor.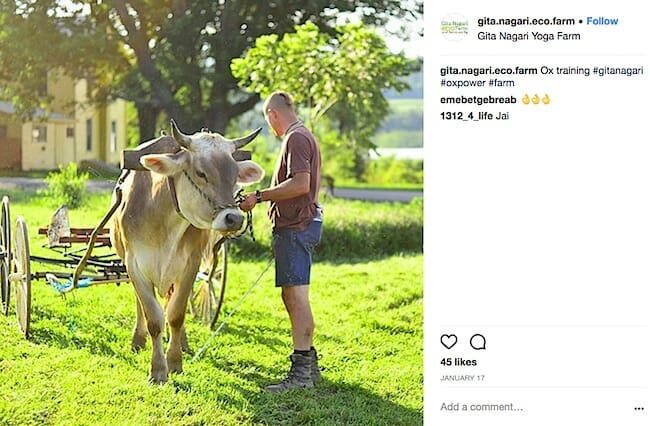 In addition to still being inherently exploitative, this and other models of slaughter-free dairy pose significant and unavoidable environmental, animal welfare, and scalability problems. We explore those here, including a powerful first person account from former slaughter-free dairy farmer turned vegan, Andrea Davis. But first, let's take a look at the ways Ahimsa Milk and other "humane dairy" models actually end up supporting the very system of industrial dairy they claim to oppose.
'Humane' vs. 'Factory Farm' Dairy: 2 Sides of the Same Coin
It is crucial to recognize the fact that our violence toward animals begins with a value judgment. In the case of dairy farming, and the routine harms caused to cows and their calves which Ahimsa Milk claims to oppose— including separation of calves from their mothers; dehorning; confinement of cows in barren industrial sheds, and confinement of calves in isolated hutches; all of these harms derive from a value judgement.
The first value judgement says that animals used for dairy— like all other species of animals exploited for food— are so inferior in existential worth that they do not deserve to be free and autonomous but rather merely deserve to exist as property to be exploited, even when exploiting them is completely unnecessary to our survival and health.
The second value judgement at the heart of farming mothers for their breast milk entails that animal motherhood is so inherently inferior and undeserving of respect, that animals' mothering relationships have so little value apart from their instrumental utility to humans, that it is morally acceptable to 1) breed them into existence in order to 2) force them to become mothers so that we, human adults, may 3) needlessly invade and parasitize their mothering relationships in order to 4) consume, commodify and profit from their stolen maternal lactations: quite literally baby food made for baby animals.
All forms of dairy farming endorse this violently entitled mentality, and all forms of violence within the dairy industry, including the worst abuses of so-called "factory" dairy farms, derive from this original violence, which is the attitude that says animal lives are so inferior that they can be designated as property, and that their mothering relationships are ours to invade and exploit at our whim. Ahimsa Milk, then, as much as its founders and proponents may try to distinguish it as the opposite of commercial dairy farming, actually entrenches and perpetuates commercial dairy farming by practicing the very mindset that is the single most important factor necessary for factory dairies to exist and flourish.
Land
There are currently more than 264 million dairy cows worldwide. (1) Even with the global dairy industry slaughtering millions of cows and male calves every year, and even with cows increasingly raised in confinement (using the least amount of space possible), cattle and the crops used to grow their feed occupy almost one-third of the earth's entire land surface. (2) If dairy production were to shift toward the Ahimsa Dairy model, all of these cows would be transitioned to free range pasture. Imagine how much more land would be required, firstly, to pasture all of the cows currently raised in confinement, and, secondly, to support the tens of millions of additional cows and calves who, instead of being slaughtered, must also be accommodated with pasture. Furthermore, as writer Josh Harkinson notes in an article entitled, Slaughter-Free Milk Is Great for Cows, But Not the Environment: "If all dairies became slaughter-free, we'd need three to four times as many dairy cows to produce the same amount of milk, which would mean adding at least 27 million additional cows to our herds [in the U.S. alone]." (3)
But given the hugely destructive impacts of dairy on our climate and environment, our planet needs far fewer cows, not more. Slaughter-free dairy is not a scaleable or sustainable model.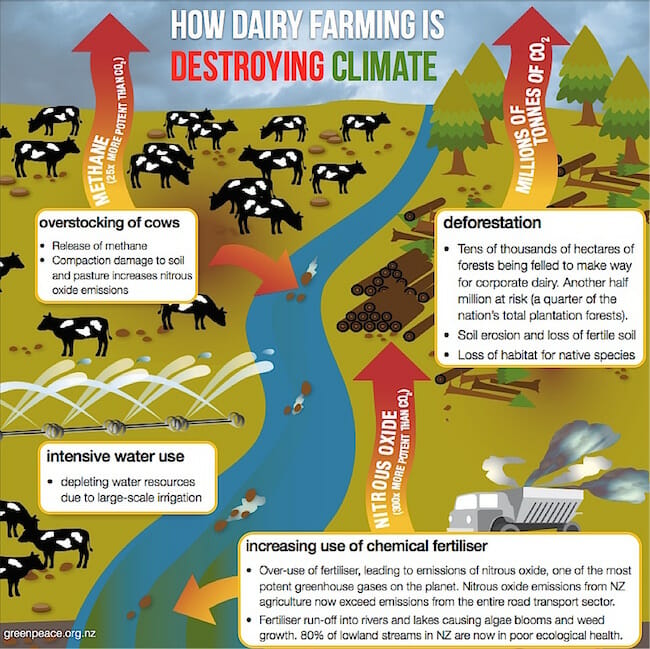 Climate
Animal agriculture is estimated to produce anywhere from 18 to 51% of global greenhouse gas emissions, with the world's 1.5 billion cattle contributing the overwhelming majority. Even at the most conservative end of the spectrum, 18% of GHGs is more than what is contributed by the entire global transportation sector — all planes, trains, and automobiles, combined. Most significantly, cows produce methane — primarily through belching — as a result of their complex ruminant digestive process. Methane is a far more potent greenhouse gas than CO2 because it traps significantly more heat; over a 20-year time-frame, methane is 84 times stronger than carbon dioxide.
A new study released this month from the Joint Global Change Research Institute shows that global livestock methane emissions are 11 percent higher than previously calculated. The researchers state that the concentration of methane in the atmosphere has increased 10 times more quickly in the last decade than in the decade prior. "This change is due to a number of factors including an 8.4 percent increase in methane emissions from the dairy industry, and a 36.7 percent increase in emissions due to changes in manure management, including the use of anaerobic manure lagoons."
Manure from cattle releases substantial quantities of methane into the atmosphere, such that the EPA classifies "manure management" as a separate category of methane emissions.
Environment & Wildlife
In addition to the climate, dairy is also devastating to the environment and to wildlife. According to the UK Environment Agency, "farming is the only industry in which severe pollution incidents are on the rise, and of these, dairy is the biggest culprit." (4) From the pesticides and fertilizers used on feed crops, to manure runoff, dairy farming is one of the leading sources of freshwater pollution. Even a modest dairy of 200 cows produces as much nitrogen sewage as a town of 5,000-10,000 people. As the Center for Biological Diversity notes: "Manure stored in open-air lagoons pollutes drinking water with deadly pathogens, antibiotics and hormones, creates toxic aquatic "deadzones" due to excess nutrients, and threatens the water resources necessary for wildlife to survive… [A]gricultural pollution runoff and diversion of rivers are driving …endangered species to extinction by degrading [their] aquatic habitat." (5)
Grazing cattle also displace wild animals and destroy ecosystems. The Center for Biological Diversity again: "Livestock grazing is a leading cause of species endangerment and the leading cause of the desertification of arid landscapes. The largely monoculture 'grass' that cows eat… damages bio-diverse habitats that pollinators and other wild animals depend on. Grazing cows destroy fragile ecosystems and threaten natural biodiversity by changing vegetation patterns, eroding soil and limiting a habitat's ability to retain water for native wildlife."
Another devastating impact of cattle grazing on wildlife comes by way of a little-known branch of the USDA called Wildlife Services. Every year, Wildlife Services kills millions of free-living animals deemed a threat to animal agriculture — primarily to grazing animals. In the last decade alone, more than 30 million wildlife animals — many endangered — have been brutally killed by Wildlife Services, who spend millions of tax-payer dollars annually to kill native carnivores and predators — coyotes, wolves, bears, mountain lions, and many others — on behalf of the livestock industry. These animals are destroyed by the most violent and gruesome methods imaginable: gunned down from helicopters; poisoned; gassed; torn apart by trained dogs; strangled to death in neck snares; and caught in torturous leg-hold traps in which they languish and slowly die.
An increase in pastured cattle resulting from growth in "humane" and "slaughter-free" dairy operations would only increase the already massive number of wildlife animals targeted and brutally destroyed to protect farmers' interests.
What About the Babies?
Andrea Davis is a former slaughter-free dairy farmer and cheesemaker who had a change of heart after recognizing that her work, like all dairy farming, depended on bringing more and more babies into the world, and breaking up families with lifelong bonds, all to satisfy a taste for mother's milk stolen from other animals. She went vegan and is now in the process of transitioning her farm into a vegan sanctuary and education center. (Read the full story of her change of heart, here.) Andrea writes:
"We still get asked, often, why we decided to ditch dairy when no one was being killed in order for us to produce it. Here is one of several reasons this was a choice I had to make.
As a mother myself, I could not overlook parallels I could clearly see between myself and animal parents. Because running a dairy meant needing animals to become mothers year after year, there was always a sad, painful separation of families at some point. Although mother goats on our farm raised their own newborn babies, we had to separate them after weaning and rehome the kids in order to ensure we weren't eventually overrun with goats.
I often see dairy farmers defend the practice of removing babies from mothers.
They cite health and injury risks to the babies. They say the maternal instinct has been "bred out" of modern-day dairy animals. It is claimed that this is the best thing for the mother, so she can focus on her own recovery from labor and the farmer's ability to more closely monitor the well-being of the babies.
These are either delusions or bald-faced lies.
I watched at one dairy as a young doe was "culled" (sold) from the herd because of her post-partum escapes. For weeks she managed to breach every fence of every pen where she was placed, in search of the kids who had been taken from her. The loss was unbearable to her, and it was unbearable to watch.
The bonds my own goats made with their babies were life-long. As you watch my adult herd at rest, you will generally see pairs or three-somes of goats together, resting heads on one another and being affectionately close. These are almost always mothers and their adult children, or siblings and a parent.
I was unable to go on denying this bond and closeness in exchange for more milk money, never able to release myself to profitable delusions or public lies of explanation.
Anyone can see what love is, it takes neither being an animal behaviorist nor an activist to admit this truth.
Herd animal mothers are among the most protective, doting and self-sacrificing in the world. Just a day of listening to mothers' cries for their lost kids and calves can be traumatic for most people. It was for me.
I could not continue to make my life's work something that caused damage and trauma to even one animal. And so we set ourselves to figure out how to stop. We went vegan, stopped selling goats, stopped breeding goats intentionally. We continued producing milk and cheese to pay the substantial animal care bills until the existing milkers went dry, and prepared for the necessary fundraising to build the infrastructure to close the dairy and become a full-time vegan sanctuary and learning center.
Between our ex-dairy residents and the many rescues we have taken in, Broken Shovels Farm Sanctuary now has more than 250 animals in our care, and we are contacted about dozens more in need every week. Please learn more about our transition from slaughter-free dairy to sanctuary, and consider donating to our fundraising campaign in any amount if you can. There is nothing we want more than to continue helping as many animals as possible, and to be a powerful voice in the fight to debunk the myth of "humane" dairy. Because the truth we know now is that there can never be anything humane about exploiting motherhood."
---
1) Compassion in World Farming, https://www.ciwf.org.uk/media/5235182/Statistics-Dairy-cows.pdf
2) "Milk v. Wildlife: The Environmental Cost of Dairy," Take Extinction Off Your Plate. Accessed 10/28/2017 from: http://www.takeextinctionoffyourplate.com/extinction_facts/pdfs/MilkFactsheet.pdf
3) Josh Harkinson, "Slaughter-Free Milk Is Great for Cows, But Not the Environment." Accessed 10/28/2017 from: http://www.motherjones.com/environment/2014/07/downside-no-kill-dairies/
4) Katherine Martinko, "Dairy Raises More Ethical Red Flags Than Meat." Accessed 10/28/2017 from: https://www.treehugger.com/sustainable-agriculture/dairy-raises-more-ethical-red-flags-meat.html
5) "Milk v. Wildlife: The Environmental Cost of Dairy," Take Extinction Off Your Plate. Accessed 10/28/2017 from: http://www.takeextinctionoffyourplate.com/extinction_facts/pdfs/MilkFactsheet.pdf