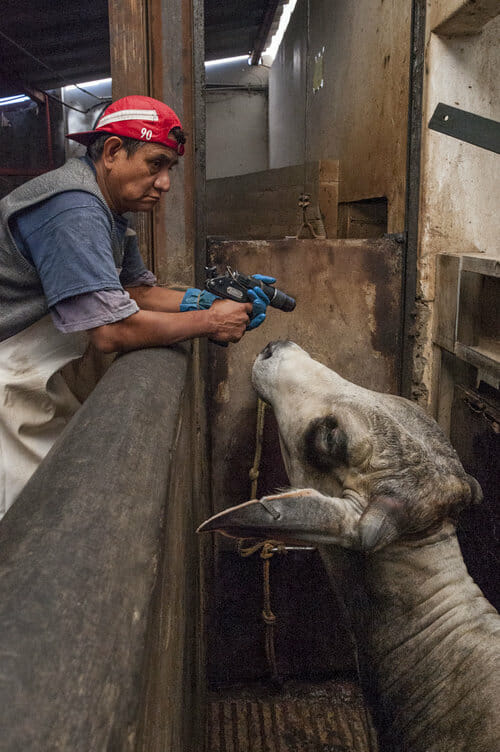 Slaughterhouses prey on the most vulnerable beings in our society; this includes not only the billions of helpless animals trapped in our violent food system, but also millions of vulnerable humans trapped in the only jobs they can secure. What many don't know is that slaughterhouses deliberately and knowingly employ — often even recruit — high rates of undocumented workers in order to fill low-paying jobs that entail such undignified and dangerous working conditions, and require such horrific routine violence toward animals, that only humans in the most vulnerable and desperate of circumstances will typically take them.
The recent ICE raids in Mississippi are a devastating case in point. For the 700 undocumented workers arrested by ICE at chicken slaughterhouses across Mississippi, "the trouble is just beginning," writes Gaby Del Valle. "They don't just have to fight to stay in the country. They also need to figure out how to afford rent, bills, and groceries for their families while they wait for their cases to be completed. That could take months or even years."
In 2013, an estimated 38 percent of slaughterhouse workers were born outside the U.S. According to author Mark Hawthorne, most of these are economic refugees in desperate circumstances, usually with families to feed, "and the ever-present threat of deportation keeps many of them, for whom even a bad job is a job, silent and disempowered… they do not understand they have rights, such as workers' compensation benefits to cover work-related injuries."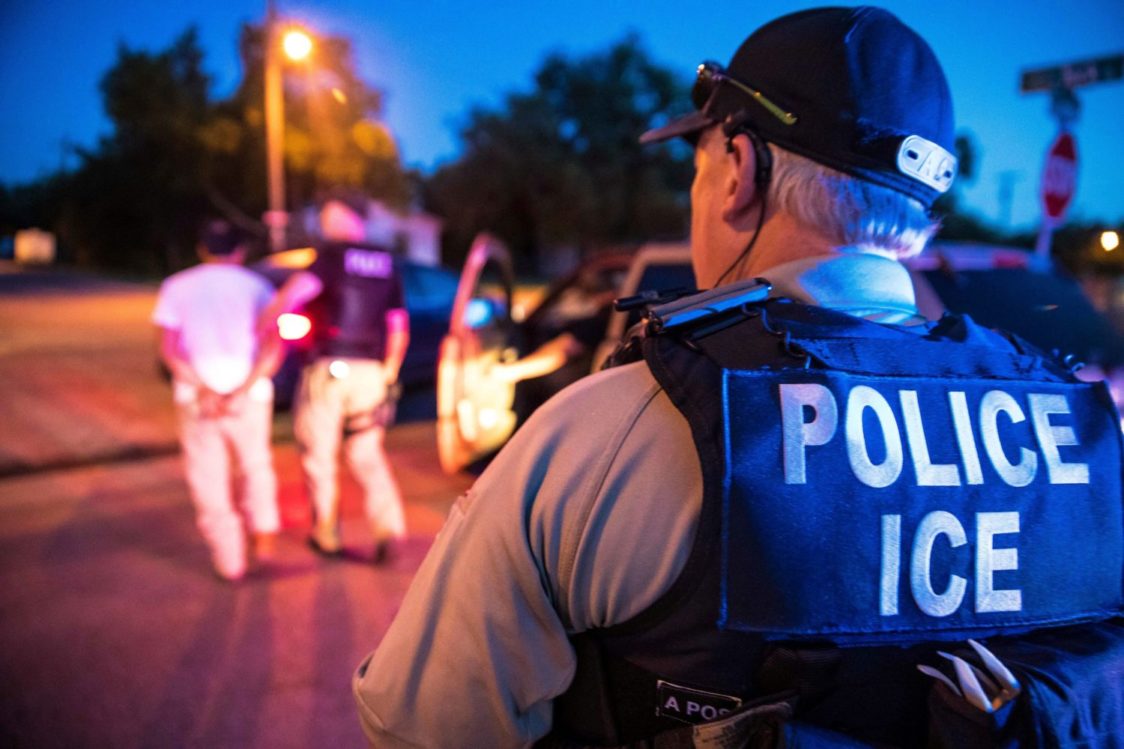 Dr. Michelle Martin, professor of Social Work at California State University, asserts that as many as 70% of the roughly 2.5 million farm workers in the U.S. are estimated to be undocumented Mexican and Central American immigrants who were recruited by U.S. agricultural companies from across the border:
"Most undocumented Mexican immigrants came to the United States about 15 to 20 years ago during what's called the "Chicken Boom" – a time when people cut back on eating red meat and started eating more chicken.
Meat processing plants could not keep up with demand, so started recruiting South of the Border. Industry experts estimate that about 70% of undocumented Mexican immigrants have lived in the U.S. for over a decade (~14.6 years), dating back to the Chicken Boom era.
Industry experts estimate that up to 90% of all undocumented Mexicans working in the U.S. were recruited here by U.S. companies and had jobs before they arrived (Tyson Foods, IBP slaughterhouses, Koch Foods, Inc., etc.) to do work that U.S. Americans won't do. They're recruited through company employees and labor brokers via word-of-mouth, radio ads that play in many of Mexico's poorest cities, as well as leaflets and billboards in Mexico.
According to a 1998 report, IBP in particular admitted to its recruitment across the border with ICE's (then INS's) knowledge because 'it is unable to keep its plants fully staffed with U.S.-based workers, who often can find more-appealing jobs elsewhere.'
These undocumented workers are exploited, they're threatened, and then they're scapegoated when it's politically convenient."
Why Does No One Want Slaughterhouse Jobs?
Vegans and nonvegans alike are used to seeing horrifying footage of animal abuse from undercover farm and slaughterhouse investigations. And while their views on animal consumption may differ, they tend to share a common reaction: outrage and disgust with the workers abusing the animals. This response is entirely reasonable— and it's one I've shared— but it lacks important context, as writer Lucas Spangher notes in an op-ed about a nightmarish video of abuse toward pigs at a Tyson Meats farm:
"In telling this story, the video means to evoke a sense of outrage and disgust, and in that I think it succeeds spectacularly. But the disgust it raises is wholly directed towards the workers. We see scene after scene of workers performing acts of violence against pigs, with no sense of what the workers are trying to accomplish. The clips chosen are often ones in which they are shouting harshly, mostly in Spanish, with the screaming of pigs as a skin-crawling backdrop. A casual viewing of this video might lead one to believe that these are a crew of sociopathic and lazy low-lives who spend their entire workday skipping from one act of pointless violence to another. The viewer is invited to let flow all internal xenophobic urges. The video seems to suggest that somehow, if this factory were staffed by a different group of workers, all would be different.
But that telling misses out on so many important details. It misses the poor pay, long hours and frightening pace of the factory line. Workers in the meat industry make an average of $23,000 a year, work 10+ hours a day, are pushed so hard they often defecate in their pants to avoid slowing down, and suffer a repetitive motion injury rate 30 times the national average.
It misses out on the harassment and abuse that workers face from superiors… Workers interviewed said superiors exploit their risk of deportation and unfamiliarity of the language to induce a constant fear, pushing longer hours and harsher conditions. Most women interviewed spoke of sexual harassment and assault that they suffered at the hands of superiors.
But perhaps the hardest part for this narrative to capture is the subordination workers face all throughout society. This video misses out on the constant structural discrimination that lower class workers face in getting their children education, receiving adequate health care and providing for older relatives who lack social security."
My Job is Kill, Kill, Kill. It Makes Me Ill.
Virgil Butler worked in a Tyson chicken slaughterhouse in the US from 1997 until 2002. He writes: "The sheer amount of killing and blood really get to you after a while, especially if you can't just shut down all emotion and turn into a robot zombie of death. You feel like part of a big death machine. [You're] pretty much treated that way as well. Sometimes weird thoughts will enter your head. It's just you and the dying chickens. The surreal feelings grow into such a horror of the barbaric nature of your behavior. You are murdering helpless birds by the thousands (75,000 to 90,000 a night). You are a killer."
A National Employment Law Project study has named chicken slaughterhouse work the fourth most dangerous job in the country, and "meat processing" (pig and cow slaughter) the sixth, based on job-related injury reports from the Occupational Safety and Health Administration (OSHA). And those are just the reported injuries: numerous interviews and investigations have obtained testimony from undocumented slaughterhouse workers who say they don't report injuries because they are afraid of being fired and not being able to get other work, or worse, being deported.
According to food justice non-profit Food Empowerment Project: "The single largest factor contributing to worker injuries is the speed at which the animals are killed and processed. In an industry where profit margins are slim and volume is everything, workers are endlessly pressured to kill more animals in less time. Rather than regulate line speeds for the interest of worker safety, line speed is limited only by federal sanitation laws.
Most facilities operate nearly 24 hours a day 7 days a week – killing and processing hundreds or thousands of animals each hour. As one worker stated: The line is so fast there is no time to sharpen the knife. The knife gets dull and you have to cut harder. That's when it really starts to hurt, and that's when you cut yourself."
Little wonder that slaughterhouses have one of the highest turnover rates of any job in the country (often as high as 200 percent), or that workers demonstrate PTSD at a higher incidence than other industries. A massive meta-analysis of counties with slaughterhouses that controlled for many variables including poverty and immigration found that counties with slaughterhouses have four times the national average of violent arrest, with significantly higher rates of alcoholism, domestic abuse, child abuse and suicide.

Food Justice Is Incompatible With Slaughterhouses
Human beings have no biological need to consume animal products. Government health advisory boards around the world now acknowledge that a whole foods plant-based diet is healthful and nutritionally appropriate for human beings at all stages of life, and can aid in prevention of numerous diseases.
A study published in the Proceedings of the National Academy of Sciences modeled the health, environmental, and economic impacts of 4 different diets and found that a vegan diet had the most benefits, noting that a global shift to plant-based diets could prevent 8.1 million premature deaths by 2050, cut food related GHG emissions by 70%, and save as much as $1,000 billion (US) per year on healthcare, unpaid informal care and lost working days.
This means that the slaughterhouse industry is a system that brutalizes billions of defenseless animals for completely unnecessary reasons. Where plant-based foods are accessible, there is no such thing as a just or ethical slaughterhouse. To demand a product that requires vulnerable human beings to endure day in and day out the trauma of inflicting unspeakable violence, and unnecessary suffering and death, on tens of billions of innocent animals is inherently unjust. Within such a corrupt, devaluing system, human and nonhuman animals alike are unavoidably treated like garbage.
As author Chris Sosa has noted: "The exploitation of animals by humans is a stunning example of progressive deference to the normalcy of oppression… A serious anti-oppression movement can't have the bodies and byproducts of exploited beings on its plate while claiming moral superiority. If we continue to exploit animals while protesting oppression, then the conservatives are right about us— we're a movement of hypocrites."
Caring about food justice means caring about justice for all of the humans, nonhumans, and ecosystems impacted by our food production. Where workers are concerned, this means not only slaughterhouse workers but also the workers who harvest our fruits and vegetables. Groups like the Equitable Food Initiative are working to improve migrant farmworker conditions and to get more produce labeling that reflects— and protects— fair treatment of the workers who harvested it. Learn how you can do more to protect the people who pick the fruits and vegetables we eat at Food Empowerment Project.
See our Why Vegan? page for more important reasons to adopt a plant-based diet.