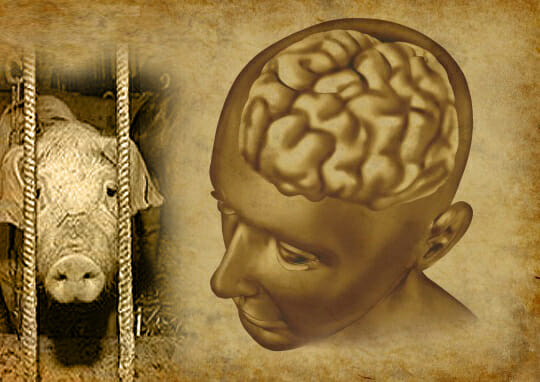 In previous posts, I've written about the most common ways we justify consuming animals even when faced with overwhelming evidence that it is no longer necessary to do so — at least for the vast majority of us. In these posts and in countless discussions with others, I have identified some striking patterns. You've probably heard many of these before: Eating animals is a personal choice. We have evolved to eat animals. Eating animals is part of the natural order of things. It's not fair to judge someone for eating animals.
But I have sorely overlooked one very pervasive justification that undermines any serious consideration of animal interests. It's the claim that morality, when it comes to eating animals, is also a personal matter. That morality is "ambiguous," "relative," "gray." This position can become — and has been used as — a justification for any wrongdoing.
I would agree that, in many cases, morality is a personal matter. The choice of faith or secular belief is one's personal business. In fact, any belief or action that does not deny others their basic freedoms is generally respected as a personal one. A personal belief does not harm others, at least directly. That's what makes it personal.  However, when it comes to eating animals, there are no neutral actions. We have only two options: either 1. we eat animal products and are directly responsible for sending animals to the slaughterhouse or 2. we don't eat animal products and thus spare animals a slaughterhouse end. There are no gray choices in between these two actions that could render a less definitive outcome.
In other words, there is no moral gray area between life and death, slavery and freedom, violence and nonviolence, killing and not killing. We've already applied this moral certainty to our own kind. At least in principle, we do not argue that slavery, rape, or murder is justifiable for some races, but not for others. We believe, in principle, that certain rights and freedoms apply to all humans, because we all have an interest in not being enslaved, raped, or murdered.
So on what grounds do some people think it is okay to abandon this fundamental moral principle when the victim belongs to another species? Why do these people maintain that a sentient being is not worthy of the same protection from slavery, rape, gratuitous violence, and killing simply because he is a member of a nonhuman species? If we say we believe in justice for all, why don't we extend that principle of universal justice, fairness, and equal consideration to all sentient beings?
These are questions that we must raise, repeatedly, when confronted with the moral relativist position that seeks to dismiss the idea that animals count morally. Those who argue that this is a matter of personal belief deny animals a voice in the public discourse and sabotage any attempt to accord them justice. This tactic has been used by opponents of all other social justice movements. It is self-serving, irresponsible, flimsy, and cowardly.
To be fair, some of the moral relativism surrounding this discussion is based on a misunderstanding of sentience. According to scientists, a sentient being has subjective awareness, a sense of self-worth, and an interest in avoiding pain and death — in staying alive. Under that definition, animals in our food system (as well as many other animals exploited for other reasons) are clearly sentient. Thus, there is no escaping the fact that our moral treatment of these animals cannot be based on mere opinions, cultural mores, or personal beliefs and choices.
This misunderstanding of sentience shows itself when people ask us questions like, Where do you draw the line? Do insects have an interest in not being killed? How about plants? Do they care if they are killed?  Actually, what these questions imply is that the intelligence (as defined by humans) of a species determines our moral obligations to its members. But we need to remember that the issue is not intelligence, it is sentience. This is where we ought to draw the line — at sentience. And the sentience of the animals we exploit for our food is highly developed and irrefutable.
If you want to help animals, start by defending their interests when others would seek to dismiss them on the basis of moral relativism. Ask the hard questions. Get others thinking about the disparities between how we apply basic moral principles to humans and to animals. If we let this one slide, we're turning our backs on animals in a big way.