[Update: soon after the writing of this story, Erika and Joseph successfully opened Sisu Refuge, which, in addition to dozens of the pigs mentioned in this story who survived the Florence floods or were rescued from being gassed, is also home to rescued chickens, goats, and calves, providing lifelong sanctuary to more than 100 animals.]
While many consumers are aware of the hellish conditions on pig factory farms, there are some especially horrific practices this industry still manages to keep largely hidden from the general public. One such practice is the routine "culling" of pigs deemed too small, sickly, or otherwise unprofitable. This happens across all stages of pig production, with these "cull" pigs killed and discarded like trash in massive dumpsters referred to as "dead boxes." The video below shows two dead boxes recently filmed on a factory farm in North Carolina, home to some 9 million pigs and the second largest pig producing state in the country.
View this post on Instagram
Most of North Carolina's pig factory farms are concentrated in a handful of eastern counties that were recently devastated by Hurricane Florence, where more than 4 million farmed animals trapped in CAFOs drowned in the post-storm flooding. Erika Lovato and her husband Joseph live in one of the eastern NC towns hit hardest by the storm, and for the past month have found themselves at the center of numerous rescues as pigs who escaped flooded barns have continued to surface near their neighborhood.
In the weeks since Hurricane Florence first hit, and as floodwaters have finally begun to recede, groups of beleaguered pigs have increasingly emerged from the woods and wetlands, hungry, wounded, and ill. Wanting to help these "hell or high water" survivors, Erika, a longtime vegan and animal rescuer, secured permission from a local magistrate as well as animal control to send any pigs she was able to rescue to sanctuary. She and her husband have since assisted in the recovery of 17 flood survivor pigs, most recently a group of six who managed to subsist for more than a month in the woods after swimming for their lives. Thanks to the couple's perseverance, those pigs will now live out their lives at sanctuaries.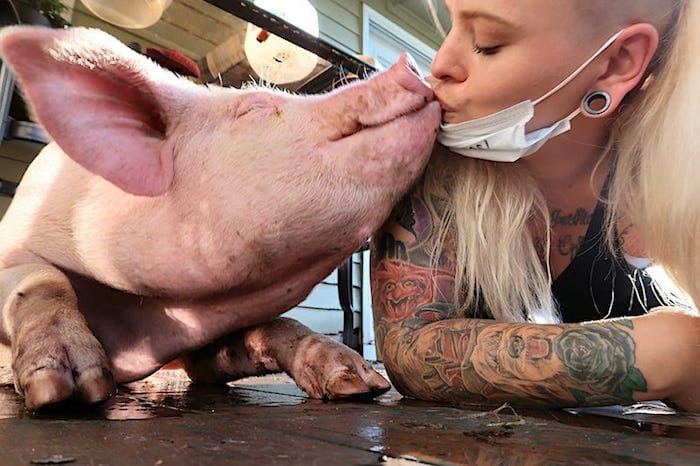 An Opportunity They Couldn't Walk Away From
Just as Erika and Joseph thought life post-Florence was about to return to normal, they were notified of an opportunity to possibly negotiate the surrender of 42 young "cull pigs." Factory farm pigs typically spend their first three months of life in a "nursery" shed, and are then moved to a "finishing farm" to be fattened or "finished" for slaughter; they are typically killed at around 6 months of age. Every time a "nursery" farm's young pigs are moved to a "finishing farm," a worker first goes through the barn and marks any pigs who have not reached (roughly) 50 pounds, or who appear sickly or otherwise debilitated (hernias, lameness, etc). Those pigs are left behind to be killed, (often in a gas chamber, as these pigs would have been), then discarded in a dead box. Such was the fate of these 42 piglets when Erika and Jospeh were made aware of the opportunity to try to save them.
After two weeks of uncertain communications, the farmer finally offered to surrender the pigs to Erika if the couple could get them off his property in 24 hours. Thus ensued a massive undertaking of borrowing trailers, erecting temporary fencing and shelter on a friend's land, and getting the pigs emergency veterinary treatment, as many are suffering from respiratory infections, open wounds, hernias, broken legs, abscesses, and other illnesses and injuries. The video above shows some of the pigs inside the barn the day they were surrendered. Below, they snuggle up in their warm night shelter with lots of hay and a heat lamp. (During the day they run and play in a fenced in portion of land.)
Erika noted, "We are thankful for the kindness of this farmer in giving us the opportunity to rescue these piglets, and hope that other farmers will see how much people love and care for these innocent beings." She emphasized that while this practice of culling piglets and discarding them like garbage is deeply upsetting, it is the norm of this industry, not the exception, and expressed that this was not about hate for farmers, but about love for the animals, and working to awaken compassion in consumers so they can help shift demand for more farmers to transition to growing plant foods instead of using animals.
42 Lives Saved, A Sanctuary Postponed
With a small group of supporters, Erika has been working to find permanent homes for the #NC42 pigs at farm sanctuaries. So far, they have placement for more than two thirds of the animals. But first the pigs must get much-needed veterinary treatment, with some requiring surgeries for massive hernias and broken limbs, and others needing treatment for respiratory infections. 4 of the pigs with the most critically urgent medical conditions are currently at a special university veterinary hospital where they are undergoing life-saving treatment and surgeries. Once the pigs are healthy enough to cross state lines, a veterinarian will issue their health certificates, and a group transport will be made across the country to begin dropping off pigs at their forever homes.
The cost for medical treatment, surgeries, health certificates and transport is massive, and the couple has nearly maxed out their credit cards and begun using their limited savings to cover the costs— savings they say they'd been hoping to use to purchase a property they just found that would be ideal for their dream of opening their own farm sanctuary. Having worked intimately with this couple on logistics for several of their recent rescues, I can say with confidence that I can't imagine two people better suited for the daunting task of running a farmed animal sanctuary. It would be wonderful if they did not have to lose this property, which, at 47 acres of already fenced and pastured farmland, would be the ideal setting for their dream sanctuary.
Update: after securing the property in question, in 2019 Erika and Jospeh successfully launched Sisu Refuge, a farmed animal rescue and non-profit in the pig slaughter capital of the world. Now home to more than 100 animals, including dozens of the original pigs, Sisu Refuge depends on the sustained contributions of donors. Consider becoming a monthly supporter at their Paypal or on Patreon, or sign up to sponsor an individual animal.
You can follow Sisu on Facebook and Instagram for regular updates and photos of the residents, and for info on rescues in progress.