In her short life, Edith experienced the kindest and cruelest of humanity. She clearly judged people she encountered as individuals, trusting and bonding with us as her new caregivers immediately, even after someone cruelly discarded her like trash. But the kind person who rescued her offered her a second chance. The least we can do is acknowledge that animals like Edith are also individuals. And perhaps we can learn a valuable lesson from her as well — that we too should judge others (both human and non human animals) as individuals.
As a follow up to our original post describing Edith's rescue, I regret to report that we lost Edith late last night. After four weeks happily discovering her new life with us, Edith began acting a bit peculiar the other day. Yesterday I sensed something was up when I found her hiding away under the coop in a dark corner. When I called to her, she didn't come lumbering over to me as usual. She just looked at me as if to say it was too much effort to move. Last night I brought her inside to rest in a quiet place. I sought out advice from others experienced in chicken illnesses, including the vet. In fact we had an appointment scheduled to see the vet today.
Edith passed swiftly and suddenly, much like our Angelica did back in November 2012. The post mortem exam on Angelica found that she died of heart failure. The same is likely the case for Edith as well. Heart failure is, after all, a leading cause of death in chickens bred for their meat and eggs. Their little hearts can't keep up with their bodies engineered to develop into adult size in just six short weeks.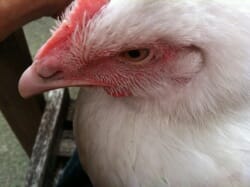 Edith was just a baby at about 14 weeks of age. Her body convulsed as she took her last few breaths. The hardest thing about watching the life pass from someone is feeling powerless to do anything. I'm so sorry she didn't have more time to enjoy her new lease on life. At least, as she passed from this life, I was there to hold her. I know her spirit will stay alive within all of us who were touched by her miraculous story of survival and rescue from a live poultry market.
Edith taught us a valuable lesson: she trusted us even after her trust was betrayed by the cruelty of those she encountered before us. Animals are wise enough to see us as individuals. The least we can do is acknowledge that they too are individuals. Please share this story so others might also learn more about the amazing lives of chickens like Edith.