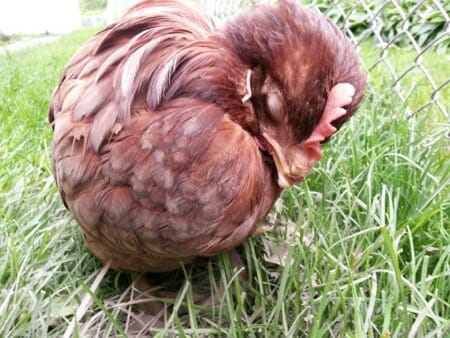 Help Us Raise $750 for Our Chicken Rescue Fund to Cover Lucinda's Medical Care
Lucinda was the fragile little hen we rescued in the Summer of 2012 from the brink of starvation — with a severe beak deformity and infested with biting lice — who miraculously bounced back to health over the course of the months to follow and has been enjoying a good life in our care. But the other day, we discovered she faces a new and urgent health crisis. Lucinda is producing very large eggs that are too big to pass through her small pelvis. The vet had to help her pass one very large egg but found other "mummified" eggs attached to the walls of her oviduct. She needs urgent surgery to remove these eggs and prevent a life-threatening infection from setting in. The other benefit of the surgery is that she should no longer be burdened to lay eggs.
We can easily cover her medical costs if 38 people donate $20 or 75 people donate just $10! This will also help promote her story to millions of people on Facebook and other social media sites, raising awareness about the problems egg laying hens face today. Your donation helps Lucinda and also has an immediate impact on Free from Harm's grassroots educational outreach work.
Don't hens lay eggs naturally? Yes, but not this big or frequently and, in nature, they lay fertile eggs for purposes of reproduction, like all birds! Hens today are literally "prisoners" in their own bodies, forced to lay jumbo sized eggs as a result of the breeding programmed into their reproductive systems. Worse, they are forced to produce a volume of eggs that is much greater than nature intended, often resulting in serious health complications and premature death. If Lucinda were left to fend for herself, as are hens on eggs farms, she would either die from this condition or be "culled." Our goal is to provide the best possible care to each of our rescues and document their stories. But we need your help. Please consider a gift to Lucinda. Learn all about eggs and then hens who lay them on our official egg page.
Lucinda's Pitbull Friend Travis
Check out this video of Travis the pit bull and Lucinda. With your help we can get her back in shape again and back to enjoying her lazy afternoon naps with her friend Travis!