This 2-minute video features our latest rescue, Esperanza. Esperanza is a Cornish Rock hen raised for her flesh. We believe she escaped or fell of a transport truck on her way to the slaughterhouse and found herself stranded in a forest preserve where she was discovered, being chased and tormented by a cat on a cold winter day. Since we later learned that she could barely walk, it's all the more amazing that she survived all of this.
We suspect that the most likely cause of her serious wing injury was rough handling by a catcher. A catcher is a poultry farm worker whose job is to grab chickens by their legs or wings and stuff them into crates that are then loaded on to trucks bound for the slaughterhouse. Broken limbs and wings are tragically common. Transport can be several hours and even days without food or water and exposure to extremes of wind, precipitation, cold or heat.
Esperanza was treated by a vet and recovered well from her wing injuries. We had already designated a life long home for her at a sanctuary outside of Chicago where we planned to take her as soon as she was well enough. There she would join a flock of 18 other rescued chickens.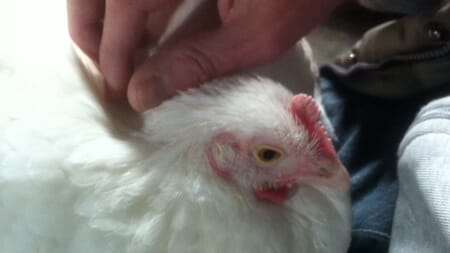 But our plans were suddenly shattered the night of December 21st. At 7pm I sat with Esperanza who was content and purring. By 11pm, I heard unusual vocalizations coming from the room and found her hyperventilating and in tremors. She was having a heart attack. I held her and spoke to her knowing there was nothing I could do for her. Within a half hour, she was dead.
I knew these signs well because I've seen them in other birds we've rescued. Heart failure is common in birds like Esperanza, "broilers" who are bred to grow so quickly, their young, undeveloped hearts cannot keep up. The industry that breeds 9 billion of them every year doesn't care because they assume that, by Esperanza's age (2–3 months), these birds will have been long since slaughtered anyway.
The initial obstacles she faced — falling off of a slaughter truck, being stranded in the cold in a forest preserve, being chased by a cat, suffering a serious wing injury — were ultimately overcome. But this last obstacle, she could not overcome. Either way, I'm grateful our paths crossed so I could tell her story, one of the billions out there who was not ignored, and who so desperately needs us as their spokespeople. Esperanza is the hope that lies within each of us who want a better world.
Please share her story and give a voice to one of the billions of animals in our food system who is not ignored. You can help even more by giving a gift to Free from Harm to support our rescue, education and advocacy work. Learn more about the broiler poultry industry that breeds, raised and kills birds like Esperanza.