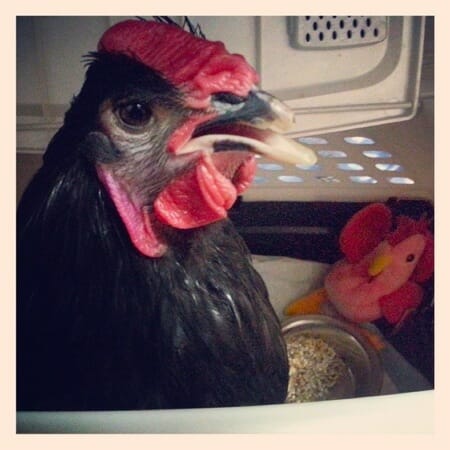 Everyone has been asking about Ezra the rooster! It's been more than two months since Ezra's life-saving rescue and emergency medical treatment at Niles Animal Hospital. As some of you know who have been following his story, Ezra the rooster lost his feet and a portion of one of his legs to gangrene and frostbite. For those of you who aren't familiar with the circumstances under which Ezra was found, please check out his incredible rescue story first. We all still find it miraculous that he survived through this ordeal, and we are grateful to be able to tell his tale of survival. Ezra the rooster is a testament to an animal's will and desire to live.
Ezra the rooster's new "special needs" home
Ezra has been living with our rescue coordinator and animal rehabber, Melissa with whom he seems to have developed a very strong bond! On some days, he travels to work with her and stays by her side the whole day. Melissa says he travels well and naps in the car. At home, Ezra gets a lot of special, loving care. Melissa's tells us that when she leaves his side, he "coo serenades" her until she returns.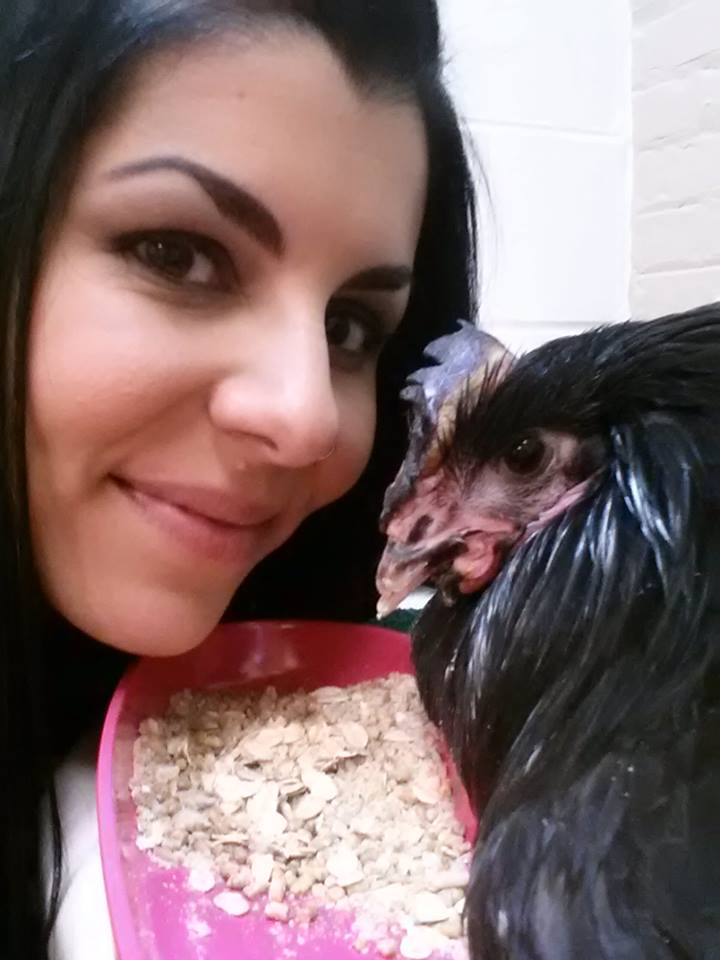 While his amputations are healing Melissa periodically changes his bandages which protect his leg stumps from sores and secondary infection. It's too soon to know whether Ezra will walk again. Other roosters in similar cases have become mobile again, so we are hopeful. We also have some prosthetic options that may or may not be good options for him. For now, it's all about healing from the amputations, and taking things one day at a time.
Overall, Melissa describes his disposition as upbeat and animated. He's very vocal (just started crowing once a day) eats well and is very alert and social.
If you would like to help Ezra and other chickens like him, please consider a gift to Free from Harm to support our life-saving work in rescue, education and advocacy. And remember, by telling the story of one amazing survivor like Ezra, we open people's hearts and minds to all chickens.
Learn all about our other rescues.