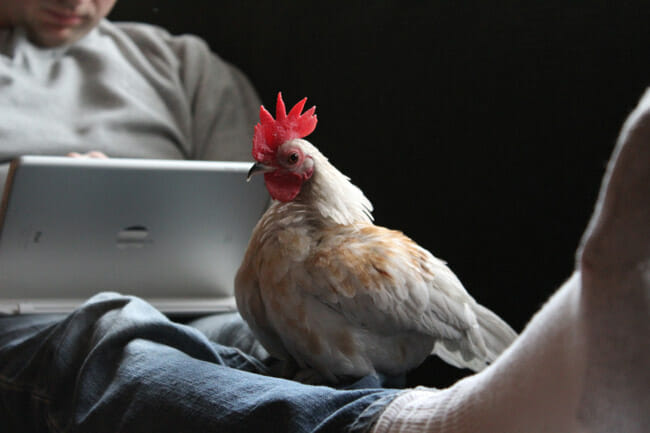 Galliano is a tiny bantam rooster that a young woman found wandering around in her backyard in the Chicago Northside neighborhood of Albany Park in the dead of winter. When she contacted Free from Harm, she mentioned that there was a live poultry market nearby and she thought maybe he had escaped, but he is not the breed typically used for flesh products.
When I went to pick Galliano up at the young woman's house on February 28th, she told me she wasn't sure what to do when she first found him. Should she save him from the elements or wait and see if his owner found him? But she knew of no one in the neighborhood who kept chickens. We're glad she used her better judgment and decided to bring him in out of the cold.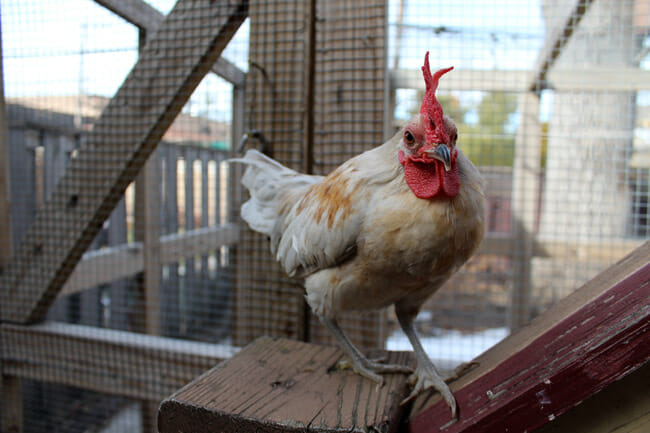 Roosters like Galliano are commonly abandoned by their owners once it's discover they are roosters and not hens (usually when they start crowing). Most chicken keepers want hens only for their eggs. As a result, the demand for backyard chickens, as well as the demand for eggs in general, has contributed a huge surplus of unwanted roosters. On a global scale, 6 billion male chicks are suffocated or ground up alive at hatcheries every year, just because they were born male.
I brought home Galliano, and for the next four weeks, he was my closest companion, following me everywhere around the house, perching on my arm or shoulder while I worked, napping peacefully on my side while watching TV, and even calling out to me from the bottom of the staircase and then climbing the stairs to find me! He especially loved to perch on someone's hand and would not release his grip until you picked him up to set him down. He was as friendly with strangers as he was with me.
The quality I find so striking about Galliano is how photogenic he is! I took full advantage of this and shot many photos of him doing all sorts of funny, cute and even contemplative things. Simply put, Galliano is one of the most endearing and loving animals I've ever had the pleasure of fostering and getting to know! Below is a photo of him with our office administrator, Alice.
While it took time to find Galliano the right caregiver who would offer him a loving and safe forever home, I was optimistic. Reactions to his photos and stories on Facebook were overwhelming and heartwarming. In fact, our caregiver friend Julie, who lives in Central Illinois and who adopted three of the guinea fowl we rescued over the summer of 2014, originally informed us that she didn't think it would be possible to add another rooster to her flock. But after she got to know Galiiano and saw so many pictures of him on Facebook, he quickly won her over. Then on March 28th, our friend Mark Gillono made the trip down to deliver Galliano to his new home. It was a bittersweet day. While it was terribly sad to say goodbye, I knew he was going to a place where he would be loved and make many other chicken friends.
Flash forward a few more months, and the latest news from Julie is that Galliano has a lady friend! She's a little female bantam hen, and they are very happy together!