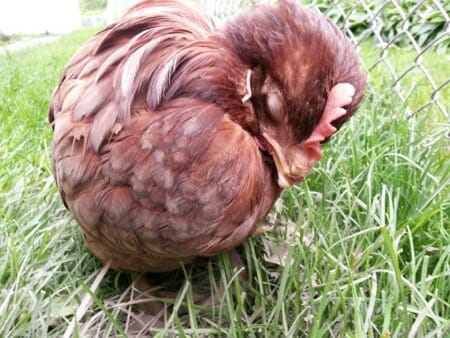 Our heroine, Melissa Summer Pena, rescued Lucinda today from Chicago Animal Control and Care (a kill shelter), describing her as the sickest looking bird she's ever seen. In addition to being severely underweight, emaciated, drooping her head, and keeping her eyes closed, she has a terrible biting mite infection. She's been treated with mite powder and needs to see the vet in the morning. Lucinda's beak has also been amputated, a common practice by egg farmers. This makes eating more difficult for her. "I've only spent a few hours with her, but already she is very special to me," Melissa told us.
The vet will most certainly want to hospitalize her and perform several tests and treatments. If you would like to help Lucinda, please make a donation in any amount you can. Donations are tax-deductible.
Learn more about chickens used by the egg industry at our Egg Industry Factsheet.
Thank you for caring! AND PLEASE SHARE THIS POST!