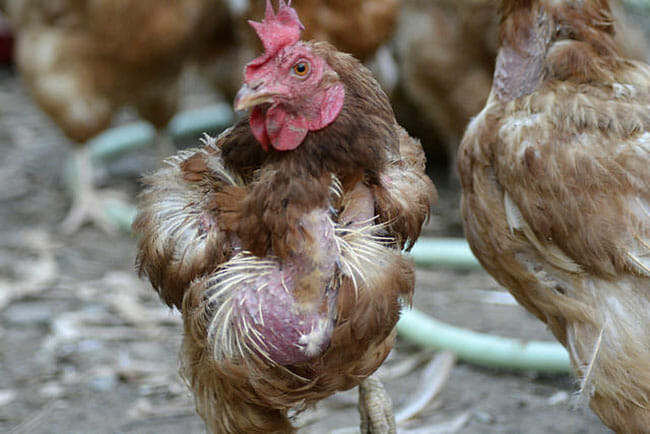 Tucked down a country road is a farm raising "pasture-based" hens for egg production. Peering into the field, it's hard to see the pasture. I see acres of dirt and a sea of red hens. Presumably it is green when there isn't a four-year drought. Chickens dart in front of our vehicles as we pull into the driveway.
A dozen eggs sell for $7.99. These are the eggs consumers switch to when they hear 95 percent of hens live in cages so small they cannot turn around. The kind of eggs people feel "good" about buying. But there is a dark side to organic, free-range, pasture-based farming – a side that farmers do not want you to see.
We are at this farm to rescue several hundred hens. I meet an employee who signs us in and sprays down our vehicles, boots, and crates with an iodine mixture.
"How many chickens do you have here?" I ask.
"Oh, I don't know," he replies, and looks out at the chickens. "Too many."
Okay. I ask an easy question, "So, what breed are the chickens we are picking up?" He didn't know that, either. Or their age. Or whether they had ever been vaccinated. His best guess is 5,000 chickens, with 5,000 one-month-old chicks cheeping in a barn nearby.
The farm hand directed us to the "barn" where the "older" hens lived. We could only guess their age – they were ending their first molt, when chickens lose their feathers to replace them with new ones. That would put their age at 16-22 months. Old, by industry standards.
We cautiously drove our van and trailer to the "barn," a movable tractor-shed with plastic shades partially drawn down. The birds are not locked up at night, and lower-ranking hens clump together outside the shed. Their only predator protection comes in the form of two "livestock" guardian dogs. In the mobile shed, the feces from the birds drops below a wire mesh floor, but the smell is unpleasant. Each mobile shed houses 800-1,200 hens, producing "organic" eggs. At Animal Place, we might put 400 hens in a comparably sized barn until they're adopted.
It's dusk, making it easier to catch the hens as they roost. Immediately, we set to work gently taking hens off the perches. I notice one chicken with a large comb and elegant tail feathers – a rooster! Usually ground up alive at hatcheries, this lucky boy somehow survived. I make sure to grab him.
There are hens with crossed beaks and broken beaks, indications of malnourishment. Some of the hens are severely de-feathered, a sign they have not received adequate protein during their molt. To produce organic eggs from free-range hens.
After an hour, we successfully save 508 hens (well, 507 hens and one rooster). Every rescue is uplifting – there is nothing more amazing than directly freeing animals who would otherwise be slaughtered. Animal Place is the only sanctuary in the country rescuing such large numbers of animals. This rescue brings us to a total of 17,995 saved since 2010, most of them hens from the egg industry.
We do not realize how ill the hens are until they arrive at our adoption center and are health-checked.
Because this farm is organic, they never use antibiotics. While misuse of antibiotics is rampant in animal agriculture, with 80 percent of all antibiotics fed or administered to otherwise healthy animals, antibiotics should be used to treat sick animals. These hens suffered for days, possibly weeks, with a painful respiratory illness that antibiotics would help. At Animal Place, all chickens were put on a regimen of appropriate antibiotics. Two dozen hens have eyes missing from untreated sinus infections. Twenty-eight have infections so severe that their sinuses have swollen into their tracheas and eyes. The most ill are receiving daily care at our permanent sanctuary including treatment with two types of antibiotics, pain medications, and probiotics. For organic, eggs. Several hens are severely de-feathered, common when molting chickens are not fed a proper diet. Others have damaged beaks from malnutrition.
Why do we rescue hens from pasture-based farms? It may surprise the conscientious consumer, but these hens are more ill than those recently rescued from cages at a conventional battery cage facility. More importantly, rescue is what we do. These chickens faced a brutal, violent slaughter, although they could live another 4-8 years.
Organic. Free-range. Pasture-based. These terms may make consumers feel better, but the reality is harsh for the birds. With the exception of the one rooster we saved, 5,000 other day-old male chicks were ground up alive at the hatchery where these hens were born. The hens themselves are sick and received no medical care. When they reach two years old, if not sooner, they are sent to slaughter or gassed to death, and their bodies abandoned in landfills.
Their only value is in producing eggs: organic eggs. Cruelty is normal when profit trumps compassion. If you want to help hens, please stop eating their eggs — even organic, eggs from free-range or pastured hens.