One Sunday in late July, Animal Control Officer Gina Manski of Northbrook, IL received a frantic call from a friend who had planned a tranquil photo shoot at the local Somme Prairie Nature Preserve. Instead she discovered three domestic ducks running towards her! The hungry birds had obviously been dumped and she knew they would not survive out there on their own. Often people who acquired ducklings later decide that they are too much work, too messy, too loud, too expensive, etc. They may tire of their newfound feathered friends and presume the best thing to do with them is to release them at the nearest park. All they need is grass and water, right? They are ducks! Wrong!
There are many reasons why dumping domestic ducks is bad. First, it's illegal in most states! Domestic ducks can pass on diseases to their wild counterparts and contribute to the displacement of native animals and their habitats and the depletion of natural resources due to their inability to migrate. Most importantly, it is a death sentence in many cases since they lack the survival skills needed to make it in the wild. Many cannot fly and are therefore unable to migrate to new territories and food sources. Females are in danger of being ganged up on by male ducks and risk being accidentally drowned or beaten to death. White ducks (like Peking ducks) are bred by the meat industry and become prime targets for predators when released outside. Some may wonder off into roads in search of food and get hit by cars. Used to calorically-dense grain-based diets, they will have a hard time finding enough food to sustain them. If they survive until winter, they are prone to frostbite in temperatures below 20 degrees.
But back to our story… Our heroine Gina came to the rescue, but catching the ducks proved to be very difficult. They knew that people meant food, but they were too scared of the strangers to let themselves be caught. Two kind and helpful hikers joined the effort and after much chasing (which resulted in one of the hikers getting injured), the four of them were finally able to secure the birds. Lacking suitably large crates, Gina had to put them in the back of her car (which required major cleanup afterwards!). Once home, she settled them into her old chicken coop. The Pack remained at Gina's for a couple of weeks, happily roaming her yard, eating grain and greens, and enjoying the safety of their coop. They were clearly very much bonded to each other, cuddle up together and never leaving each others' sides.
Gina called many rescue organizations and sanctuaries, but nobody was able to take the birds. Then Gina's friend Anne contacted us for assistance and we were able to place them at Erin's Farm in Indiana. We also arranged for the transport of the ducks to the Erin's where they are now living happily, in safety, on 33 acres with ponds and barns and a large flock of ducks.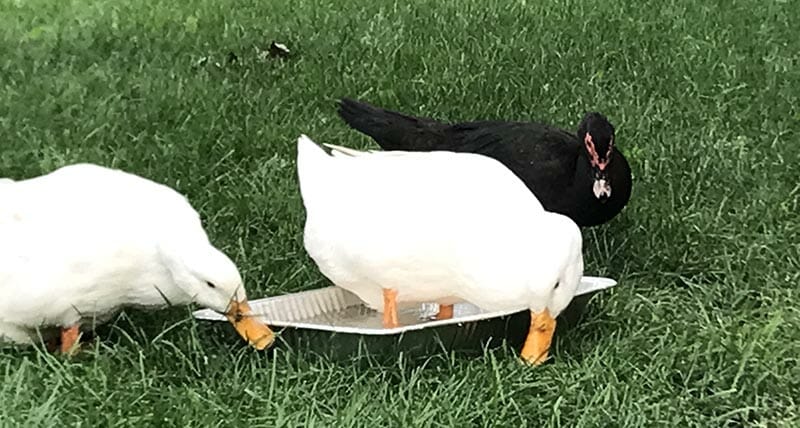 It took a village to make this rescue happen and bring it to a happy conclusion. In addition to Free From Harm, there were nine people involved in helping get these birds to safety, fostering them, finding them a permanent home and transporting them there. Sometimes we lose hope when we read or hear about all the terrible things that happen to animals, but this story is a reminder that there are many good people out there who are willing to make sacrifices to help animals. That is what we need to focus on and remind ourselves of.
Help us name the ducks! Each member of the "Quack Pack" needs a name! Please email your name suggestions for each one of the presumed female ducks to [email protected].
At Erin's Farm, we believe that it is important for our next generation to witness, experience and understand nature in all of its true forms to ensure that we all will become better stewards for the future. Our farm is the result of over 25 years of dedication & service towards animal awareness. We strive to provide an amazing home for our rescued animals as well as a unique opportunity for the public to get the needed exposure and education about animals in our food and farm industry as well as reptiles and other exotics found in nature. Inspired by Jane Goodall's foundation & message for peace, unity & understanding, we have molded our farm mission around rescue, education and exposure to all of the worlds sentient beings.
Please help us continue to facilitate rescues of farm animals by making a tax-deductible donation, 50% of which will benefit Erin's Farm.