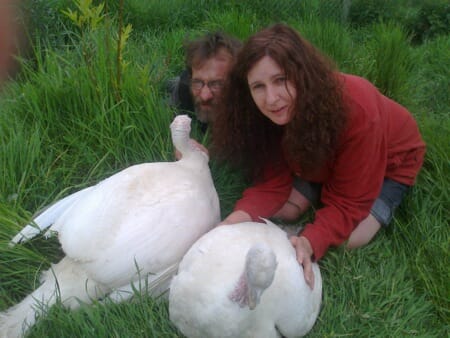 Sandra Higgins is the founder and director of Eden Farm Sanctuary and the Compassion Foundation of Ireland who recently made this moving confession to us about her struggle communicating with those who assert that they have a right to eat other animals:
"I typically spend a sixteen hour day, at least, looking after 100 sanctuary residents, all of whom have been rescued from neglect, abandonment, or abuse and a future that would have entailed brutal, premature slaughter. Some of them have been very severely abused by an individual, or by a system that breeds and uses them, such as the experience of egg laying hens or those used as meat.
I sometimes make a cup of tea to take a break and log onto sites like LinkedIn or Facebook. It might help people to understand my point of view when I explain that I might have spent the last two hours helping a hen to relax in a warm bath in order to lay an egg that has become stuck in her, rather like a breach birth, or I might have nursed a hen who has prolapsed from being bred to lay eggs in unnatural quantities.
Or I might have tried to calm someone who has just left a cage in which he or she lived for their entire existence. I may have spent hours trying to approach someone too terrified to accept my help, knowing that they will die without that help. Or I may have returned from the vet with a hen who has been diagnosed as having reproductive cancer, as occurs in over 30% of them.
I may have returned home from the vet with the body of someone I loved who lost their life because he or she was bred into the food industry. I may have spent the previous night holding a dying hen, goose, duck, or pig, whose only experience of gentle care, respect and love was those few hours in which she took her last breaths. Many residents come to Eden too late. They come here to die.
Those experiences make it difficult to deal with the point of view expressed by those who regard it as their right to eat other animals and their products. It makes it difficult to be patient with people who think that these beings who I respect and devote my life to are food.
I do what I do simply because I cannot go back outside to the sanctuary and look them in the eye without conveying the information that I feel they would want me to convey: that using them, for any reason, harms them. Irretrievably in most cases. There is no humane use of another."