Note: This is part 1 of a 2 part feature. Please read part 2 here.
The Biggest Undercover Dairy Investigation in History – Fair Oaks Farms and Coca Cola from ARM Investigations on Vimeo.
In what is being called the "largest undercover dairy investigation in history," animal advocacy organization Animal Recovery Mission released footage on Tuesday exposing one of the largest dairy farms in the U.S., Fair Oaks Farms in Indiana, which sells its self-professed "humane" milk under the label Fairlife.




In an investigation that lasted more than three months, undercover workers documented the following abuses "on virtually a daily basis":

"Employees were observed slapping, kicking, punching, pushing, throwing and slamming calves; calves were stabbed and beaten with steel rebars, hit in the mouth and face with hard plastic milking bottles, kneed in the spine, burned in the face with hot branding irons, subjected to extreme temperatures, provided with improper nutrition, and denied medical attention. This resulted in extreme pain and suffering by the calves, and in some cases permanent injury and even death."

Let's take a look at the animal welfare claims Fairlife Milk makes on its website, alongside the documented reality.
Claim: It's All About the Mamas
Reality

In reality, it's not "all about her," rather, it's "all about her milk." While Fair Oaks has boasted the tagline From Grass to Glass, in truth their cows do not eat grass or ever spend any time on pasture. Here, confined, bereft mothers nose a premature stillborn for longer than any of them will have spent with one of their own living newborn calves.
Claim: Spoiled from the Very Start
Reality
Claim: Always in Good Hands
Reality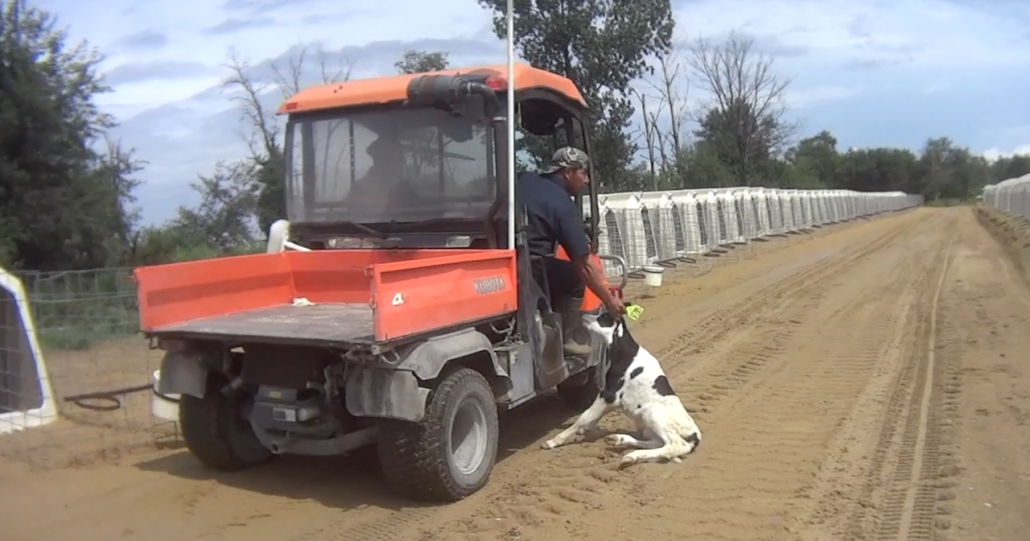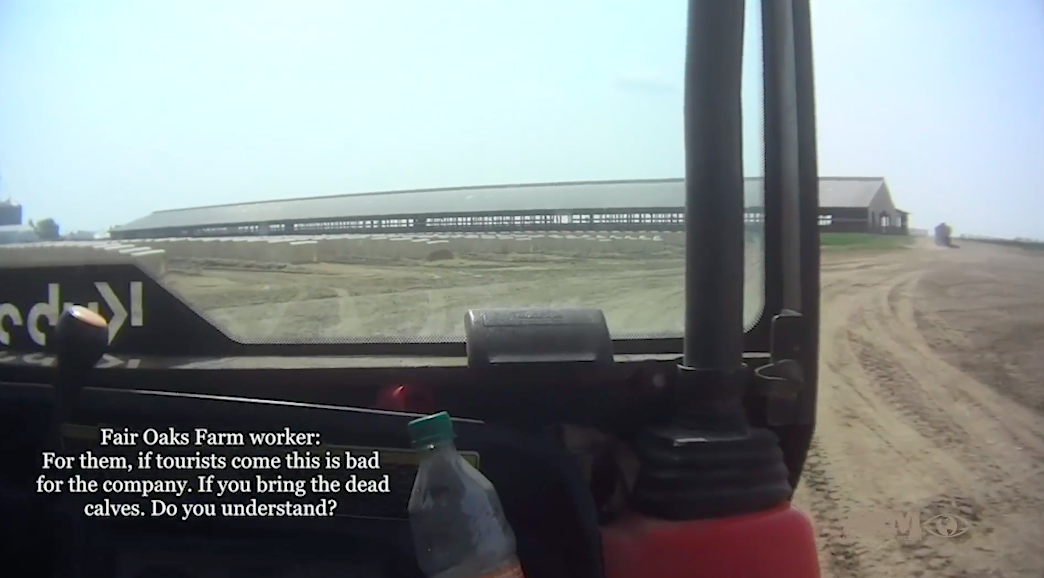 Peddling Illusions
At Fair Oaks Farms, the idea of "humane" animal treatment— along with other wholesome concepts like "sustainability" and "transparency"— are big business: so big, in fact, that Coca-Cola bought in as a partner of Fairlife Milk in 2015, expanding its beverage production from a bevvy of carbonated soft drinks to include an "ultra-filtered" line of bovine maternal lactations.

It's not every day that a billion dollar soda behemoth turns its sights on what is inarguably a dying industry. Why milk? Why now? And, why Fair Oaks Farms?
To understand that, you'd first need to be familiar with the term "agri-tourism," which has distant roots in the county fair and is broadly defined as any agricultural operation or activity that brings visitors to a farm or ranch.
Masters of marketing, with an eye early on for massive dairy expansion, Fair Oaks's founders saw in agri-tourism an opportunity to rehabilitate "factory farming": recreate the CAFO as county fair, embedding the perversions of industrial animal agriculture in the mythology of Old MacDonald's Farm, but with a modern, glitzy twist for the attention deficient millenium. Less great grandpa, more Walt Disney.
And soon enough, Coca-Cola's bedroom eyes don't seem so far-fetched.
"Adventures" in Exploitation

In 2013, I visited Fair Oaks Farms to document the launch of "Pig Adventure," their cheerful name for the multi-million dollar confined sow breeding facility slash theme park where, as with "Dairy Adventure," paying visitors are supposedly transformed into conscientious consumers who leave "knowing exactly where their food comes from."



That is, if they can see past the dizzying array of pig balloons and pig stuffed animals and flashing, interactive "pig education stations" long enough to form a clear thought— for which they'd need incidentally to drown out the jolly piped in background music, and, if they're on the self-guided tour, the "marvelous pig facts" narrator chirping on a ceaseless saccharine loop while the glazed-eyed denizens down "Bacon-Wrapped Meatloaf" and "Cookie Dough Pizza" "harvested" from animals "grown right on the farm."
If then, by some Herculean mental feat, a visitor were able to press pause on the horror vacui of feelgood chatter and sensory stimuli, step from the stupor of consumption, and simply see what was right in front of them, on the other side of the glass: they might, as I did, catch a glimpse of the dark reality Fair Oaks Farms is hiding in plain sight.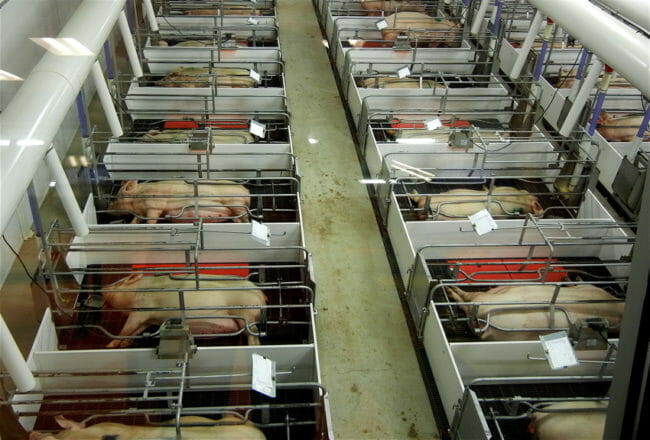 What You Can Do
Ask Stores to Remove Fairlife Milk  

Fair Oaks Farms' founders would have you believe the abuse depicted on their dairy farm is a horrible aberration they had no idea was happening, perpetrated by deviant workers who deserve all of the blame and full prosecution. But the truth is, at this freakish theme park of reproductive subjugation, abuse of mothers and babies is not some one-off exception, it is the entire basis of their multimillion dollar exploitation operation.

You can hold them accountable by asking your local retailers to join others who have already removed Fairlife milk from their store shelves. Fairlife is widely distributed in grocery stores across the country, including Walmart, Target, Publix, Kroger, Food Lion, Safeway, Ingles, Meijer, HEB, and many more (full list). Scan the milk shelf at your local stores and if you see that Fairlife is stocked, email your store's corporate office with a link to the investigation, and share photos and videos in your email too. 

Tell Coca-Cola You're Boycotting Them Till They Sever Partnership

Email: https://www.coca-colacompany.com/forms/product
Call: 1.800.GET.COKE (800.438.2653)
Write: The Coca-Cola Company/ P.O. Box 1734/ Atlanta, GA 30301, USA
Comment on their social media: Facebook / Twitter / Instagram

Ask the Sheriff to Hold the Owners Accountable

Call the Newton County Sheriff's office and ask them to hold the owners and Fair Oaks Farm itself accountable, not the undercover investigators or the few hired workers who have been fired as scapegoats. Call (219) 474-6081, extension 3102

Call Fairlife Milk 

Call Fairlife Milk's Chicago headquarters at 1-855-LIVEFAIR and tell them how you feel about their treatment of animals and their "humane" milk marketing.

Share this article and the original investigation on social media 

Share our article, as well as photos and footage from the investigation, with friends and family on social media. Include a link to our Dairy Facts page and let folks know that all dairy farming is abuse. Share our "Humane" dairy resource with those who champion "small, family dairy farms" or other humane dairy myths.

Join our June 17th rally and protest outside Fairlife headquarters

When: Monday, June 17, 11 a.m. – 1 p.m. CDT
Where: 1001 W Adams St, Chicago, IL 60607-2911, United States
Event page (for updates): https://www.facebook.com/events/370602167138241/

Ditch Dairy

While Fair Oaks Farms's Dairy Adventure is a brazen example of humanewashing, the truth is there is no such thing as a "fair life" on a dairy farm, ever. Learn more in Part 2 of this story.