In addition to the logistical and financial crises so many continue to endure as a result of COVID-19, extended social distancing has plunged much of the world into a full-blown existential crisis as well. Shelter-in-place mandates, shuttered businesses and community spaces, and the loss of important social and familial rituals has found us confronting an unprecedented moment of alienation. We are profoundly disoriented by the sense of being estranged from our own lives.
While this feeling of separation is emotionally harrowing, I believe it can also provide an opportunity to consider the abjectly alienated existences we routinely inflict on so many of our fellow beings; the nonhuman animals we breed or capture for the purposes of exploitation. For us, this estrangement from the lives we belong to is temporary. For the animals languishing on farms, in zoos, vivisection laboratories, aquariums, circuses, pet stores, breeding mills, kill shelters, and anywhere else humans have imprisoned our fellow creatures, alienation is the very essence of their existence, and a permanent condition.
And while the plights of all of these creatures is urgent and worthy of closer examination, in the interest of time I will limit this reflection to animals who are farmed; not only because they comprise the bulk of my research and advocacy, but because our consumption of animals, and our obsession with meat, is now unavoidably implicated in the current pandemic on multiple levels.
Our Fatal Flesh Obsession
While it is widely believed that COVID-19 jumped to humans via the animal flesh trade, this has led to a disproportionately critical focus on wildlife and "wet" markets. In reality, the "livestock" sector is the single largest source of human zoonotic disease pandemics globally. A 2012 global study mapping human diseases that come from animals found that "While zoonoses can be transmitted to people by either wild or domesticated animals, most human infections are acquired from the world's 24 billion livestock, including pigs, poultry, cattle, goats, sheep and camels."
Indeed, the World Health Organization states that "the greatest risk for zoonotic disease transmission occurs at the human-animal interface through direct or indirect human exposure to animals, their products (e.g. meat, milk, eggs…) and/or their environments," while the Food and Agriculture Organization of the United Nations notes that "Seventy percent of the new diseases that have emerged in humans over recent decades are of animal origin and, in part, directly related to the human quest for more animal-sourced food."
Just a decade ago, swine flu, an H1N1 influenza virus, jumped from farmed pigs to humans and infected nearly 61 million people in the U.S. alone, where it resulted in 12,469 deaths, according to The Centers for Disease Control and Prevention (CDC). Worldwide, as many as 284,500 people were killed by the swine flu pandemic.
The infamous 1918 influenza pandemic known as the Spanish Flu was also caused by an H1N1 virus. Attributed to having developed from either a swine flu or avian flu virus on a pig or poultry farm (pre-dating so-called factory farms, it should be noted), the pandemic killed an estimated 50 million people globally.
And that's just the tip of the iceberg.
The Bigger Sickness
While these pandemics are tragic, they are not inevitable. In the grand scheme of things, they are symptoms of a much deeper sickness, one of our own making, with which we have infected not only ourselves, but whose toxic consequences can now be seen across the globe: in the burning of the Amazon rainforest to make room for ever more cattle ranching; in Australia where the ceaseless bulldozing of koala habitat, and the deliberate mass killing of kangaroos, both on behalf of the beef industry, kill far more of these animals every year than the recent wildfires that drew a collective gasp of horror; in the unprecedented rates of wildlife species extinction resulting from habitat loss, whose number one driver is animal agriculture; in the climate crisis to which meat and dairy production contribute more greenhouse gas emissions than all global transport combined, leading to more and increasingly devastating droughts, floods, fires, hurricanes, and other extreme weather events, while inching global temperatures inexorably toward the point of no return.
Killing animals is killing us.
And the sickness is not in the scale of our killing; this is not an argument about the evils of industrial animal farming and a need to simply shift to more so-called humane, bucolic forms of exploitation and slaughter. The sickness is the mentality that designates sentient beings as something to be farmed at all. These animals, from whom we have stolen so many dignities; the dignities of self-determination, of bodily and reproductive autonomy, of family, of wildness, and of inherent existential worth, live suspended in a Frankensteinian netherworld of separation, entirely outside the natural order their ancient instincts correspond to.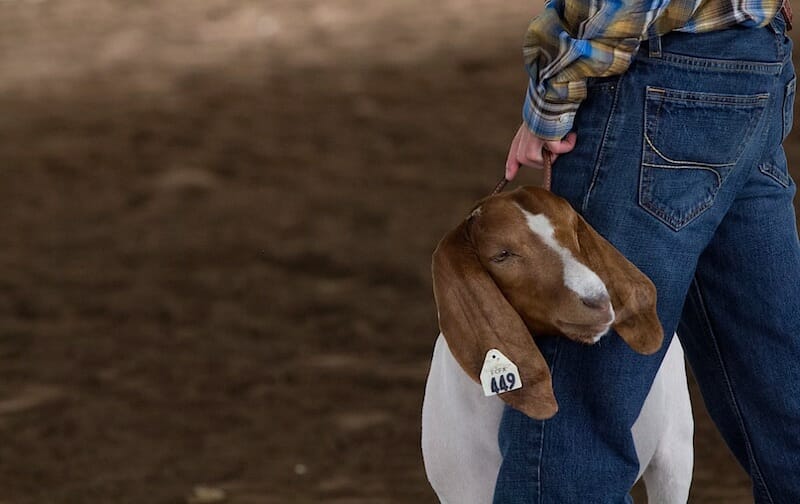 As author Joanna Lucas has written:
"Isolated from the natural world to which they belonged for millennia, farmed animals are forced to live their short lives in severely degraded physical and psychological environments that are far different from the ecosystems and cultures from which they historically derive. Severed from the intricate social structures that governed and guided their free-living communities, and confined, without the possibility of escape, to a human world where they have no place in the present, no link to the past, and no possibility of a future, domesticated animals have no power whatsoever over the most important aspects of their lives.
Humans decide where they will live; if they will ever know their mother; if, and how long, they will nurse their babies; when, and if, they will be permitted to see or be with their families and friends; when, where, or if they will be allowed to socialize with members of their own species; when, how, and if, they are going to reproduce; what, when, and how much they will eat; how much space they will have, if any; if, and how far, they will be allowed to roam; what mutilations they will be subjected to; what, if any, veterinary care they will receive; and when, where, and how they are going to die."
What can it mean that in a society obsessed with personal identity and freedom, we have erased the very concepts of identity, liberty, autonomy, and consent from entire populations of sentient individuals without so much as blinking at the moral implications of the indignity and debasement we needlessly inflict on them in the name of profit and palate pleasure?
To degrade any individual, much less entire species, to the lifelong status of property, captive, and commodity, is the grossest devaluing of life, and the ultimate alienation.
Quoting author Linda Clark:
"When we use other individuals, they have not a thing to call their own; not their bodies, not their children, not even their very lives. Nothing. Reduced to commodities and resources, every moment of their existence is governed by human economics of the service that can be taken from them, the cash value of such substances as milk, eggs and body fibres that can be stripped from their living bodies, and ultimately the value per kilo of their pitiful corpses hacked and sawed to pieces. Our use of them is thorough and utterly pitiless.
These are the innocent victims of our deluded species. They do not 'live' as we know and value the word. They endure an existence. They are powerless, brought into the world by violation on an industrial scale for the sole purpose of gratifying human indulgence.
It doesn't have to be this way. We can thrive without causing this devastating harm."
And here's Karen Davis:
"As usual, farm animals are relegated to the wasteland of foregone conclusions in which they are considered to be not only ecologically out of tune but too denatured and void of autonomy for human morality to apply to them. The recognition that human beings are specifically and deliberately responsible for whatever aberrances farm animals may embody, that their discordances reflect our, not their, primary disruption of natural rhythms, and that we owe them more rather than less for having stripped them of their birthright and earthrights has not entered into the environmentalist discussions that I've encountered to date. The situation of these animals, within themselves and on the planet, does not appear to exact contrition or reparations from the perpetrators of their plight, while the victims are per se denied "rights," of which the most elemental must surely be the right of a being to be perceived before being conceptually trashed."
Lastly, Will Tuttle:
"Harboring the idea of owning another living being is in itself an act of violence, and our outer violence toward nonhuman animals, which is so devastating to us all, springs from this idea… [W]e are never owners of others. We can be their guardians, companions, friends, protectors, admirers, and appreciators, and this blesses us far more than we might think. The move from "owner" to "guardian" frees both the "owners" and the "owned," and establishes the foundation for peace, freedom, and justice. We are all harmed by the culturally mandated ownership mentality that reduces beings to mere commodities, whether for food, clothing, entertainment, or the myriad of other uses. It is long past time for us to awaken from the cultural trance of owning our fellow beings…"
It is no coincidence that our systematic destruction of animal lives, which is in large part facilitated by our refusal of their subjectivity, is also destroying the earth. As I write this, U.S. slaughterhouses and meat processing plants have been identified as the largest hotspot for coronavirus infection in the country, but are being forced to stay open by executive order of Donald Trump in order to supply the flesh fetish. Meanwhile, headlines continue to report "mass meat shortage" fears alongside images of people in full medical masks browsing empty meat refrigerators.
Our culture is in a state of addiction. It is pathological. And it is wrecking our planet, which ought to be incidental to the immorality of needlessly breeding billions of sentient individuals into captivity, reproductive subjugation, and slaughter. Bodies are not commodities. Body parts are not barcodes. Beings are not property.
Until we divest from this poisonous sense of entitlement, this stupor of violence, exploitation, and consumption, our species is doomed.
May it be otherwise.