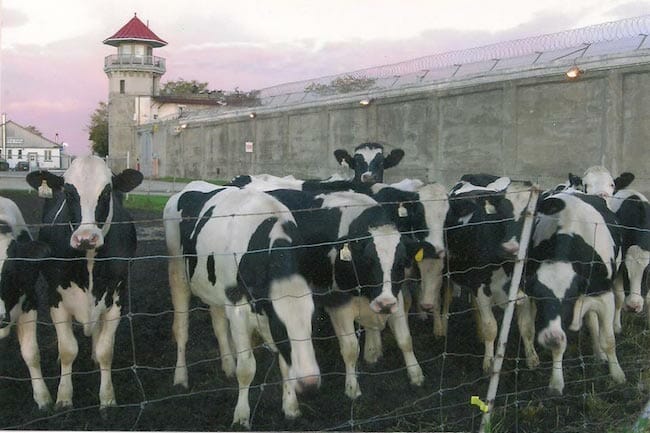 Consider a theoretical question. Which is best suited as a prisoner rehabilitation program: running a puppy mill, working in a slaughterhouse, churning out baby food, or growing marijuana?
If you chose "none of the above," you're wrong. At least, according to the Canadian government, which has been training prisoners in slaughterhouse work for decades, and will soon see prisoners farming cows and factory-farming goats to produce infant formula for China.
Let's put it another way: which is the least inappropriate option in our semi-absurd scenario? Marijuana is legal in Canada, generates tremendous revenue, has legitimate medical applications, involves working in the soil, and contributes to clean (if skunky) air.
In reality, no one would consider marijuana an appropriate use of Canada's prison farms, yet by some blind spot in society's conscience prisoners are being trained to kill and dismember animals. If marijuana is inappropriate at a prison, then – goodness gracious – so is a slaughterhouse.
No one would tolerate a prison-run puppy mill, but replace theoretical puppies with farmed animals and somehow the practice of breeding and exploiting (and slaughtering) animals for profit becomes socially acceptable, even noble, wholesome, desirable. If a puppy mill is unacceptable as "animal therapy", then so is dairy.
Three years ago, we were trying to think of a name for our campaign for ethical prison farms. Bullshift was suggested. We laughed, we weren't really going to use it, but the long-standing myth that dairy teaches prisoners empathy was, well, bull. Holy cow, we thought, it's time for a shift in the way we think about animals and their involvement in the rehabilitative process.
Canada's federal prison farms (a voluntary program) shut down nearly a decade ago. The closures generated strong opposition, especially from dairy and beef farmers, who protested under "Save Our Prison Farms" banners while the old milk, meat and egg operations were auctioned off. Activists lamented the loss of local food security and the "animal therapy" for prisoners, but the farms bled money and "didn't teach employable skills" so they got the axe. The prison slaughterhouse was the sole survivor of the closures, the only real moneymaker.
This year, the prison farms are reopening, but no one is celebrating the prospect of prisoners factory-farming animals for multinational trade. Our campaign has ignited a new spirit of opposition: no harm, no killing, no exploitation in the name of rehabilitation.
Bullshift sounded trite and crude. We settled on Evolve Our Prison Farms. Our vision: plant-based agriculture and animal-assisted therapy. The advantages are self-evident: better rehabilitation, meaningful work, healthy food (feeding prisoners, not babies), at a fraction of the cost and complication of animal agriculture. Moreover, interacting with animals under a no-kill sanctuary model teaches respect and appreciation for all life, human and non-human.
The time has come for an ethical and practical shift in Canada's prison farm model. Animal agriculture is inconsistent with Canada's new Food Guide (which now emphasizes plant-based protein and recommends water, not milk, as the drink of choice). It is a top contributor to climate change. It will involve prisoners in the sexual manipulation and slaughter of animals. It is unnecessary, irrelevant, unpleasant and expensive.
People have argued (passionately!) that the prison farms must be dairy operations because "all the cows are mothers." Many prisoners, they argue, have not known a mother's love. "The cows become like mothers to them."
Animal Justice lawyer Anna Pippus shifts this perspective. "Cows are not surrogate mothers for prisoners," she explains. "They want to be with their own babies, just like we all do."
It helps to turn the analogy on its head. When we adopt an animal in need of care, we stand in as that animal's parent. It is a bizarre distortion to reverse that relationship and expect the animal to stand in as our parent.
Many prisoners also may not have known a father's love. What if they could see themselves as fathers to the animals dependant on their care, and discover what they may have lacked by offering that fatherly love, protectiveness, self-sacrifice toward a vulnerable animal?
Another shift is needed. What is the purpose of prisons? Past eras had an iron-fisted answer: they warehoused, punished and exploited prisoners. Today, the correctional approach prioritizes rehabilitation, in theory if not yet in practice. Nearly all prisoners will be released into society. What quality of person do we want to see emerge? Someone who is more angry, more traumatized and desensitized than when they went in? Or someone who has learned the inherent value of life?
We are aware of terrible crimes. We have encountered the broken people who have committed them. We find ourselves questioning, what is a "debt to society"? That phrase is forced down prisoners' throats but surely the debt, if there is one, cannot be repaid in a currency of time.
What we label "crime" is essentially a betrayal of empathy against another being. If that is what has been taken out of this world, then that is what must be repaid, and it becomes our obligation, as a society, to provide opportunities for prisoners to contribute to the healing process. If we deny any such opportunity, and merely shackle and cage offenders, then our broken brothers and sisters become society's victims. Furthermore, if we introduce "rehabilitation" programs that require the systematic betrayal of empathy, it is by the same definition a crime.
The return of Canada's prison farms could be visionary, life-affirming, empathy-inducing, and environment-protecting through green agriculture and animal sanctuary. If, however, we remain blind to the treatment of prisoners, animals and the environment, then the future is dim indeed.
"It's time for society to evolve," says Canadian elder and environmentalist Dr. David Suzuki. "And it's time, long overdue, for prisons to evolve as well, because they've got to be a part of the solution."