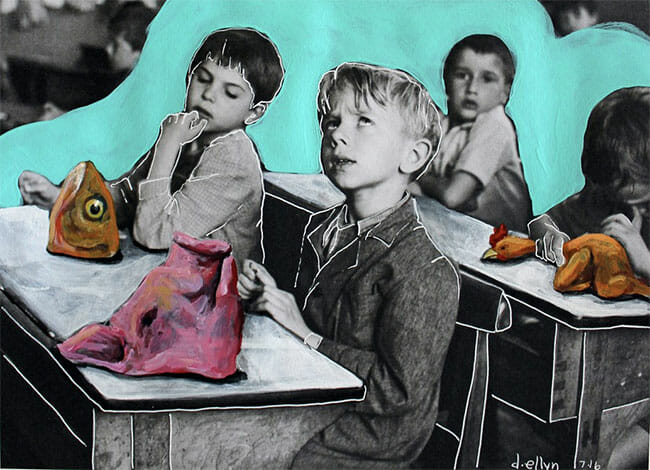 One of the greatest challenges faced by the animal liberation community is the normalization of violence against, and captivity of, nonhumans that is imposed upon human children. This is widely discussed as problematic with respect to events in a child's life, such as visiting a zoo or a circus, or attending a Fourth of July barbecue. As I recently became a literacy tutor specializing in elementary school students, I find that this is also prevalent in the materials one is expected to use as well as those provided by both public and private elementary schools.
Reading Skills Grade 3, published by Flash Kids, is one of many widely available workbooks used by tutors to provide support to elementary school students who are not reading at grade level. (The number of such students in New York City is astounding; as of 2013, a staggering seventy-four percent of students in grades 3-8 in New York City were reading below grade level. In 2015, nationally, nearly one-third of 4th-, 8th-, and 12th-grade students read below "basic" level, while just over one-third read at or above "proficiency.") This workbook includes a number of exercising regarding paragraphs. One section pertains to finding the main idea— students are given a brief paragraph and then asked to choose from four options which best states the main idea of what they have just read.
I was disappointed to find when I first began working with this book that a significant number of the passages related to some form of animal exploitation. One passage had to do with the responsibilities of being a zookeeper, with no regard whatsoever for the victim's perspective— what it's like to be a "zoo animal." The passage, of course, glorified the role of zookeeper and depicted it as a nonhuman animal's friend and caretaker. In short, it described zookeepers as they might describe themselves, glorifying the captor while ignoring the captive. Another passage described a young boy's dedication to fishing in such a way that it appeared almost admirable. The focus of said passage was on his patience and determination, not on the act of murder to which he was so devoted. Indeed, in the passage, the boy never actually caught a fish; but we are supposed to admire him for waiting all day and all night, not making a sound, determined to reach his goal.
I work with several students in Inwood, New York who attend a charter school. They were given a massive homework packet to work on over the summer, as well as a book to read, on which they must write a report before the summer's end. The book? Unusual Chickens for the Exceptional Poultry Farmer, by Kelly Jones and Katie Kath. As the title implies, this book glorifies "raising" chickens using the endearing character of a young, funny, bold little girl name Sophie (nicknamed Soficita). How can anyone reasonably expect that, after spending an entire summer reading about this lovely little girl who desperately wants to do this terrible thing, young readers will understand, unguided, that what she wants to do is morally wrong? Soficita doesn't have a mean bone in her body. She is not the imposing image of the Oppressor to which one is accustomed. She is of Mexican descent (though the story is set in America), and I suspect this is one reason this book was selected for an Inwood audience— it allows the school assigning it to check the "racial sensitivity" box on academic forms. But what about species sensitivity? Surely there are other books starring Hispanic children in which said children do not exploit nonhuman animals?
I have tried skipping exercises in Reading Skills Grade 3 and other workbooks that glorify animal exploitation, but every so often I miss one, and it pains me to hear a child struggling to read a passage about the history of horse-racing when there is so much else they could be reading instead that would not only help them improve their literacy skills but also strengthen their budding moral compasses. One angle from which we must approach the question of animal liberation is through publication of children's literature— not just storybooks or chapter books, but also academic support books, workbooks and textbooks. Animal liberationists in publishing spaces need to push for more nonhuman-animal-friendly material to be included in these books, and for nonhuman-animal-exploitative passages— such as those glorifying fishing, hunting, racing and "raising" nonhumans for their flesh, eggs, or milk— to be excluded.
There is no academic advantage whatsoever to such material. It is not inherently better at teaching children how to read than nonhuman-friendly alternatives. The only possible motive for including such passages is indoctrination. This inclusion is an essential tool in the art of empathy suppression, at which speciesist adults excel. It is but one of many mechanisms through which we teach children at an early age that animal exploitation is a natural part of life. An academic support text would not include a passage glorifying the perspective of a human murderer who just murdered a human. Nor would it ever include passages from the perspective of a corrections officer at a prison. So, why should such texts include passages in which the protagonist murders fish or enslaves chickens?
Interestingly, children's video entertainment— movies and cartoons— tend to do the exact opposite. In my book, Until Every Animal is Free, I use examples such as Once upon a Forest (1993) and Bolt (2008) to discuss how children's entertainment in general, and animation in particular, encourages children to care for nonhumans' wellbeing and right to autonomy. Then, both in practice (by, say, serving meat for dinner after watching one of these movies) and through literature and academic support, there is a great Unlearning. Our children are first taught to root against the Evil Humans, and later encouraged to become them. All of the values those feel-good movies instill in our children, however briefly, are systematically snuffed out by exams in which children must read and respond to an article about how a circus trainer trains an elephant— an article which is, naturally, devoid of the hard truths inherent in this practice, such as the kidnapping that takes place in order to get the elephant to the circus in the first place; the use of bullhooks and other terrible tools to "train" (coerce) the elephant into certain poses and stances; and the captivity by which the elephant's entire life as a circus performer is defined.
If we hope to see animal liberation realized in our lifetimes, or even in the lifetimes of our children, we must take a critical look not only at the usual suspects— movies, cartoons, video games, and the media— but also at academia and elementary education to unravel how children are systematically programmed to suppress empathy for nonhumans and accept their abuse as both inevitable and inconsequential.