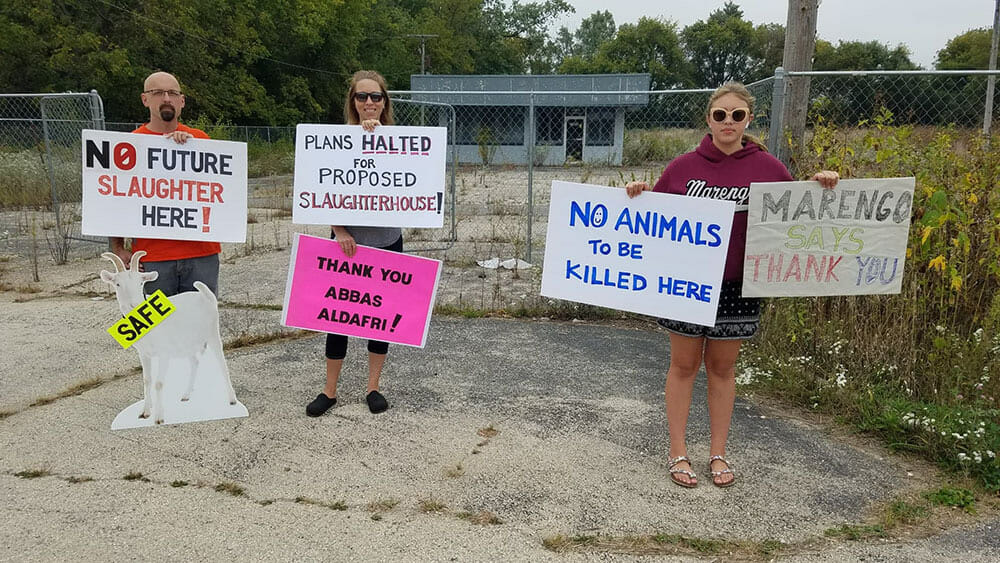 Slaughter Free Chicago and Community Persuade Aden Poultry Owner Not to Open Slaughterhouse in Marengo, IL and Instead Use the Property for Other Purposes
Earlier this year, community activists in McHenry county spotted a news story from 2017 announcing a proposed slaughterhouse on unincorporated land in Marengo. The property owner, Abbas Aldafri, who also owns Aden Poultry in Chicago, was already involved in talks with Slaughter Free Chicago, discussing how we could assist in transitioning Aden away from a slaughter business. 
Soon, a group of activists and professionals organized around the goal of fighting against the proposed Marengo slaughterhouse known as Community Farm. This task force quickly went to work gauging public sentiment through community outreach, which included demonstrations at the site of the proposed slaughterhouse as well as direct mail and calls to neighbors. It quickly became clear that many were unaware of the proposal and overwhelmingly supportive of our position that anything other than a slaughterhouse would be welcome. At the same time, we also learned that 2 years into the application process for the building permit, the deal was pretty much done. In fact, the county issued Mr. Aldafri's permit on 8/14/20.
When uncovering all of the records on the project, we found that the Marengo City Council actually passed a resolution against the proposed Community Farm in 2018, arguing that the city would find it "highly offensive" and that county zoning laws required a special use permit. But, the city did not have jurisdiction over the property; McHenry county did. In correspondence between city administrator Blakemore and McHenry County Planning & Development Director, Dennis Sandquist, Sandquist suggested that the city file an appeal of the county's zoning decision. But, when pressed to defend the resolution and represent the interests of its constituents, Blakemore was unwilling to file the appeal or offer an explanation. So, we decided to file the appeal ourselves, which was denied by Sandquist.
In the meantime, our task force was making good progress on negotiations with Mr. Aldafri. Several residents contacted him to express their concerns over a slaughterhouse. To his credit, Mr. Aldafri heard their concerns with humility and patience. We offered to help him brainstorm and explore alternative businesses and even a potential buyer for the property. At this time, we encouraged Marengo Mayor Koziol, who publicly expressed support for our position at the July city council meeting, to pick up the phone and have a cordial conversation with Aldafri, perhaps even offering the city's assistance in helping him open a non-slaughter business. But, Koziol never made that call, as far as we know. Instead, he sent a letter to McHenry County Chairmen Jack Franks, requesting an administrative review of the building permit. When we questioned Franks on this, he told us it was up to the State's Attorney, who told us "there was nothing they could do."
In the end, It was our direct diplomacy with Aldafri that delivered the win-win solution we were looking for. He and his family have an open invitation to visit the vegan sanctuary just down the road from his property, Georgia's Place Bird Sanctuary, which provides a loving home for many chickens and other domestic fowl, some of which escaped a slaughterhouse.
The mission of Slaughter Free Chicago is to end slaughter in Chicago for the benefit of animals, workers, communities and the planet. Slaughter Free Chicago is part of a larger Slaughter Free Cities network with the mission of creating chapters in various cities around the country and globe. Learn more about the SFC campaign and how to get involved at https://slaughterfreechicago.com.
For interviews with Robert Grillo, call 773-329-7977 or email [email protected]