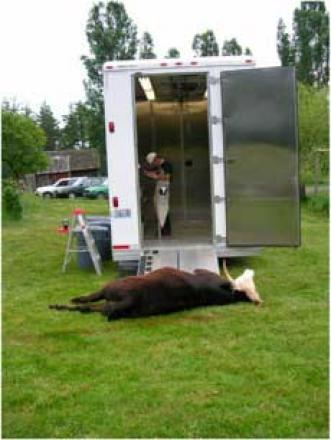 I've been doing a preliminary survey of the literature on mobile slaughterhouse units (MSUs). The mobile slaughterhouse is promoted by advocates of small-scale animal agriculture as a solution to the very serious problem of access to commercial processing facilities. Large producers benefit from consolidated, federally-inspected slaughterhouses. Scale economies and all that. The small guys don't benefit, however, and have thus pushed aggressively for more flexible and locally-available, federally-inspected sources of slaughter.
They want to decentralize death.
MSUs are the most popular answer thus far, with support coming from Whole Foods Market, the USDA, and an admiring foodie press whose coverage of these itinerant death boxes has been nothing short of glowing.
Digging beyond the celebratory media reports, however, uncovers some less sanguine aspects of MSUs. Aside from the obvious fact that they essentially serve the same function as a large slaughterhouse — killing and processing farm animals into products and byproducts that ruin our health — the mobile slaughterhouse is an inherently unsanitary space. Death is by nature a dirty business. Blood, offal, water, feces, carcasses, and workers who need to do human things such as use the toilet become more acute problems in MSUs than in large slaughterhouses. MSUs deal with these issues poorly.
Animals at an MSU are slaughtered outside. This attracts flies and other "pests." The problem is exacerbated by the proximity of processing space to the outdoors. An MSU is thus an operation awash in the kind of chemicals that I imagine would give an organic farmer the shakes. The USDA's Food Safety Inspection Service's compliance guide for MSUs lays this issue out well.
A mobile slaughterhouses owner has to "implement a program to prevent harborage or entry of pests." This means thoroughly treating the small unit with a large range of insecticides, fungicides, and rodenticides — the only stipulation being that they are EPA-approved. Of course, large slaughterhouses do the same, but the difference here is space. Workers in a small unit, as well the animals they process, will be in much closer contact with these chemical agents than they would be in a traditional abattoir. No one has explored this potential danger.
Then there's water. Slaughtering animals requires a ton of water and what's left behind as waste isn't exactly what you'd call clean. Regulations on what to do with this water are alarmingly vague. Here's what the FSIS says:
A MSU will usually not have traditional sewage facilities unless there is access to a private septic system provided at the slaughter location. Some MSUs may have a holding tank and will haul waste water for discharge at a MSU docking station. Alternatively, waste water disposal might be adapted for the specific situation. For example, blood and waste water might be dispersed on the producer's property well away from any stream or drainage, provided the local health authority permits this.
Finally, to cite just one more problem with mobile slaughterhouses, there are the workers. Psychologically speaking, a smaller operation that slaughters animals is worse than a large one. As author Tim Pachirat has shown, large slaughterhouses are designed to minimize the visibility of violence. There's something disturbingly numbing about the rationalization of an assembly line that stretches further than the eye can see. By contrast, in the MSU, everything is graphically visible and the pain of witnessing violence that much more acute. Adding insult to injury, there are no clear specifications regarding how near or close the nearest toilet should be, with the FSIS saying it must be within "a reasonable distance."  Whatever that is.
Of course, all of these problems are trumped by the Big Problem —the ethical problem of the unnecessary but intentional death of a sentient farm animal.  As one former small animal farmer has said:
So yes, you can raise them and have them graze in green fields of grass and brush them every day, but when you ultimately put them in someone's truck or on a livestock trailer, and they go to be slaughtered, I don't care if you say a prayer before they're slaughtered or if you simply send them into the slaughterhouse. Their throats are still slit. They feel pain. They gasp for air. I can't imagine what goes through their minds.
Me neither, but I can say with some confidence that they're not terribly concerned with the size of the operation that ends their life.