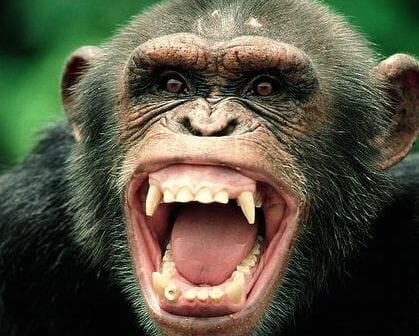 The omnivore "neutrality" defense
A common justification for eating animals is the statement, "Humans are omnivores." Yet, being biologically omnivorous neither compels us to eat animal products nor erases our moral obligation to minimize the harm that results from our food choices. Aside from the long-standing debate over whether humans are natural herbivores or true omnivores, if, for the sake of argument, we accept the widely-held view that humans are omnivores, this still does not change the fact that we can easily get all of our nutrients from a plant-based diet. And most of us have access to a wide range of delicious plant-based foods. Vitamin B12, the only nutrient vegans need to be vigilant about supplementing, is inexpensive and is also recommended in supplement form for non-vegans, who are equally prone to deficiencies. More on vegans and B12 here.
In discussions, the statement "humans are omnivores" is often used to suggest that eating animals— more specifically, breeding and raising billions of animals for slaughter— is somehow morally neutral. But we can easily see why this betrays our ethics by looking at the following hypothetical scenario. Imagine applying this line of reasoning to some other human behavior we want to justify. For example, using this line of reasoning, a man defends killing his wife on the basis that "humans are natural murderers," arguing that we have a natural capacity for, and a long history of, murdering. But of course we would never justify such violent acts as murder, rape or torture as morally acceptable simply because these behaviors can be said to come naturally to us. And, yet, all of these violent practices are systematically carried out against other animals to turn them into food products for our enjoyment.
So what does it actually meant to be an omnivore?
The statement "humans are omnivores" is all too often used as a smoke screen to blur the important distinctions between omnivores and carnivores, suggesting that our killing and eating of animals is as natural and necessaery as it is for, say, lions and tigers and other obligate carnivores who eat other animals for reasons of survival. But being an omnivore simply means that we are capable of obtaining nutrients from both plant and animal matter, not that we must eat animals. And yet the popular characterization of omnivorism asserts that a sensible omnivore eats at least some meat, dairy or eggs on a regular basis as part of balanced, everything-in-moderation diet. But in fact being a human omnivore in contemporary times simply means we have the luxury of choosing from plant-based foods and animal-based foods. And since all the nutrients we need can be obtained from plant foods, there is no justification for the pointless violence and suffering that underpin eating animal foods, particularly when we could so easily avoid it.
Our closest primate relatives, chimpanzees, are also considered omnivores. Yet despite the fact that chimpanzees have huge, pointed canine teeth, the flesh of other animals is only a marginal part of their diet. Dale Peterson, who has studied chimps extensively in their natural habitat, explained to us in an interview that chimps, if given the opportunity to satisfy their hunger with exclusively plant-based sources, might very well ponder the morality of eating other animals. But even if they didn't, the energy expended to kill animals for food is far greater than that used in eating plants, which may partially explain why other animals are but a small part of the chimps' diet.
Sorting through nutritional myths
Unlike biological carnivores, we will not get sick or die from malnutrition if we stop eating dairy, eggs and flesh products. On the other hand, if we stop eating plant foods, we will likely become malnourished. On both a physical and psychological level, humans can thrive on a plant-based diet. Even many famous athletes perform at their peak on plant-based diets. And replacing animal foods with plant foods does not mean we are going against our biology, which is a popular view today. While statistics on the size of the global vegan population are sparse, there are estimated to be millions of vegans in the U.S. alone, and there is ample evidence of healthy populations of people all over the world who traditionally consume little to no animal products. The leading health authorities in the U.S., U.K., Canada and Australia all confirm that well-planned vegan diets are a safe, healthy and viable option for all age groups.
Still, some insist that a vegan diet isn't for everyone or that some people fail to thrive on a vegan diet. Ex-vegans are often quick to blame a plant-based diet for a wide range of health problems while ignoring all of the other factors that can contribute to poor health, but correlation is not causation. According to nutrition expert Micaela Karlsen, the trend in thinking that says each person requires a highly personalized nutrition regimen, while good at selling books and diet plans, is completely inaccurate. As Karlsen explains, "Human beings are one species; we are all the same animal, with the same digestive physiology. And, as is true of all species, we do not require personalized nutritional programs unless we are dealing with a specific disease or some other very unusual condition."
For a concise reference to plant-based nutrition, we recommend Vegan for Life by Jack Norris and Virginia Messina, both registered dieticians. Vegan for Life will answer all of your concerns and questions. It is backed up by the best peer-reviewed scientific research, and includes a chapter on how to evaluate competing nutritional claims in an age of confusing and conflicting information, much of which is directly funded or heavily influenced by the meat, dairy and egg industries.