This post is part of an ongoing series called Most Common Justifications for Eating Animals where we seek to provide answers and resources to better address these justifications.
---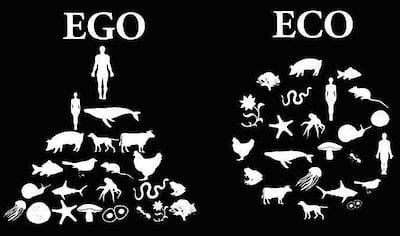 Claiming to be at the top of the food chain has become a popular justification for eating animal products and an affirmation of our ability to violently dominate everything and everyone. Yet justifications for needless violence that draw on notions of power and supremacy are based on the philosophy of "Might makes right" — the principle behind the worst atrocities and crimes of human history.
According to French researchers, as people become wealthier, they tend to eat more meat and fewer plant foods. Wealth, status and privilege are associated with eating more meat and the belief that we are at the "top of the food chain." This association has led to massive increases in meat consumption in many developing countries including China, India, Brazil and South Africa.
Those who believe there is scientific basis for the claim that humans are at the top of some food chain should consider this: in 2013, for the first time ever, ecologists used a statistical method of calculating a species's trophic level (its level or rank in a food chain) based on its diet. Their findings, published in the Proceedings of the Natural Academy of Sciences, scored humans at 2.21 on a scale of 1 to 5, roughly equal to an anchovy or a pig. On the low end of the scale are primary producers like plants, and on the higher end are pure apex predators (animals that eat only meat and have few or no predators of their own, such as tigers, crocodiles or boa constrictors).
Unfortunately, this study doesn't look critically at the claim that belonging to some food chain falsely implies that modern humans are living in the natural world as hunter-gatherers, competing with other species for food, as if our only choices are based on what we can find and hunt. In other words, it ignores the important moral distinction that comes from our ability to choose from a wide variety of food options, in contrast to other animals in the wild who have no choice but to eat what is available to them.
We humans are not at the top of anything. We are merely part of an interdependent web of life that forms complex yet fragile ecosystems. We choose to either participate in the protection of these natural systems, or to destroy them at our own peril. The concept of a food chain is a human construct that imposes a rigid and competitive hierarchy among species, rather than a good faith understanding of the complexity of the ecosystems to which we belong. Selectively appealing to biological determinism also ignores the fact that we are moral agents. By choosing plant foods, we can get our nutrients through primary sources of nourishment, in the most environmentally friendly and resource-efficient way possible, minimizing our harm to other animals, humans and the planet.
See more common justifications for eating animals.