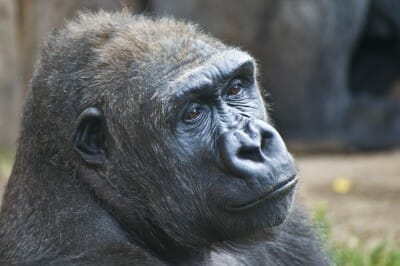 I'm sometimes startled by the lengths to which some scientists will go in insisting that nonhuman animals cannot feel, think, plan ahead, mourn, etc. In a recent Wired Science essay, "Stone-throwing Chimp Thinks Ahead," author Michael Balter cites psychologist Sara Shettleworth's article denying that the chimp in question actually planned ahead when he gathered stones to throw at visitors. The actual language Balter uses is whether "some humanlike animal behaviors might have simpler explanations."
Occam's Razor, the principle of accepting the simpler theory or hypothesis over a more complex or convoluted one, is normally accepted as a worthwhile guiding approach to adopting explanations; yet when it comes to animals, scientists often go out of their way to refute the simplest explanation, which is that many other animals are able to think, feel, plan ahead, mourn, and so on.
Anthropomorphism can be dangerous and misleading, and readers of our blog know how much I appreciate the scientific method for determining what is true and what is not; yet it's ironic that Occam's Razor is so quickly abandoned when it comes to anything related to animal cognition and feeling.
Isn't is simpler to assume that other mammals evolved to learn from experience, plan ahead (what else are squirrels doing when they store nuts for winter), and to feel? Descartes' belief that a dog's yelp was akin to a robotic program rather than an expression of feeling is preposterous to anyone who's ever spent any time with a canine, yet such outdated opinions about animal emotions are still normative among many scientists. It seems both silly and unscientific to believe that humans are unique in our capacity to feel and think, as if we didn't evolve, along with other mammals, to have these capacities for a purpose. Such assumptions seem more the purview of those who deny the reality of evolution than those who embrace science.
But things are changing. Jane Goodall, who was once excoriated for naming the chimpanzees she studied in Gombe, is now a widely respected ethologist. Other ethologists, like Marc Bekoff who wrote the wonderful book, The Emotional Lives of Animals, are published regularly in respected journals. And stories about chimps thinking ahead make sense to most of us, even as the citations of those who deny this ability seem odd, old-fashioned, and unscientific.
For a humane world,
Zoe Weil, President, Institute for Humane Education
Author of Most Good, Least Harm, Above All, Be Kind, and The Power and Promise of Humane Education
My TEDx talk: "The World Becomes What You Teach"