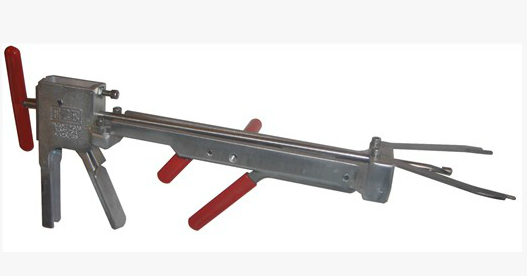 Some people doubt that farmers castrate baby animals without painkillers. Indeed they do, whether they label the "end product" organic, free-range, grass-fed, or pasture-raised. Using castrators is perfectly legal and is considered desirable by breeders who believe the sales pitch from the manufacturers—namely, that castrated animals are less aggressive and more marketable. I decided to put the doubters' skepticism to rest by shopping online for a "livestock castrator." In 20 seconds, Google gave me a comparison of products based on cost, value, and quality. Here's the one I zeroed in on: http://www.valleyvet.com/ct_detail.html?pgguid=30e0772c-7b6a-11d5-a192-00b0d0204ae5&gas=castrator.
The castrator's name sounds a bit like an antique Ford: "EZE Castrator Kit Model T-1." Its initial description makes the $186.95 instrument sound painless: "Within about 30 seconds, the scrotum is completely numb and the animal feels nothing." In a later paragraph, though, there's a bit of hedging: "Band castration . . . causes only minimal discomfort and stress to the animal." Of course, both statements defy logic. Given that these animals share between 60% and 80% of our DNA and are highly sentient, it's just as ridiculous to claim that the castrator is practically pain-free to cows, sheep, and goats as it would be to say that a human would feel only "minimal discomfort" if his sexual organ were amputated without painkillers.
Here's the description of the castrator I found:
"Applies a latex band around the scrotum and pulls it tight, cutting off the blood supply. An aluminum clip secures the ring. Once excess band has been cut, you're ready to re-load for the next animal. Within about 30 seconds, the scrotum is completely numb and the animal feels nothing.
"The scrotum should fall off in 20-40 days. Can be used on cattle, sheep and goats; works best on calves 250 lbs. and up. Vaccinate with tetanus toxoid according to label directions. Kit includes 25 latex bands, 25 clips and instructional DVD. To avoid broken bands, please watch instructional DVD prior to initial use.
"Take advantage of nature's own growth hormone by leaving bulls intact until 5-8 months of age. University trials show 10-15% improvement in gain both pre- and post-weaning in bull calves over early castrated calves. Natural testosterone also increases frame and carcass cutability. Band castration does not interrupt rate of gain and causes only minimal discomfort and stress to the animal. Tetanus toxoid (Covexin 8, Bar Vac CD-T, Vision C & D Tetanus Toxoid or Ovine Tetanus Shield) should be administered when bands are applied."