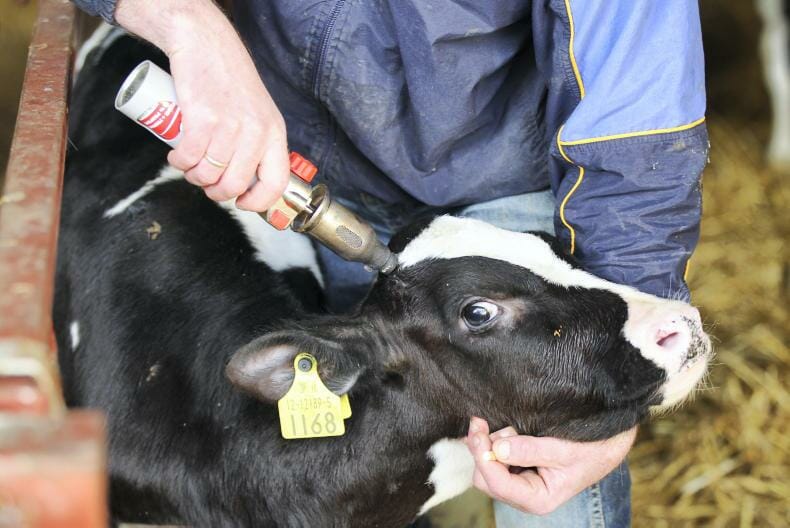 A new article shared by the Dairy Herd offers tips from a veterinarian on how to make "dehorning" cows less painful. Dr. Hans Coetzee claims that "Using pain management tools to support calves during dehorning has been shown to reduce stress, promote comfort, and – in some cases – support growth and weight gain for treated animals."
Dr. Hans seems to forget that the whole existence of nonhuman animals used by the dairy and meat industry is stressful from the time that they begin their painful lives. They will live controlled and confined by the hands of farmers looking to make a profit off of their existence until the end. Milk Hurts explains that "Virtually all dairy calves are stolen from their mothers within hours of birth in order to maximize profit. 97% of newborn dairy calves are forcibly removed from their mothers within the first 24 hours. The rest are removed in a matter of days. On so-called humane dairy farms, cows are often taken within the first hour of birth as separation of mother and calf is considered less stressful when they have not been allowed to bond."
In the dairy industry, if the babies are male, they will often be slaughtered at a young age for veal or cheap beef. If they are female, they will suffer the same fates as their mothers, where they will be continually and artificially inseminated year after year, producing babies and having their milk stolen from them. When they are unable to produce breast milk anymore, they will be slaughtered.
Young calves will often be "dehorned" as well. This is done so that farmers can save space in their often crowded and stressful conditions and prevent the animals from bruising each other.

So how do they do it? Well, there are many different ways that it can be done, such as using a knife, hot iron, or chemicals. Farmers use those methods to burn off the nerve endings and blood vessels from which the horns grow. The article acknowledges that even Dr. Hans admits in a podcast episode that "it has been well-established through research that dehorning is, indeed, a painful procedure."
Dr. Han's offers up the "Four S's" as a way to make this procedure less painful for the animals:
"Substitute" by refining "the way the procedure is performed to reduce pain. For horn removal, use disbudding versus dehorning by performing the procedure at a younger age before the horn bud has attached to the underlying bone."
"Soothe", and suggest to "Use analgesics to reduce pain before the procedure starts."
"Supplement" is another thing to remember, where readers are told to "Back up the initial pain mitigation with a longer-acting analgesic."
"Suppress." How? "Make changes so the painful procedure is no longer necessary. In the case of dehorning, adoption of polled genetics will eventually make dehorning obsolete."
This is all disappointing and disturbing to read because Dr. Hans is a veterinarian who is supposed to care about the welfare of animals. Instead they have been corrupted by the exploitation industries to falsely present "humane" forms of needless mutilation. I have my own "Four S's" for veterinarians like Dr. Hans and the industries that perform this painful mutilation and exploit animals.
1) Stop exploiting sentient beings for profit.
2) See how harmful their practices are and realize that they can never truly be "humane".
3) Switch to compassionate and sustainable businesses.
4) Share what you've learned with other farmers following this more ethical path and encourage them to do the same.
Animal farming, no matter what the packaging says or farmers claim, can ever be ethical or humane. There is a whole movement of former animal farmers who are now switching to a vegan lifestyle and have decided to stop exploiting animals and change up their businesses. You can read their stories on our New Farming campaign page.
If farmers could really reflect on these four S's mentioned above, they may come to realize that this painful practice of dehorning could be totally avoided by choosing a plant-based diet to do better for their health, the earth, and the animals.
Please write to Dr. Hans Coetzee and share your thoughts with him about this harmful dehorning practice and the myth of "humane" animal farming!